Where's Bagdad?
"I love being on your open roads where there's nothing but rich fields and flat land," declared Munich-born, director and writer Percy Adlon during an interview with the Los Angeles Times in May 1988. "It's where I let all my wounds heal." Adlon had fallen in love with the vastness and solitude of the Mojave Desert when he first journeyed through southern California with his family on a road trip in 1985, and quickly found the therapeutic qualities of the desert too alluring to ignore. It was on this trip that he saw the word Bagdad on the map and sought to find the town. This search for the desert town, named after a Middle Eastern capital, is what inspired Adlon to shoot his first English-language film in California, two years later.
The town of Bagdad, California, was established in 1883 as a railroad stop. Being 72 miles from Barstow and smack dab in the middle of the desert, it became a thriving hub for the railway and mining companies, sprouting homes, hotels, a post office, the Bagdad Cafe, and even a school. At the time, Bagdad, considered the hottest spot in America, had the most populous community between Needles and Barstow. However, by the 1940s, the town's prosperity, as did its population, declined, leaving but a few homes, the Bagdad Cafe, a gas station, and a few cabins that served Route 66 travelers, who in turn, kept the town alive. With nothing else for miles, the town became a must-stop as a reprieve from overheated vehicles, for gas, and for food and a cold drink at the café. The eatery also became a popular spot for the local desert community who came from all over the Californian vastness to enjoy the only jukebox and dance floor for miles. Then, along came the Interstate, which bypassed the town in 1972, and put the proverbial final nail in Bagdad's coffin. Route 66, the two-lane highway that had kept the town alive, was largely abandoned. The iconic Bagdad Cafe, which closed by 1968, the motel, and the remaining few structures were vandalized. The town of Bagdad, California, had breathed its last breath. By the time that Adlon and his family were trying to track down the settlement on their map, there was nothing left of the town, nothing to even show that the town once existed. Today, a lone tree, commonly referred to as "The Tree," marks the spot where the town of Bagdad once was. Other than the faint memories of a few, the desert has reclaimed the rest.
Spot on a Map
On the heels of his unexpected success with the movie Sugarbaby, and the desert happenstance with the ghost town of Bagdad, Adlon was inspired to bring his imaginings of the desert to the Big Screen in the 1987 film, Bagdad Cafe. The picture was based around the real Bagdad Cafe, but was shot at the existing Sidewinder Cafe, in the nearby community of Newberry Springs, some fifty miles to the west from the site of the original café. The movie told the fictional story of a German tourist named Jasmin Münchgstettner (Marianne Sägebrecht) who abandons her husband on the side of the road after their car breaks down and ends up wandering to an isolated roadside diner, motel and gas station in the Mojave Desert that is managed by a black American woman named Brenda (CCH Pounder). Jasmin helps to transform the run-down, neglected, and mismanaged café into a warm, clean, and welcoming place for visitors. Brenda, who is at first resentful and mistrusting of the German woman, comes to respect her for how she boosts the café and for the impression she has on its customers. The café's unusual customers – a washed-up Hollywood set painter (Jack Palance) and a tattoo artist (Christine Kaufmann) – are captivated with Münchgstettner's character and hidden talents, which include the ability to do magic tricks.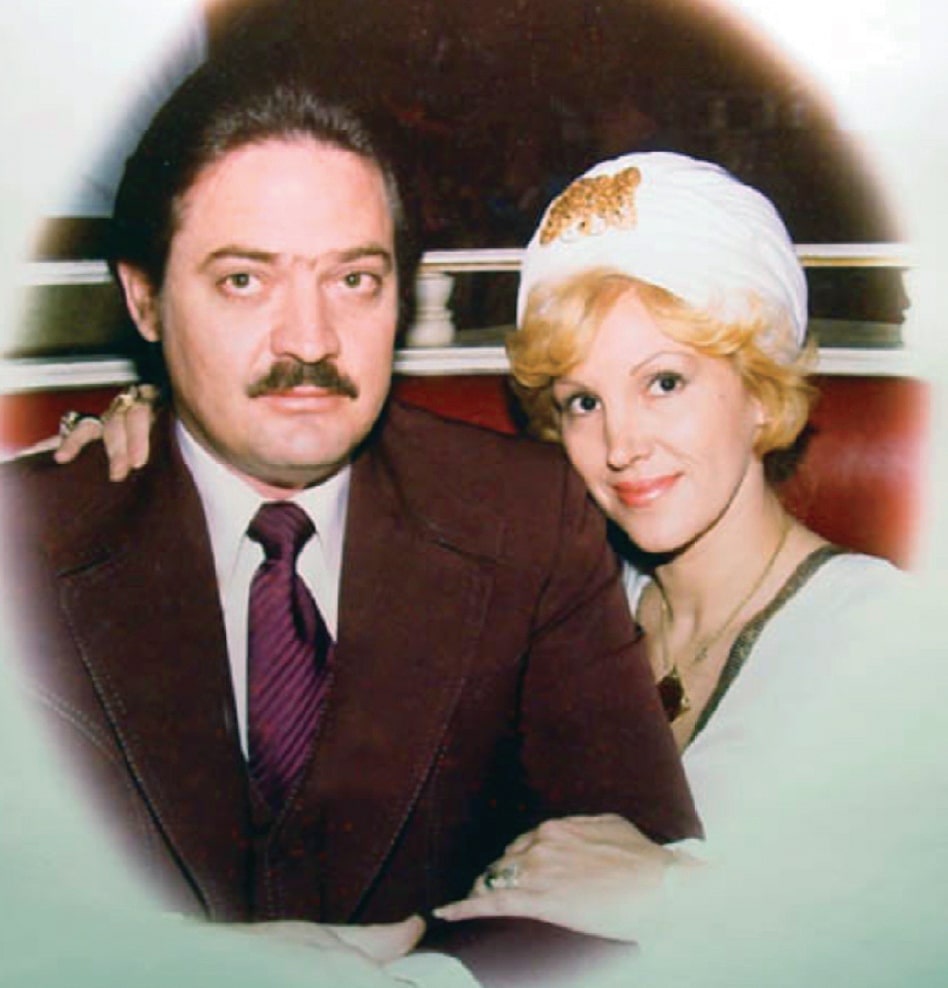 Andrea and Harold Pruett Sr.
As questionable as the plot may be, this quirky, feel-good film became a cult classic, with a die-hard following that is alive and well today. The movie even had a CBS network comedy spin-off starring Whoopie Goldberg as Brenda and Jean Stapleton as Jasmin, that ran for 15 episodes before it went off the air in 1991. Pounder, who played Brenda, recalls three decades later why viewers are still captivated with the picture: "Bagdad Cafe is the only film I've experienced that motivated many of the viewers to rise above their fears and take a leap of faith in a dream they wanted to realize," Pounder said. "I think the contrast of such opposites – black and white, fat and thin, from a cold place, from a hot place, and a motley group of people working together – gave so many hope that their personal desires could be realized, and not from any standard way of doing things! Bagdad somehow gave them permission to dream what's possible."
A Young Girl from Arkansas
Andrea Pruett was no stranger to picking up and relocating. She was born on the road. "I was born in Arkansas on the way to Florida. So it doesn't bother me to travel," Pruett said. Yet, although born in 1940 in Arkansas, Pruett could not remember the exact city where she was ushered into the world. "My grandfather was a minister. We stopped at his house, and I was born. Two days later we were in Florida." Andrea's father wrote country gospel music for a living, causing her and her siblings—two sisters and brother—to regularly pick up and move. The young family traveled throughout Tennessee, Alabama, and Georgia.
Pruett became pregnant with her first son, Corky, at the young age of 15. This was 1955. Pruett married her son's father, who was in the service, but the marriage didn't last. The couple split up a short time after. Despite the moralistic undertow of the time, where being a young, single mother was scandalous, Andrea's family provided a strong network of support. Her mother, Mary, moved in with her in Atlanta, Georgia, to help watch Corky, while Andrea worked at the Domino Lounge, located below the Old Imperial Hotel. "Everybody loved her," Andrea recalled of her devoted mother. "She was the sweetest, most thoughtful woman in our family."
One afternoon, while at work, Pruett had an unexpected encounter with one of her customers, a young man who began to flirt with her. "You didn't go with the customers," Pruett recalled, but something was special about this charming man. She could not resist him. Her instincts proved right this time and the couple married in 1966. The man's name was Harold Pruett, a native of Atlanta, Georgia, born in 1939.
Harold's mother and father had moved up to Alaska, so the newly married couple packed up during Christmas the same year and moved to the Arctic wonderland. They spent nine years in Anchorage, during which time, Andrea's second son, Harold Jr., was born, in 1969. They then moved back to California in 1975 and spent the next 20 years in Los Angeles. It was different from anywhere they had lived before, and the Pruetts found the scenery majestic.
Desert Laced Serendipity
In 1995, Harold, a nature and wildlife enthusiast, made the potentially odd, but certainly unique, decision that he wanted to raise ostriches, and the couple began searching for a piece of property outside of Hollywood. Besides starting an ostrich farm, Andrea wanted to dedicate time to one of her own passions, writing. The Pruetts intended to purchase 600 acres in Newberry Springs, California, but their plans fell through when they found out that the plot that they were considering did not have a well on the property, and because it bordered the mountain, water would be hard to obtain. It would be far too expensive to drill for water so they shelved that plan.
Frustrated by the harsh realities of the desert, they stopped at the Sidewinder Cafe to grab a bite to eat before heading home. While there, fate would step into Pruett's life once again when the couple struck up an unexpected conversation with the café's owner, Shirley Trueman. Talking over the counter to the couple, Shirley told Harold and Andrea that she was looking to sell the café and move on with her life. "She said that she didn't want to work anymore, or deal with it anymore," Andrea recalled. Shirley then told them that there was a movie shot at the venue in 1987 called the Bagdad Cafe. "My husband said, 'Oh really,'" Andrea recalled. "And she [Shirley] said, 'Yes! Jack Palance was in it.'" Palance was one of the most conspicuous actors in film at the time, known for his noteworthy portrayals in 1950s Westerns. "And of course, Harold loved Jack Palance." Harold bluntly asked Shirley how much she wanted for the café. "He turned around and looked at me, and I said, 'Don't you even think about it. I came out here to write.'" Andrea thought the matter was settled but Harold had already been won over.
That evening, on the drive home, Harold continued to rehash the idea of purchasing the café and its two acres. "He knew that I didn't really want it," Andrea stated. She had tried working in the restaurant industry at one point in her life, but it left her dissatisfied. "I tried that in Atlanta for a minute and I didn't like it." But Harold reasoned that the family that lived next door to them wanted to get out of Los Angeles and could operate the café. "We wouldn't even have to go down there," Andrea remembered Harold telling her.
When they returned home, Harold called their son, Harold, Jr., a budding television and film actor, and told him that they had found a place to live in Newberry Springs. He then proceeded to tell his son that the film Bagdad Cafe was shot in the café on the property that he wanted to purchase, but that Andrea didn't want to do it. Harold, Jr. pleaded with his mother to reconsider. "So they roped me into it," she said with a laugh.
"Anyway, we bought it, and the people never showed up of course," she said, referring to the family that was supposed to move there from Los Angeles. "We never owned a restaurant, we owned a nightclub, but we never owned a restaurant. We bought it and changed the name to the Bagdad Cafe. And that's the beginning of history." Changing the name from Sidewinder Cafe to Bagdad Cafe to capitalize on the film's link was the best decision that the Pruetts could have made, as was the decision to leave the café as authentic as it was in the movie.
In 1995, with their arrival, Newberry Springs residents initially resisted the Pruetts taking over the business and changing the name of the little café that they regularly visited on Sundays after church. "I was known as the lady from Hollywood," Andrea recalled. People are frightened of change. Business was slow in the beginning, but through trial and error they learned how to operate a restaurant business. It took a while for some residents, reluctant to approve of the new owners, to warm up to Andrea and Harold. But with time, they did.
Double Tragedy
Life is nothing if not unpredictable, and Andrea Pruett is no stranger to the pain that rains into our lives at times. Soon after their new journey began, life dealt Pruett not one, but two, devastating blows.
"Our son died. And then two months and 13 days later, my husband died. That was in 2002." Harold Pruett, Jr. was a rising actor who began his career at the age of five. The young thespian would go on to make appearances in over 30 films and TV series, most notably alongside Sally Field in Sybil (1975), Lucky Chances (1990), and Precious Find (1996). He also guest starred as Cooper Voight in three episodes of the hit TV drama, Party of Five. Tragically, Harold, Jr. died of an accidental drug overdose and forever altered the trajectory of his family. He was only 32. He is survived by his son, Tanen Pruett, and his wife, Jennifer Cattell.
Affectionately known as "P," Andrea had helped manage her son's career and was especially close with him. Soon after his death, Andrea and her husband established the Harold Pruett Drug Abuse Foundation to honor their son's struggle with narcotics. A stone tablet with his headshot mounted to it was erected at his grave in Hollywood Forever Cemetery, in Hollywood, California.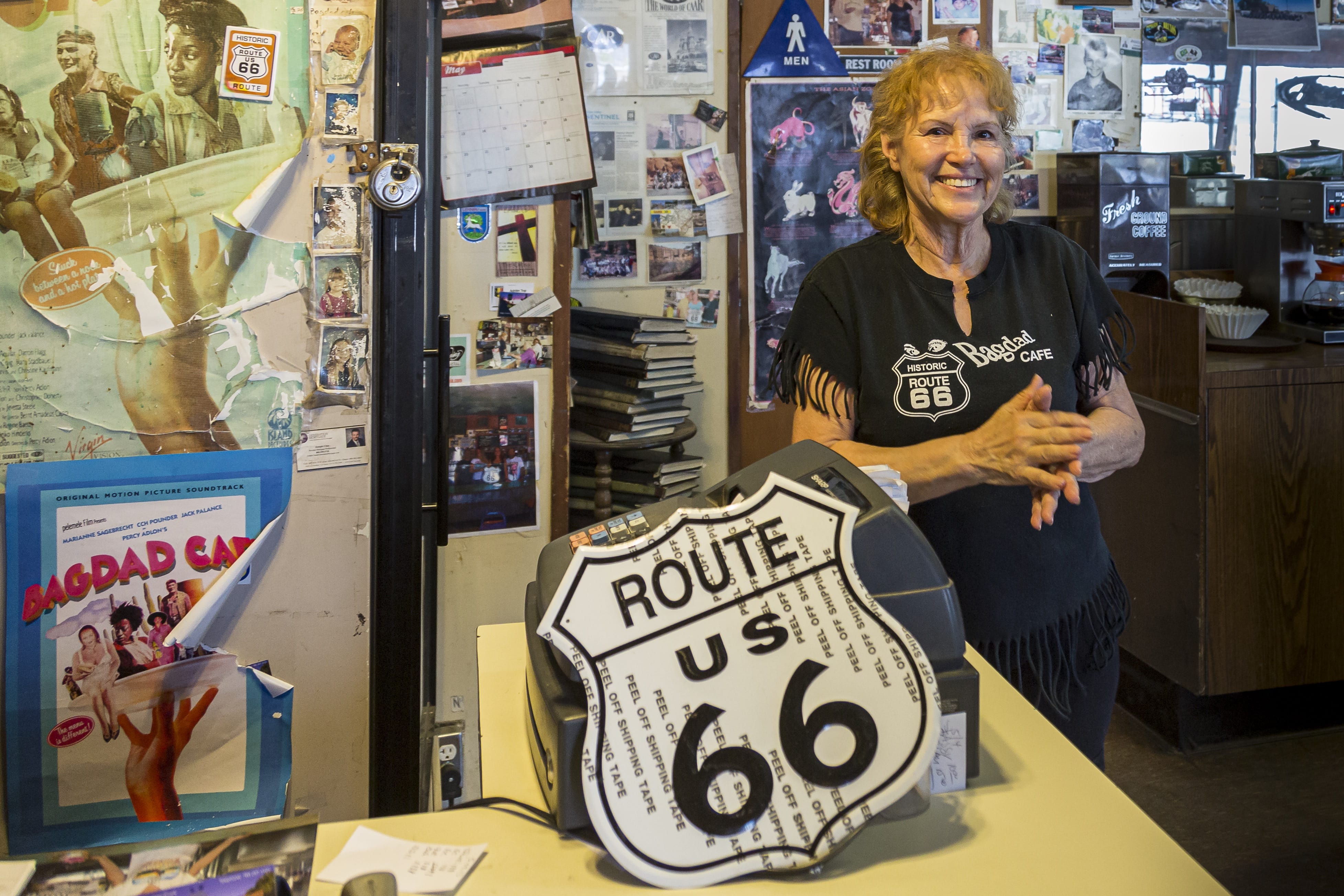 Andrea Pruett. Photograph courtesy of Ian Lyons.
The French proverb "Un malheur ne vient jamais seul' (Misfortune never comes alone) held true for Andrea, when two months after the tragic death of her son, pain piled on pain when her beloved Harold died of a heart attack. Maybe it was from a broken heart. He was laid to rest alongside his son. Multiple losses in such a short period of time pose unique challenges for anyone, and for Andrea it did not seem worth living without her husband and son. The cumulative grief was too much to bear. "Everybody wanted me to come back to Hollywood," Pruett recalled. Her oldest son Corky insisted that she move back to Los Angeles and live with him. She had a tough decision to make: leave the café that she had only reluctantly agreed to buy in the first place, or continue on managing it with an unpredictable future ahead.
"But I got to thinking about it. This was the last place I was with both of them before they died. I decided to buckle in." And with the decision made, Andrea did her best to try and pick up the pieces and continue on with her life, out in the desert, on her own. But the desert is not only the bearer of death, but of hope and restoration, too.
Suddenly, visitors began to stop by during the summer months, little by little, from the unlikeliest of places, France. Then busloads of French tourists began to show up. Word spread and tourists from Europe arrived in droves to this little café in the Mojave. Pruett now claims that over seventy percent of her customers come from France.
"It's like it's calling people to come from all over the world. I'm glad I stayed."
The Effects of Film
The film Bagdad Cafe was a hit in Europe, especially in France, where it won a César Award in 1989 for Best Foreign Film. Noémie Taylor-Rosner, a French native working as a journalist in Los Angeles, recalls the impact that the film had in France when she was growing up: "For me, it was very significant as a child. My parents were big fans of the movie. I think they still have the VHS. I remember children, adults, and my parents listening to the song. It was on the radio everywhere. The movie became kind of a classic for the French. It is something that everybody knows. The French have a particular connection to Route 66. When you talk about the U.S., a lot of French people want to go on road trips. There is also the mythical element of Route 66 and the atmosphere. I think the French love certain ideas of America, such as road trips and the adventurous idea of America. The Bagdad Cafe is pictured in the movie as a lost place in the middle of nowhere, in the desert. [This] is something that is really appealing to French people."
In the film, Jasmin discovers a new life and reinvents herself in the unlikeliest of places. "Maybe that's an inspiration for French people to change or reinvent themselves," Taylor-Rosner mused.
On a road trip to do research for an article on Roswell, New Mexico, Taylor-Rosner decided to stop by and visit the café, to see what the hype was all about for herself. She was captivated by what she encountered. "I was not expecting [to discover] so many French people. The whole place is decorated with all these French souvenirs, police badges from everywhere in France, and different regional flags. You wouldn't expect that in the middle of California. I talked to a lot of French people there. There were people with their kids, and a lot of young people who were my age in the 1980s, and remembered the movie. They all love that when they go there, they know that they will meet French people in the middle of nowhere. It's kind of like the movie; they are reproducing their own whimsical universe. It's become a pilgrimage."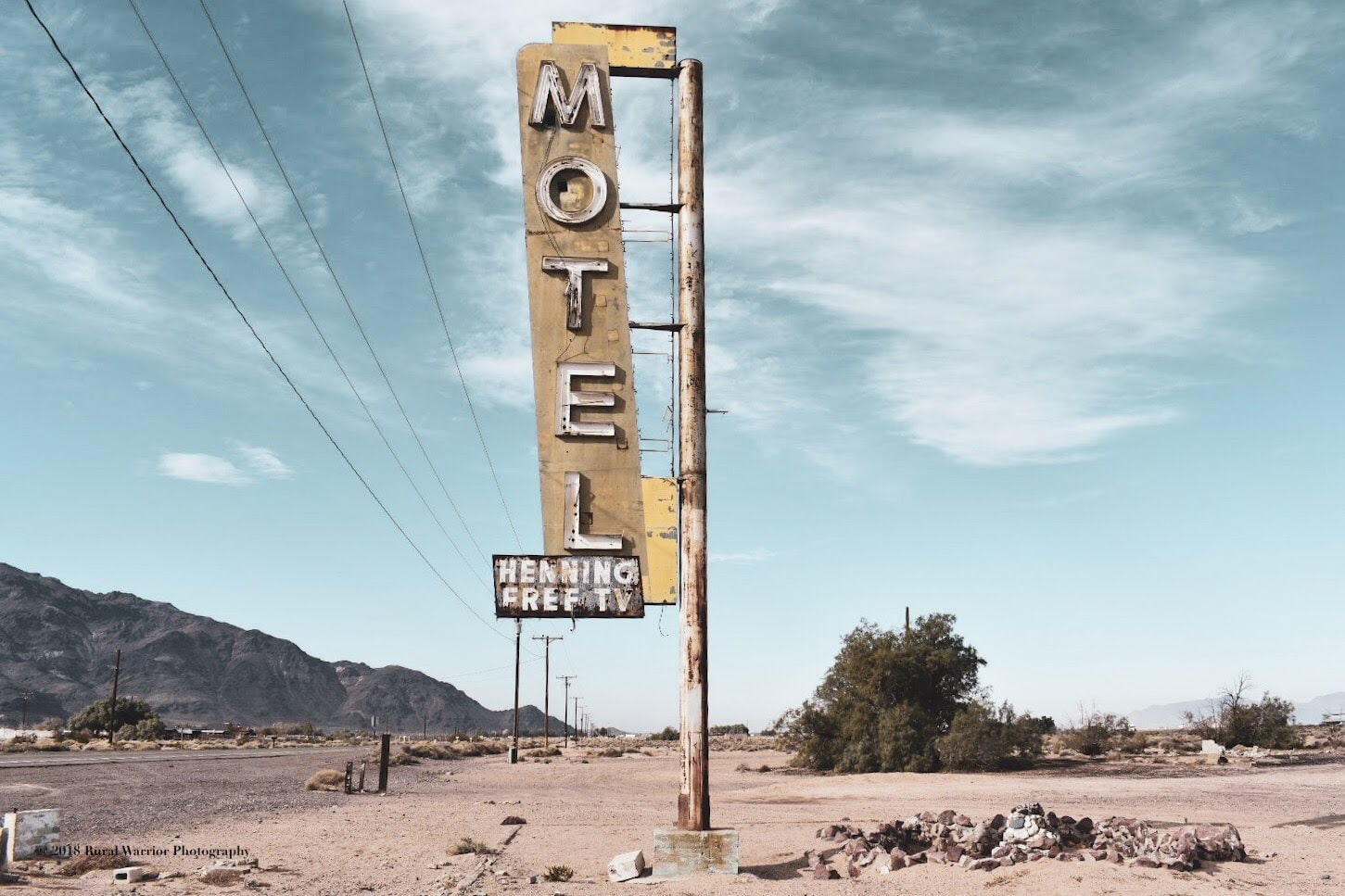 Henning Motel sign. Photograph courtesy of Robyn Stockwell.
"Visitors leave notes, pictures, everything," Andrea stated of the souvenirs left behind by her many foreign visitors. "We have flags hanging from the ceiling. We were so full that we had to put some of them on the walls. We're totally covered in memorabilia. They always leave stuff. I have one man that sent me this handmade little thing and on one side was the Statue of Liberty and on the other side a monument from France. I almost cried when I saw it. I couldn't believe somebody did that. I have it up on the wall."
Going Local
"I heard about it when I got involved in Route 66. I definitely wanted to check it out," stated Delvin Roy Harbour, vice president of the California Route 66 Association. "At one point there was a hotel there, when the film was made in 1987. The buildings have since been torn down but the foundations are still there. The sign is still there near the Bagdad Cafe." The Henning Motel's original sign continues to attract sign enthusiasts.
"We stopped at the Bagdad Cafe one evening, and sure enough, there was a tour bus there with a bunch of French people. They just loved it. There's an interesting mystique of it. It's amazing how, from that movie, the Bagdad Cafe, it's a highlight for a lot of people, especially French people, to stop there and check it out, to see where the movie was made," continued Harbour.
Pruett currently lives on a 40-acre property, only a mile and a half from the café, that has been blessed with lots of trees and has added raising ostriches to her resumé. She has no plans to leave Newberry Springs in the immediate future. "[Living in the desert] grows on you ... It was the last place I was with my son and the last place I was with my husband. I just feel better here," said Pruett. The café and the desert community is a constant reminder of her late family. "It makes me feel good in my heart that my husband and son evidently made the right decision. People come and they are happy, and I see their face and how they come running to me, 'Andrea, Andrea, how are you doing?' They come up to me and hug me."
These same visitors comforted Andrea after her losses and got her through the rough times. In turn, Pruett has returned the favor to tourists and Route 66 enthusiasts by welcoming them into her establishment with open arms and good old-fashioned southern hospitality. Petite in build, blond-haired with a soft-spoken voice that is laced with traces of a southern drawl, Andrea's story has become rooted in the colorful history of the building. Her resilience and fortitude to live out hers and her late husband's dream can only be matched by the fierceness of the desert that she calls home. People come to see her, as much as they come to see the eatery.
In 2008, her dreams to write were realized when she wrote and produced a screenplay titled, "The Real Bagdad Cafe." Pruett plans to continue to operate the café for as long as she can to honor the memory of her late son and husband. "I just like to keep my memories around me." The café and its visitors are therapeutic to her, just as Route 66 and the Mojave Desert is to its innumerable road travelers.