So, Lasseter took off the summer of 2000, bought a motorhome, loaded up his wife and kids, and headed east on a two-month-long journey, but not before touching their toes in the Pacific Ocean. It was to be a road trip that set the tone for his life for the next six years and beyond. Not having a set schedule allowed the Lasseter clan to meander slowly and experience America one day at a time. The Atlantic Ocean was but a mere target, and as Lasseter soon discovered while looking through that wide windshield, that the journey was the destination, not the other way around.
Upon his return from that epic summer trip, it set in motion a team of producers, writers, animators and others to use Route 66 as a conduit for telling a story, another metaphor of the broader narrative that our car culture begat. The result was the first Cars movie that hit screens nationwide in 2006.
Lasseter was intrigued by Route 66, how it was the model for the way businesses used to look and function before the introduction of the Interstate. As soon as the Interstate went in, towns were bypassed, and some died on the vine. Jay Ward, Creative Director for the Cars movie franchise, explained: "It was an analogy for Lightning McQueen, who was a car going so fast through life. He would have taken the Interstate every time. [Yet,] once he was forced into the little town of Radiator Springs, he was forced to slow down and see things in a new light, and see things through their perspective."
There was never any doubt in John's mind that autos themselves would play every role. Lasseter loved cars and car culture, perhaps influenced by his father being a parts manager at a Chevy dealership, and perhaps shaped by having grown-up in southern California's car culture.
Pixar has anthropomorphized everything from toys to insects in bringing its stories to life, quite handily making them appeal not only to kids in theaters, but also to the adults who share in their experience. And it didn't take much discussing to decide that the eyes of these cars had to be the windshield, rather than the headlamps.
As Lasseter describes, it was critically important early on to determine what and where the face would be, as it is a window to the soul. A goal of animation is for a character to move such that it looks like it is the result of its own thought processes. Lasseter took his cues from one of his favorite animations, Disney's 1952, Susie The Little Blue Coupe, whose eyes were the windshield.
"Cars are characters first, that happen to be people," Ward stressed. The pecking order in this relationship, though, was always clear.
The story behind the story however is just as epic as the one seen in the theater. While the story was Lasseter's, central to it was none other than Michael Wallis. Lasseter may have experienced it, but it was Wallis who made sure all the signposts were in a row.
Getting the Story Straight
Quickly upon Lasseter's return to California, storyboards were created to illustrate the basic story concept, and then the research began. "Everything we do in our films is rooted in authenticity. That's a really big word with us," said Ward. And according to John Lasseter, the Pixar team did more research for Cars than on any other project to date at that point, as he quickly learned that the spirit of Route 66 is in the details.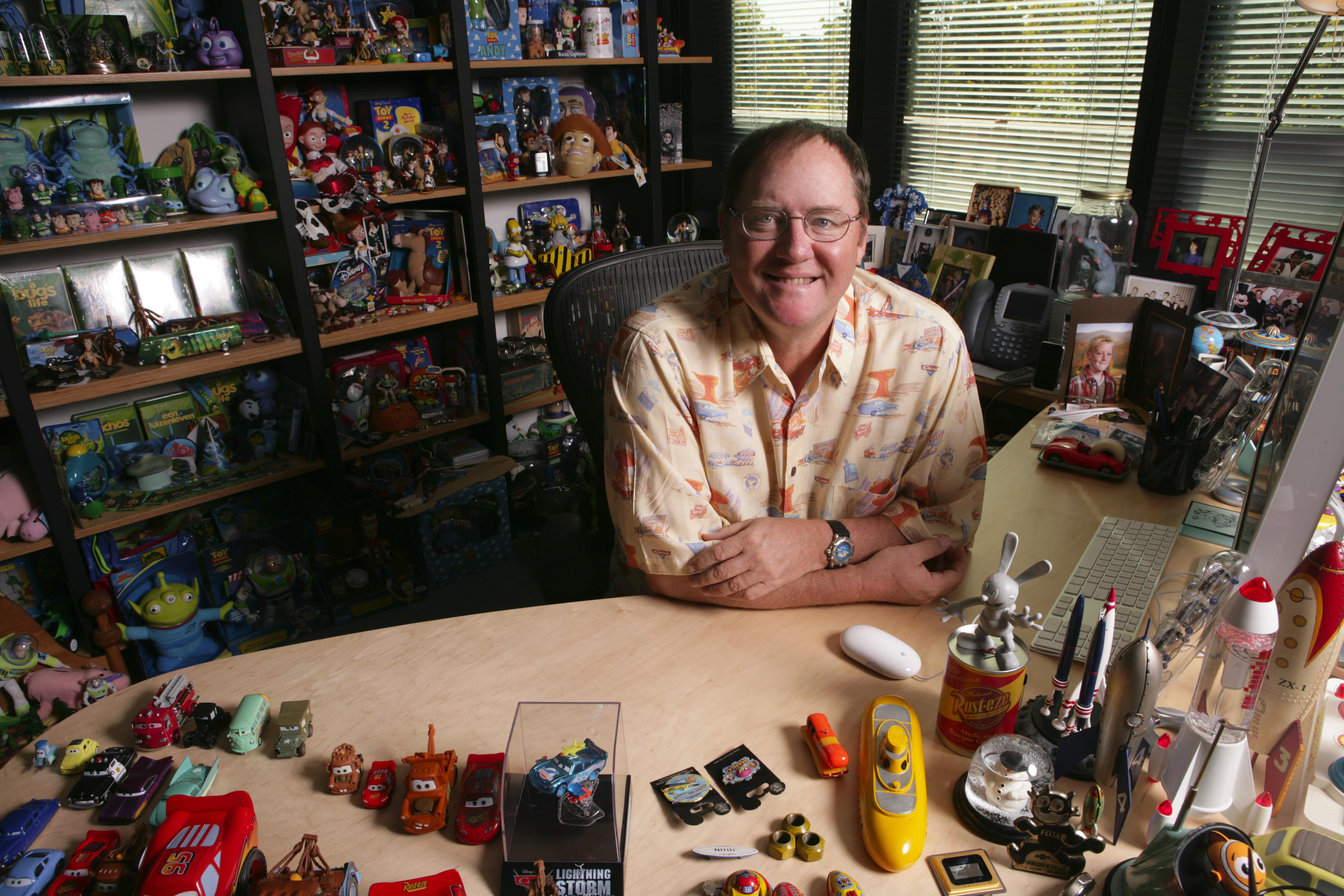 John Lasseter with a collection of Pixar characters.
Mark Nielsen, Story Department Manager on the first Cars film, relates that Pixar executives read every book and watched every video that they could find about Route 66. And in the process, they stumbled into Michael Wallis' book, Route 66: The Mother Road, and they knew that they had to reach out to him.
Wallis was quickly hired as chief consultant and tour guide for what would be a multi-year ride down the Mother Road with a handpicked team of Pixar employees. His task was to ensure that they experienced the road. His road.
"What Pixar wanted to do was make a movie about a hotshot race car who was full of himself, and have him get lost on an old road. He learned the lesson that it's great to be a race car, but sometimes, just sometimes, it's good to slow down and just cruise. That's when Lasseter said: 'This has to take place on your road ... Route 66,'" Wallis reminisced.
Wallis was invited to visit Pixar in California, and as his visit drew to a close, he was asked if he would speak to just a few more people before dinner. He was escorted into a room, and there were 40 people there. He sat down, and was given some water. "John Lasseter leaned over and said to me, 'Just tell us a story about Route 66.' So I did. 'Tell us another,' Lasseter said. After about an hour and a half, I had to call time-out."
Starting in the summer of 2001, and again the next summer, Wallis rode shotgun in a small fleet of Cadillacs traveling up and down 66, connected by radios and his wry storytelling that left the Pixar team wondering where the next stop would be, who the next person was that they would meet, and when would they ever get there. He went along on several shorter trips in the years that followed, escorting smaller groups of Pixar writers.
"We loaded into three big rental Cadillacs. We called them Detroit Sleds. And we just cruised the road. The Pixar group liked stopping, just like me. I always kid [that] I like to stop about every 500 yards." And so they did.
Nielsen was along for the second of the Wallis road trips. "We flew into Tulsa and rented three sedans. Michael was narrating the entire trip via walkie-talkie. He would talk to us and tell us stories while we were driving, and then every 5-10 minutes it seemed we would stop somewhere significant. We'd get out of the car, and he'd huddle us all up, and he'd tell us a story. Then we'd all pile back into the cars and head off to the next destination."
"It wasn't until they did those trips, where they met those people who make up the color and texture of the road ... that is what really informed them." What people ultimately saw in the movie "...is a reflection of the people you meet on Route 66," Ward explained.
On those trips they stopped to smell wildflowers, help "legions of box turtles" cross the road, and even experience road kill. "I waded them through wheat and cotton fields, picked wild sunflowers, ate wild grapes, and just basically prowled a lot of the ghost places where I knew they would find inspiration. I always say that I gave the Pixar team my road ... OUR road. And they took it all in, in big gulps. They savored every delicious morsel," Wallis said in his familiar baritone voice.
Wallis continued, "We met road warriors and travelers from around the world, but best of all, I was able to introduce them to people they never would have met, people eking out a living along the edges of the Mother Road."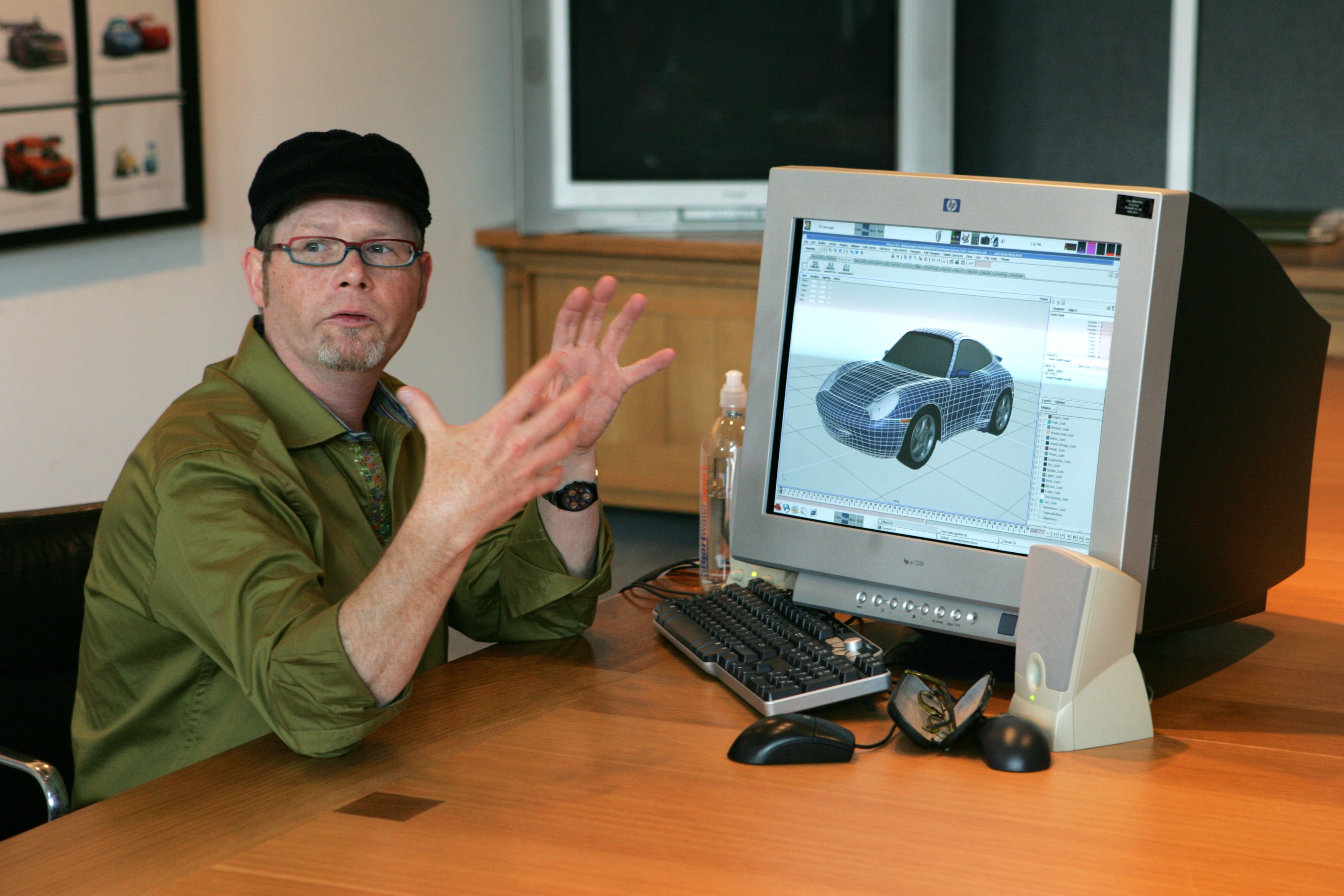 Cars modeling and articulation artist Andrew Schmidt as he creates Sally.
Of all the locations Wallis had them visit, it was Glenrio, the twin-city ghost town on the Texas / New Mexico line, that had the greatest impact on Lasseter and his team. Elements of the dusty, windswept ruins found their way into Cars. The juxtaposition of old four-lane highway with a concrete median, against the utter backdrop of abandonment, was not lost on them. They could imagine thousands of cars once creeping through town, stopping for gas, food, and lodging at the Last/First Motel and Longhorn Cafe, slowing down to take a look-see before crossing the state line. It was heartbreaking to the extent that the scene with Sally and Lightning stopping at the Wheel Well Motel was inspired completely by Glenrio.
The Pixar team was inspired by many people Wallis introduced them to, but what stuck out most were those who were passionate about preservation. Ward went on, "A lot of the time, the people who cared the most were those who came later and said, 'Don't you know what gems you have? We have to save this stuff!'"
Nielsen elaborated, "Michael was incredible. He is the ultimate storyteller. He was born to do that. It was like being with a celebrity, because everywhere we went, everyone seemed to know him and knew who he was. He was kind of like the King of Route 66. He built connections between our little group and the people we met along the road."
Cast of Characters
Creating characters and casting involved Pixar selecting actors that naturally fit the characters, and not the other way around as some studios have done. In some cases, though, characters were created based on the folks that Wallis introduced to the Pixar team on those two long trips.
After 2002, once the main characters had been decided upon, Pixar sent out teams of writers for several more trips to once again interview the key players. The goal was to make sure that they 'had' this Route 66 thing, and its personalities, down cold. Nothing was left to chance; even inside jokes in the film reflect this painstaking attention to detail.
The best example of art imitating life came with Sally, the blue Porsche Carrera in the film. Her inspiration was Dawn Welch, proprietor of the Rock Cafe in Stroud, Oklahoma. Wallis had been dragging the team down 66 that day at a snail's pace when they finally got to Stroud.
"The evening went like this. They were to arrive much earlier, like 6pm, and they didn't arrive until 9pm. We were already closed. And that's because, you know how Michael Wallis is when he travels down the road, you can't keep a schedule," Welch laughed.
"When they finally did arrive, they were hungry, of course, and they ordered one of everything on the menu." Welch only had one person still on the clock, and started to go to the kitchen to help prepare all of the food. "'No, no, no, you're just going to sit down with us. We don't care how long it takes her to cook. We're going to sit down and talk with you.' And that took about four hours."
Lasseter and crew proceeded to ask Welch questions about her life, how she wound up at the Rock Cafe, and many nuances of her backstory. "What I didn't know is that they were already developing characters off of people."
Welch relates the story of how Bonnie Hunt, who had been in other Lasseter films, landed the role of Sally. He had always promised her a strong female part. "As Bonnie later told me, after John left that night, he called her right away and told her he had finally found her part."
And thus Sally was born, a woman who had skated some rough patches, and had the wisdom of a seasoned veteran of survival. Sally's past (a lawyer in LA) and her embodiment (a Porsche) reflected Welch's journey in life, if not specifically, then at least symbolically. A couple of references in the movie to things that had "recently been refurbished" were, in Welch's own words, a friendly poke to things she kept saying about her cafe.
Other well-known Route 66 residents provided character inspirations as well, including Fran Houser of Adrian, Texas, Dean Walker of Riverton, Kansas, and the late Bob Waldmire, then running the Hackberry (AZ) General Store. Houser, who at the time was proprietor of the Mid-Point Cafe, went on to become Flo, operator of Flo's V8 Cafe.
The ebullient Houser laughs as she describes how she was portrayed in the film: "I guess they depicted me the way they saw me. I can be very entertaining at times." Asked by a Pixar team member what she thought the movie would do, Houser added, "Well, it will depict a way of life that is no longer available to most people. We won't know where we're going unless we know where we've been."
Add "insightful" to that description, too, as her quote found its way into the movie.
Walker, known as Crazy Legs for his uncanny ability to turn both feet around backwards, provided comic relief in the form of composite character Tow Mater (with bits of Harley Russell and non-66er Douglas Keever). References in the movie to "driving backwards" are no doubt related to Walker, who recalls, "Wallis showed up with a fleet of limos and took me out to the Rainbow Bridge (in Riverton, Kansas) for five hours." Wallis cued him to turn his feet backwards and, "The fellow behind the camera, he said, 'I can't look at this anymore!'"
Nielsen confirmed similarly, "That was something that amazed all of us."
Waldmire was the one who got away, as he opted to distance himself from the movie. A long-time vegetarian and opposed to corporate largesse, Waldmire submitted a handwritten letter to Pixar in which he politely declined any connection whatsoever to the film. He was diametrically opposed to his likeness ever appearing in a McDonald's Happy Meal toy, and thus any payments or royalties thereof were foregone in favor of maintaining his highly principled life. However, Waldmire and Pixar did part on very good terms.
And the sheriff? As Wallis aptly put it, "Well, every town has to have a sheriff!" He was a shoo-in with the Pixar team, who had fallen in love with him, his deep voice and his descriptive stories.
"Michael Wallis had this amazing booming voice. I don't know that we would have had a sheriff without Michael Wallis," Ward remarked. As Nielsen recalled, "He was the ultimate guide and host, and it made perfect sense that he was later cast as the sheriff, because he kind of felt like the sheriff of Route 66 to us."
That leaves Lightning McQueen, who arguably has a lot of John Lasseter in him, the man living in the limelighted fast lane, too busy to catch his breath, much less acknowledge the people around him or able to enjoy simply being in the moment. It was during that 2000 family trip that Lasseter came face to face with Lightning, an escape from deadlines that actually provided him with a far more important deadline.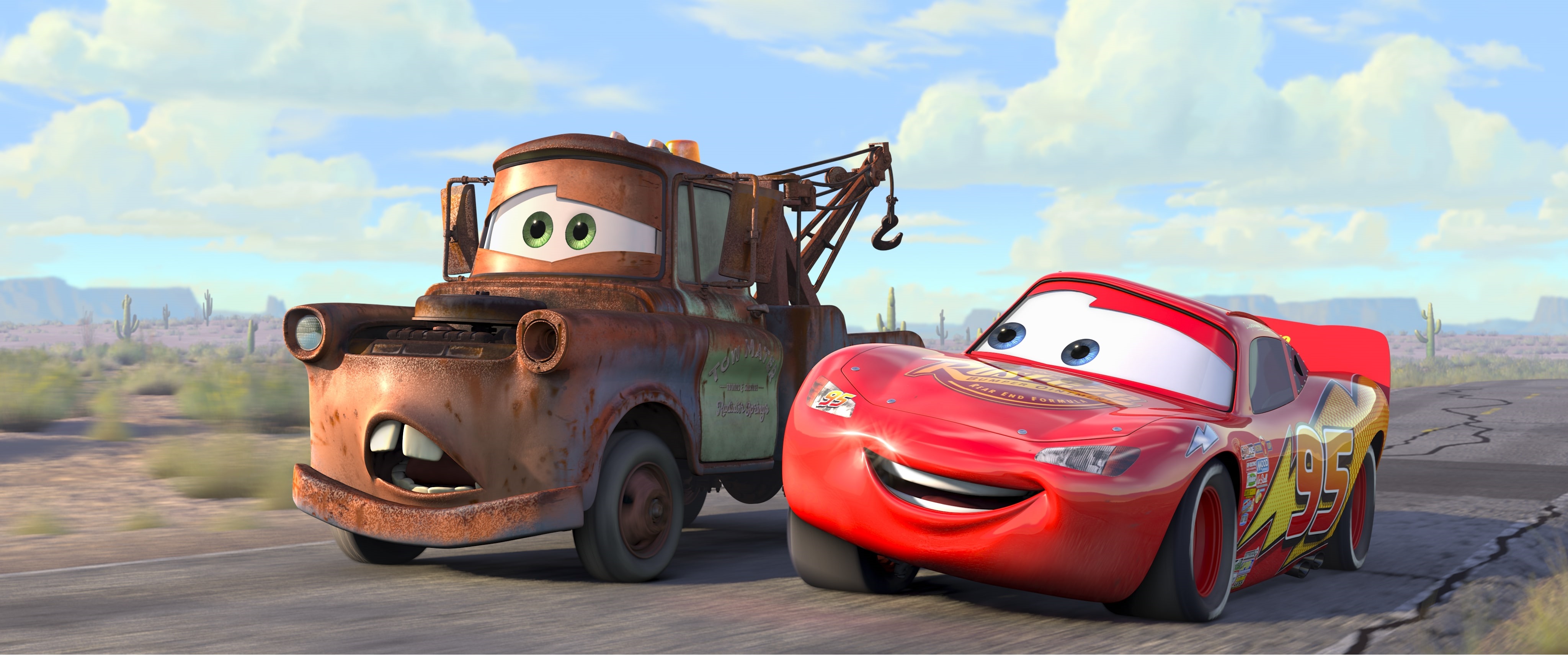 Lightning McQueen and Mater enjoy a ride together.
Owen Wilson was cast as McQueen, and it was Wilson himself who provided Lightning's catch-phrase, not a writer. Lasseter recalls asking Wilson during a read- through about his childhood, what his sound effect word was for lightning and thunder. Wilson wasted no time in responding, "Ka-Chow!" Just like that, the script was modified.
Beyond Hunt and Wallis, casting was often a combination of fit, availability, and prior relationships. "We pick people we feel embody the character," Ward went on. Owen Wilson was a natural for Lightning, with his confident-yet-somewhat-aloof, devil-may-care delivery style that is his signature. Paul Newman as Doc Hudson was more than serendipitous, as it turned out to be his last movie before passing. Larry the Cable Guy was the embodiment of all three people in his composite Mater role, and sounds hauntingly similar to the colorful Harley Russell of Erick, Oklahoma, in real life. George Carlin, who appeared in one of his last movie roles, was a natural as Fillmore, the if-Waldmire-had-wheels VW microbus, as was Cheech Marin voicing Ramone, who had spent his career as a living stereotype of Latino culture.
While some of the characters were based on the people they met along Route 66, others were from very different venues, each with a compelling story. Sarge, for example, sprang from the WWII-era Jeeps that provided bomb-proof transportation during the war, the personnel carriers that soldiers lived and died in. Car culture from the 1950s, from custom paint jobs to pinstriping, inspired Ramone. "Every one of those cars had a cool cultural backstory," Ward explained. "Doc Hudson was based on a 51' Hornet that really won three NASCAR championships. Every character in our films is predicated upon story. If you don't have a great story, you don't have a great film."
John Ratzenberg, forever typecast as Cliff in Cheers, recalls his role as Mack in the movie, and how they were filmed while recording their lines; pouring themselves into the characters was deemed necessary for the story arc. Little things like raised eyebrows on the voice actors were then added into the animations to make them as lifelike as possible. While the main characters were not written for the actors per se, the actors wound up putting the finishing touches on them nonetheless. In a strange kind of way, art imitated life imitated art.
Lasseter is quick to tell how some cars in the movie sprang from his deep and abiding personal interest in particular vehicles, but in other cases, the car was built around the character. McQueen's and Flo's personifications came after characterization, and to some extent, even Mater. Flo in particular evolved through several iterations, ultimately becoming a bit of a showgirl who fell in love with Ramone. The actors themselves collaborated in some cases for character development, such as how Wilson worked with Newman to finesse a scene in which McQueen was speaking to Doc Hudson.
Other characters, albeit, those with cameo roles, were often created on a whim, and sometimes were nods to prior Pixar movies. Tim Allen (Buzz Lightyear), Tom Hanks (Woody Car), Jay Leno (Jay Limo), Bob Costas (Bob Cutlass), and Billy Crystal (Mike Car) provided short, but comedic relief.
Route 66 Landmarks
If it looks like Cars was set in the southwest, it is no mistake. Wallis' travels with Pixar focused on areas west of Joplin. All of the art that became animation backdrop had visual elements of the southwest, from the Cadillac Ranch, to the pinnacles of the Mohave Mountain range near Needles, California, and the brilliant red cliffs on either side of the Continental Divide in New Mexico, all in hues unlike the greens found in the midwest.
Specific 66 landmarks that provided inspiration for the film were also geographically focused, from the Tower Station in Shamrock, Texas, to the Cozy Cones Motel reflecting the Wigwams in Holbrook, Arizona, and Rialto, California, to Glenrio, Texas' abandoned Little Juarez Diner that became the similarly abandoned Glenrio Motel in the movie.
Even the human inspirations along Route 66 wound up featuring people that the Pixar crew met in the western half of the route. It's not that Wallis or Pixar avoided the easternmost portion of the route, it's just that Wallis introduced them to his favorite places and people, and many of these were west of Joplin.
Perhaps one of the biggest fictions of the film is that Radiator Springs represents a real-life town along 66, which couldn't be further from the truth. Radiator Springs is but an imaginary composite of a town that has nuances of many cities along 66. Features like a lone blinker light, mountain range backdrop, arroyos, old-road-done-been- bypassed could be said of many a small town on 66.
The Cars Effect
As for Cars and working with Pixar, Houser said, "It has done wonderful things for the road. And with having Michael as the voice of the sheriff, it kind of transcended from his books. They were all just wonderful to work with."
Cars grossed $462 million worldwide at the Box Office that summer, and spawned another $10 billion in toy sales in the first five years. It is Pixar's 10th most successful movie, producing a pair of sequels in 2011 and 2017. While a Cars 4 is uncertain at this time, one thing that is for sure is the level of detail that went into that first film. Lasseter's initial family trip was but the tip of the iceberg.
Ellie Alexander, Tourism Director in Pontiac, Illinois, reports that Cars has made a significant impact along the length and breadth of the Route, especially in her picturesque Route 66 town. Even though there is little if anything in Cars that resembles the cornfields of Illinois, Alexander attests to the popularity of the film and the number of people frequently inquiring about it. Waldmire's VW microbus is housed in Pontiac's Route 66 Association Hall of Fame & Museum, and according to Alexander: "Since we have the VW, there's a lot of conversation about it. We have put in an exhibit, and in it is the letter that Pixar sent to Bob, as well as the one he sent back declining the offer. There was a time when Route 66 wasn't on anyone's radar. Route 66 has been a really big beneficiary."
Today, it is estimated that annually, over 200,000 tourists travel Route 66, and this is on top of the normal daily traffic that rolls along the remaining 85% of the Mother Road that is still drivable. Those tourists spend an estimated $132 million annually in Route 66 towns and cities.
At the personal level, Houser's café sprung to notoriety as a result of the film, as did the Ugly Crust pies for which her eatery became known. Although she sold the café in 2012, she maintained a gift shop next door, and at the time of writing, has even mounted a campaign to run for mayor of her hometown Adrian.
Welch likewise found business success, with a steady stream of tourists (many of which were parents with kids in tow) flocking to the Rock Cafe to meet "Sally." So many fans recommended her café to Guy Fieri, of the Food Network's Diners, Drive-Ins, and Dives, that he featured it on national television. A fire in 2008 was a significant setback, but like the mythical Phoenix, she rose from the ashes, rebuilding within those remaining rock walls, where she and the cafe remain a popular roadside attraction to this day.
As for Wallis, his popularity and highway authority had long been cemented, but Cars cast him in the unexpected role of voice actor, which he reprised in Cars 2 and Cars 3. He and his wife, Suzanne, also wrote The Art of Cars (2006), which included hundreds of sketches and storyboards used to develop the film.
Although all of the Route 66 inspirations were not able to make the premier or private screening, those who did recall it being a highly emotional event. Welch was succinct in telling her reaction: "I cried."
Another inspiration was neither human nor landmark, but just a rusting old pickup truck the Pixar team found parked in Galena, KS. Ranft in particular saw more than just a vehicle. He saw Mater. Today, that old truck attracts thousands of Route 66 travelers to Cars On The Route, a restored Kan-O-Tex gas station in Galena that is combination gift shop and soda fountain.
In 2012, Disney, who had bought Pixar in 2006, christened an entire theme area of its California adventure park as Cars Land. As Ward said, "Our goal was to make it as immersive as possible." He went on to add, "One of the things we try to do is make an immersive environment, that, when you go into there, you truly feel like you are in the town of Radiator Springs, not a little part of Disneyland. What we found was that when people come there, so many parents and kids just wanted to hang out there all day. It gives you a sense of peace, of grounding, a cool town you would want to hang out in."
Through a Glass Clearly
While Route 66 is certainly a key beneficiary of the movie, this was not the intended effect. In Ward's words: "The movie is not about Route 66, but Route 66 is a very important part of the film." It's a movie about a man going too fast and needing to slow down, and going to this fictitious town on Route 66, but comes away a changed person because of it."
The entire Cars franchise, from the blockbuster first film, through two sequels, merchandise, and an amusement park theme area, is all the result of one road trip ... a trip that came about because of a little spousal prodding, because of work interfering with life. That John Lasseter was even open to the idea speaks to his having ears to hear.
Sally said it best to Lightning while ruing the coming of the Interstate: "Well, the road didn't cut through land like that Interstate, it moved with the land, you know? It rose, it fell, it curved. Cars didn't drive on it to make great time, they drove on it to have a great time."
For Lasseter, the windshield of that giant RV became his eyes, not only to the landscape that followed his off-ramp, but also to his own soul. And he was kind enough to share his discovery with his colleagues at Pixar and the world. The result is what happens when a big city racecar takes a drive. He lost himself, and in the process, found himself in a new and better place, clear as a bell.
As did we.