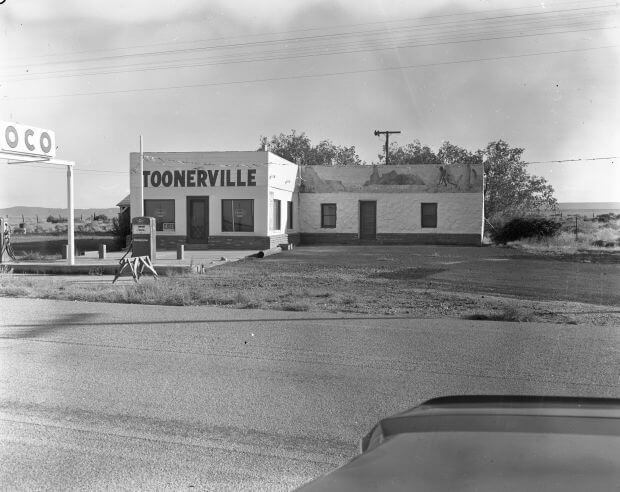 The Toonerville Trading Post, one of four along a short stretch of Route 66, was built and opened by Earl Tinnin in 1935. He and his wife, Elsie, ran the post and raised two children there, Helen and George Earl. Then, in August 1947, tragedy struck. Apparently, while playing with toy guns, 14-year-old George picked up a real weapon; the .32 pistol went off and shot him in the left side of his face, killing the boy. In these days of health and safety, the incident raises questions – why was a real gun mixed in with toys? Why didn't a boy of almost fifteen who had been raised in an isolated area and thus presumably around firearms recognise the difference? It was recorded as an accident, and the Tinnins continue to operate the trading post for a further seven years until, in 1954, Earl sold Toonerville to Merritt Dow 'Slick' McAlister and moved to Flagstaff to run the Nor Star and Ben Franklin motels.
McAlister had previously run the Vermilion Cliff Lodge on Route 89 for six years, but as manager rather than owner, and so he must have jumped at the chance to be his own boss with the purchase of Toonerville. Born in 1911, McAlister was, by some accounts, a feisty character for much of his life, the subject of numerous reports of threatening people with his pistol and getting into fights. Indeed, as a 21-year-old, he was involved in a dance hall brawl in which a young man was shot and almost died, although there's no indication that McAlister was at fault. However, by 1971, McAlister was 60 and apparently a changed character who rarely even carried a gun. He had run the post for over sixteen years with his third wife, Pearl, who he had married in 1947. She then had a 14-year-old son, Bronson 'Buster' Lamoure (a daughter, Rita Mae, had died while a baby) who appears to be the closest to a child that McAlister had, despite his three trips down the aisle.
As the couple approached retirement age they were preparing to wind down. They'd made attempts to sell the trading post with possibly more enthusiasm than they had in keeping it going. As Route 66 was realigned and then I-40 opened, the trading post stood apart from the road with just a single GASOLINE sign to promote it. (The trading post did have the only local alcohol license in the area, which brought in local trade.) It may have been this loneliness that, on the afternoon of 30th August 1971, attracted three young people to stop; contemporary newspaper reports first said it was two black couples in two cars, but it appears to have actually been two males and a woman in a small blue sports car and a light colored sedan.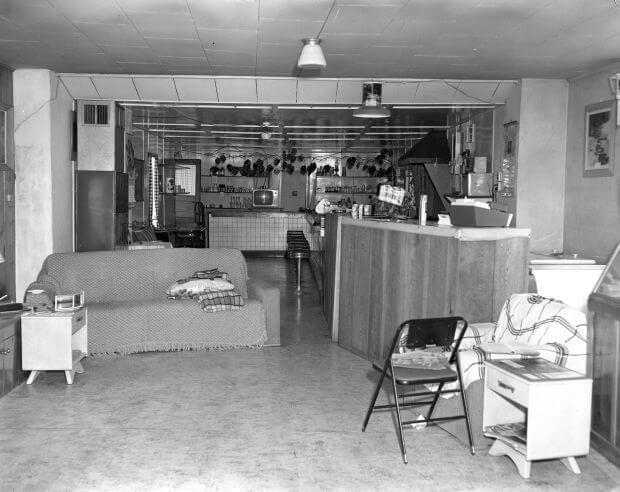 Within moments of their arrival, Slick McAlister lay dead and his wife desperately injured with a gunshot wound. She had been shot in the back of the head as she cooked hamburgers for the trio, one of whom then shot Slick McAlister in the chest before they ransacked the shop and living quarters, stealing $70, but missing a larger stash of money. However, while they may have assumed the couple were both dead, Pearl later regained consciousness and managed to ring their friends, the Greys, who ran the Twin Arrows Trading Post a mile down the road. The Greys arrived to find Pearl in a pool of blood, Slick dead, and the hamburgers still frying on the stove top.
Police initially thought that they had a major lead when they believed that Slick wrote down the license plates of any cars stopping for gas. They would later discover that he only did so when the customer was paying by credit card (and it appears that the trio stopped for fuel at Twin Arrows after the robbery), but not before a gentleman from Tucson whose number plate was on that pad was well and truly scared and forced to prove his car had been in the garage for several days. Two brothers and a girl were arrested shortly afterwards in Las Vegas, but Pearl could not identify them and their fingerprints did not match those found at the scene. And from that point on the trail went cold. No one has ever been arrested for the crime and Pearl died in 1999, still not knowing who had slain her husband and almost killed her. In 2014, the Toonerville murder was reopened by cold case officers of the Coconino County Sheriff's Department. No new evidence or leads have yet come to light.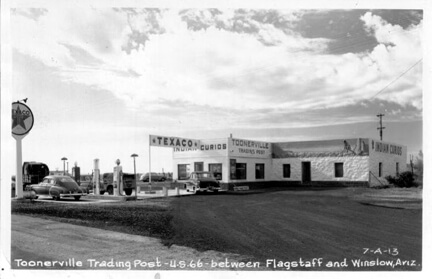 But it wasn't to be the last tragedy at Toonerville. In recent years, the trading post was converted to a private residence and occupied by Mary Smeal, a leading member of the Historic Route 66 Association of Arizona and chief financial officer for the Hopi Tribe Economic Development Cooperation.
Mary had campaigned to save and refurbish the Twin Arrows Trading Post nearby; many people knew that she had been one of the volunteers involved in preserving and repainting the iconic arrows in 2009, few knew that she had paid for all the materials herself. Her next project was to restore the Toonerville property.
On 16th November 2016, colleagues became concerned that the normally conscientious Mary hadn't turned up for work. A police welfare check discovered that she had been shot dead by her partner, Jeffrey Jones, who had then turned the gun on himself. Now Toonerville stands abandoned again, the scene of three deaths wrapped in mystery and about which we will perhaps never know the full truth.
If you love Blue's work, check out her terrific website https://neverquitelost.com and take a read of any of her vivid stories.