Route 66 and its unique motels hold a special place in the hearts of road trippers who follow the Mother Road. Although Route 66 is bookended by two big cities – Chicago and Los Angeles – the 2,448 miles in between are full of towns both large and small, each with their own unique flavor and places to stay. But only one city, Springfield, Missouri, is heralded as the Birthplace of Route 66, and they boast of being home to one of the best.
The Birthplace of Route 66
The Federal Aid Highway Act of 1925 established the first interstate highway system with uniform numbers, making it possible for Oklahoma highway commissioner and businessman Cyrus Avery and Springfield entrepreneur John Woodruff to map out the Chicago-to-Los Angeles route. At a 1926 meeting in Springfield, Avery, Woodruff, John Marshall Page, and B.H. Piepmeier were advised that the euphonic-sounding '66' was available, resolving their route numbering disagreement with the federal officials. A telegram indicating that '66' was acceptable was sent from the Colonial Hotel, and the route was approved on November 11, 1926, as part of the Federal Highway System.
Best Western Rail Haven is Born
The Rail Haven is situated at Glenstone Avenue and St. Louis Street – where Route 66 turned the corner to head west – in Springfield. Abundant neon, a mix of Cottage- and Mid-Century style, and its iconic rail fence greet you as you roll in, often among a flurry of activity. Two vintage gas pumps stand sentinel outside the stack-stone office, and the lobby's black and white chequered floor fits perfectly with the classic feel of Route 66. In the evening, the whole scene is set aglow by vivid green neon tubing along the eaves that creates a surreal sensation of stepping back in time. On the side of the motel, just off of St. Louie Street, a replica of the quirky vintage Rail Haven sign flickers warmly in the darkness. Standing in front of the sign the road is often quiet in the evening, and seemingly alone in the black night, it is impossible not to be reminded of the historic nature and story of this classic motel.
But who was the right someone, the savior of this marvelous motel? The ambitious restoration was the undertaking of Gordon Elliott, award-winning Springfield hotelier and apartment entrepreneur. Elliott, a history buff, had the business savvy, resources, and a keen interest in this particular motel—the one he remembers driving past way back in his high school years—to step in and revive it to its previous glory. The property was deteriorating, and Elliott knew he'd need to act fast. "I've always believed that luck comes once, and if you can't get it quick, you're going to lose it, and it will go somewhere else," said Elliott, President of Elliott Lodging, owner of the Rail Haven since 1994.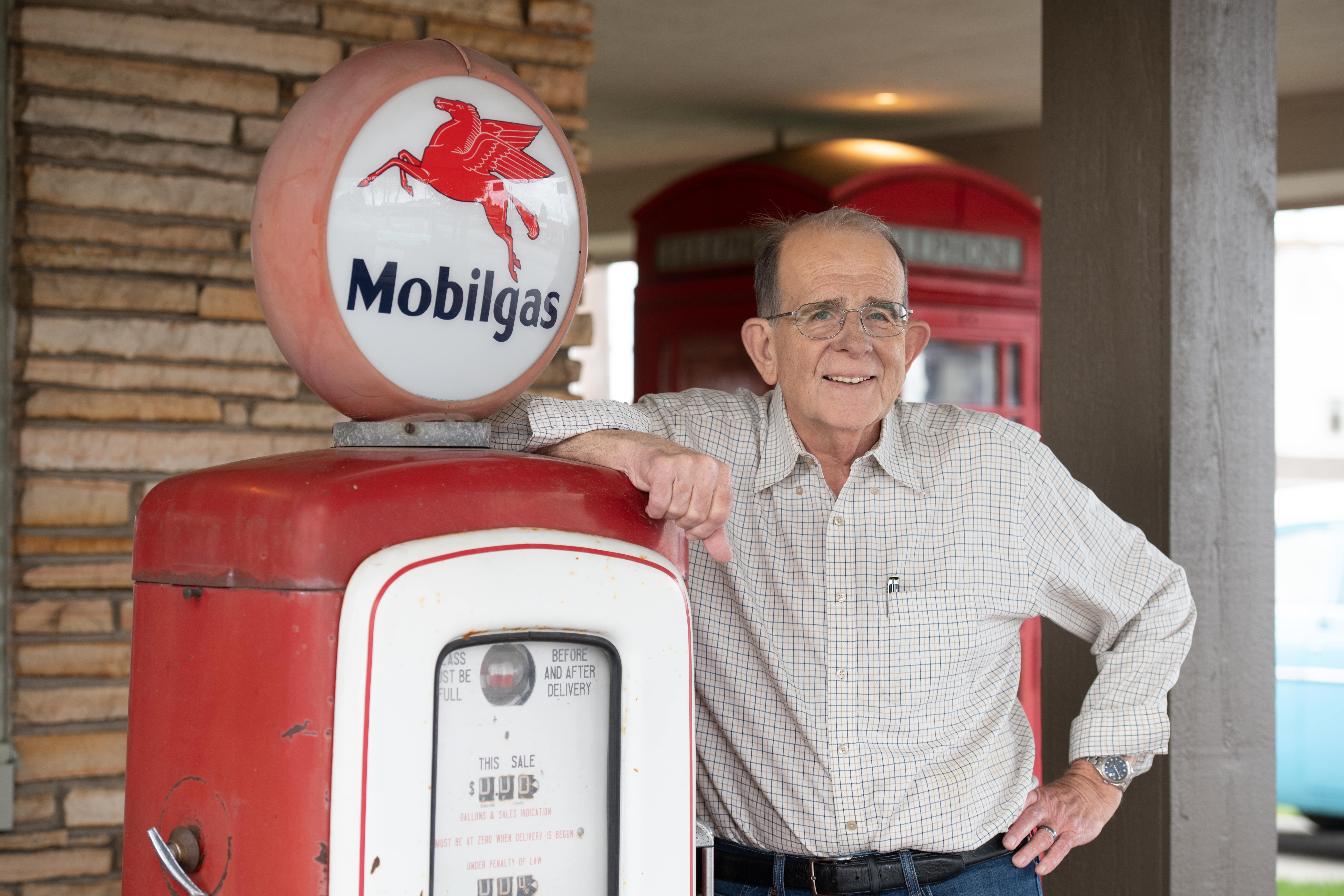 Mr. Gordon Elliott standing out front - Photograph by David J. Schwartz
The Story of a Cottage Court
But the Rail Haven's story begins long before, back in 1938 when brothers Elwyn and Lawrence Lippman, who owned a printing firm in Springfield, decided to develop roadside accommodations on a family-owned property at the crossroads of US Highway 66 and Missouri Highways 65 and 60. This prominent four-acre site, with an apple orchard and a leased gas station upon it, grew in significance as the Route 66 years rolled on and other automobile-oriented businesses sprang up around it.
The new Rail Haven Motor Court opened with eight Craftsman-style cottages built of Ozark stone, or "giraffe rock," with adjoining garages and a rail fence surrounding the complex, giving it an air of coziness and security. Here, for the grand sum of $4.50 per night, you had a snug cabin with a front porch, plus a steam-heated garage for your automobile. The following year, 11 more units were built, and a color postcard was issued, advising motorists to just "Look for the Rail Fence!" It was a simple slogan, but an effective one.
It was Lawrence Lippman's idea, inspired by the sycamore grove at the University of California Berkeley, to plant a smaller grove at the Rail Haven. Sycamores, fast-growing trees that can attain a 75-foot height, were the perfect choice. Placed along with the split rail fence, to instill Ozark charm and make the property stand out, the trees took root. Today, a few stately sycamores still adorn the perimeter of the property, as does the simple fence.
From its opening days, the Rail Haven was a family business, one of those mom-and-pop enterprises that built America. Lawrence Lippman and his wife Katherine were the primary operators along with brother Elwyn, who used his printing shop to create postcards, signs, and other advertisements. And Lawrence's children, Elinor, Daniel, and Edgar helped out after school, escorting guests to their rooms and keeping the grounds tidy. Elinor, the oldest sibling, "graduated" to working in the office and gift shop as she grew older, but it was Edgar who later became manager after his graduation from college.
In the 1950s, a new 16-room building expanded the L-shaped complex, and in 1957, a 30-unit building was added, replacing some of the original cottages. A three-unit building and a swimming pool were added the following year, and the old gas station was moved off the property to make room for a modern office. The motel's popularity increased due to the expansion, and the Rail Haven was featured in the June 1954 edition of The Ozarks Mountaineer magazine in an article titled, "Ozarks' Motels Now Rank Among the Nation's Best." Among Springfield's 65 motels, the Rail Haven received recognition as "...the first in the entire region to enter the field of providing fine accommodations, then found only in good hotels."
A Difficult Period
But the '50s weren't without problems, and in November 1951 the "big snow" descended on Springfield, requiring horse-drawn plows to clear two feet of snow from the hotel parking lot. Severe conditions kept the motel closed until better weather arrived. Then, an accident remembered locally as the "Wreck of '52" occurred on February 12, 1952, when a tractor-trailer carrying a load of new DeSotos careened down the Route 66 bridge after a collision, crashing into the arrow-shaped "Springfield" directional sign and running up a telephone pole on the Rail Haven's corner. The crumpled arrow sign disappeared that night, and was never seen again, according to Elliott. The truck driver was unharmed, but the driver of the other vehicle was hospitalized.
In 1961, the Lippmans sold the motel to local entrepreneur Ward Chrisman, who also owned the Colonial Hotel downtown. The ambitious Chrisman built an eatery, the Sycamore Inn, on the Rail Haven property; it opened in 1962 and served patrons around the clock. It quickly became the city's hotspot for both formal dinners and kaffeeklatsch gatherings. Waitresses wearing pretty hand-made uniforms rushed around, catering to a diverse 24-hour clientele – from cops to students.
The restaurant soon became a local legend, but after management changes, it fell on hard times just as fast, closing during the 1970s. Road reroutings and pedestrian-oriented malls led to a period of decline throughout Springfield in the 70s and 80s, and the Rail Haven fell into disrepair. But this is not a new story along Route 66 during the time.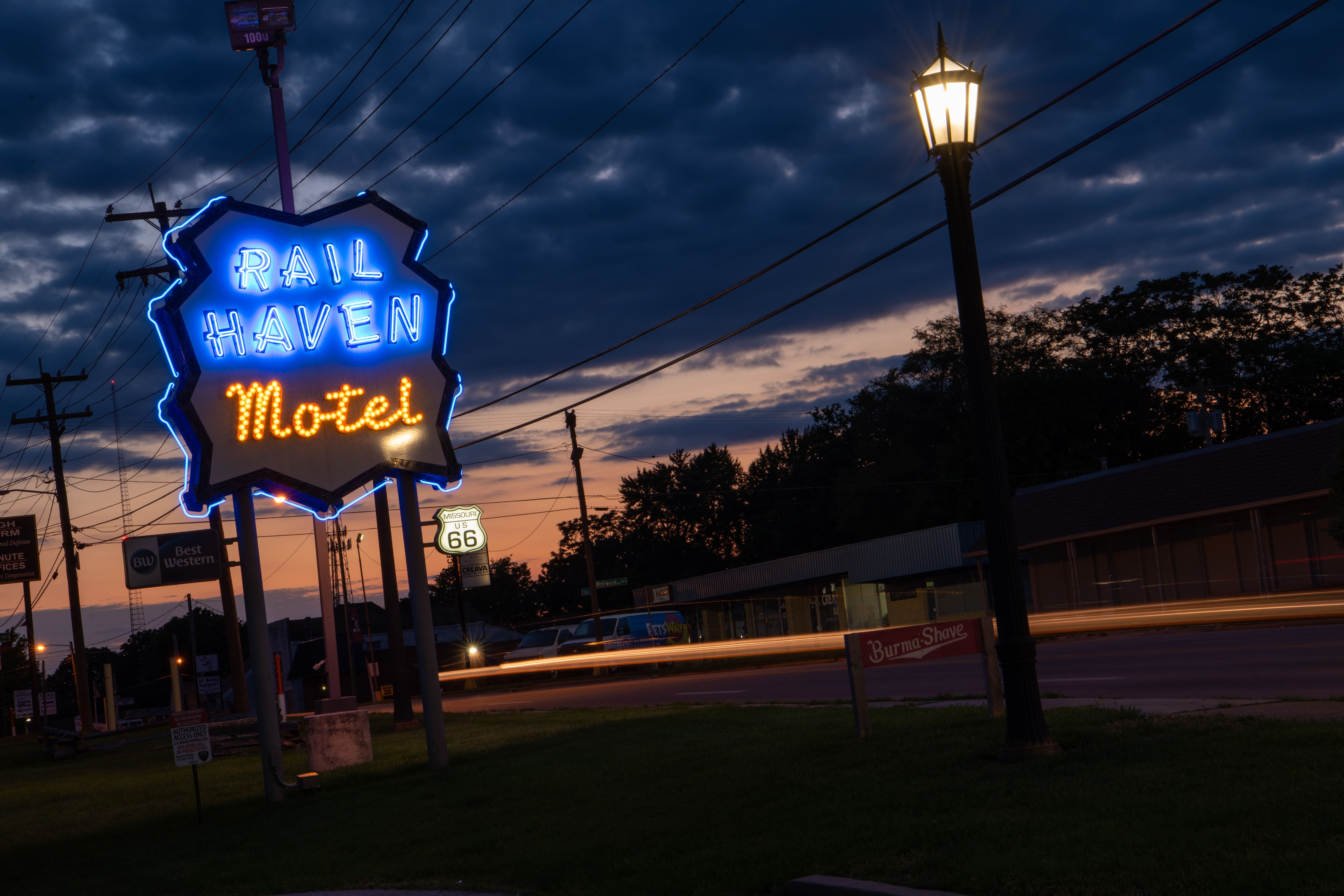 Cool replica of the original sign.
A Savior for the Motel
Then along came Gordon Elliott, who had developed both an affection and a vision for the shabby property. "By the early '90s it was in pretty bad shape," he recalled. "We got it in 1994 and it was an automatic transfer into the Best Western portfolio. They came out to do an inspection and the guy quit after an hour and said, 'I'm out of here'. And I thought, 'How are we ever going to get this to stay in the Best Western collection?'" A better question might be, how did Elliot, apartment mogul and hotelier, come to buy a "distressed location" that he ended up sinking almost a million-and-a-half dollars into? Elliott frankly couldn't stand the thought of the motel being razed. "I just didn't want to see that piece of history torn down," he explained. "I started out with apartments, but then started to diversify. Every year I bought another motel." Referring to the Rail Haven restoration, "I was proud to have done it."
"I bought it for the price of the land – four acres. The process took over three years to get it acceptable to Best Western," said Elliott about his 1994 purchase. In addition to the building renovations, Elliott directed the demolition of the old restaurant and construction of the pavilion. And then there were the signs to deal with. The huge Rail Haven Motel sign was in as bad of condition as everything else, and the Best Western head office was pressing to erect a standardized sign which identified the property as a Best Western. "That sign was trashed," Elliott admitted. The original Best Western sheet metal sign has been living out behind the motel in a state of rust. Curious visitors can easily view it as they wander the grounds. As for the iconic "Springfield" arrow sign that disappeared after the wreck, its shiny replacement was installed to mark the motel's 75th anniversary in 2013.
Maintaining the oldest still-operating Best Western in the company is an ongoing task. "The architectural surveyors come around every five to ten years with a property improvement plan. I fight with them if necessary because what I won't do is destroy anything that's original. We're the oldest and we're in the top 20% of their best hotels. And they are the longest existing lodging chain in the world. We rank with their very newest hotels. But it's no big deal," said Elliott with Ozark modesty. His laidback charm – the product of his upbringing – belies his success.
"My parents were born in Ireland, and they emigrated [in 1934-35] to the USA as young adults. How they met is a wonderful story. There were a lot of Irish people in both of the churches that they attended - Dad had gone to Philadelphia and Mom had stayed in New York - who decided that they were such an enterprising couple separately, they ought to get married. They had some back and forth with letters and photographs - mom said he was tall, dark and handsome - but they never met till they were married in 1938. It was a very happy childhood for me and my siblings." After their wedding, John and Rebecca Elliott moved from the East Coast to Springfield, Missouri, where they began life as minister and pastor's wife.
Born in 1943, the youngest of three children, Elliott learned about hospitality as he grew up, as his parents hosted relatives, friends, and church family at their home. "We would have a houseful of people, and they would stay overnight," he recalled. And when the Elliott family traveled, they would stay with Irish friends that they knew from back East. "I had actually never stayed in a hotel until my wedding night."
A 1965 graduate of then-Southwest Missouri State College, Elliott worked as an accountant before beginning his career as an apartment complex developer and then hotelier. Now, as CEO of Elliott Lodging and Oak Ridge Properties, Elliott owns and operates 22 hotels and 15 apartment communities in southwest Missouri and southeast Kansas.
"Over 25 years we've kept improving [Rail Haven]. We didn't have the cars out front at first, nor the pavilion, which is where the old Sycamore Restaurant used to be. We just had the basics." Since classic cars are a necessary component of nostalgia, Elliott has two of his own on display. "When I was growing up, my 'hot car' was a '55 Ford, like the blue one out front, and I never could find one like it till I was on my way to an appointment at the office [one day in 2000]. I drove by and thought, 'It's there!' So, I went back, and it had a 'For Sale' sign on it!" And the green '56 Ford beside the office? In 2005, he found that one languishing on a farm outside of town. "So many people want to take pictures with these cars. Sometimes we have people in their wedding gowns come in and take photos," added Brandy Kuster, General Manager. "Rail Haven is a place young and old alike can experience the feel of the days gone by. To see a guest's eyes light up when they step out of the car or watch them running around the property taking photos and selfies is a unique experience for the guests as well as our staff! Besides keeping the nostalgia and history from those days gone by... Elvis stayed here!!"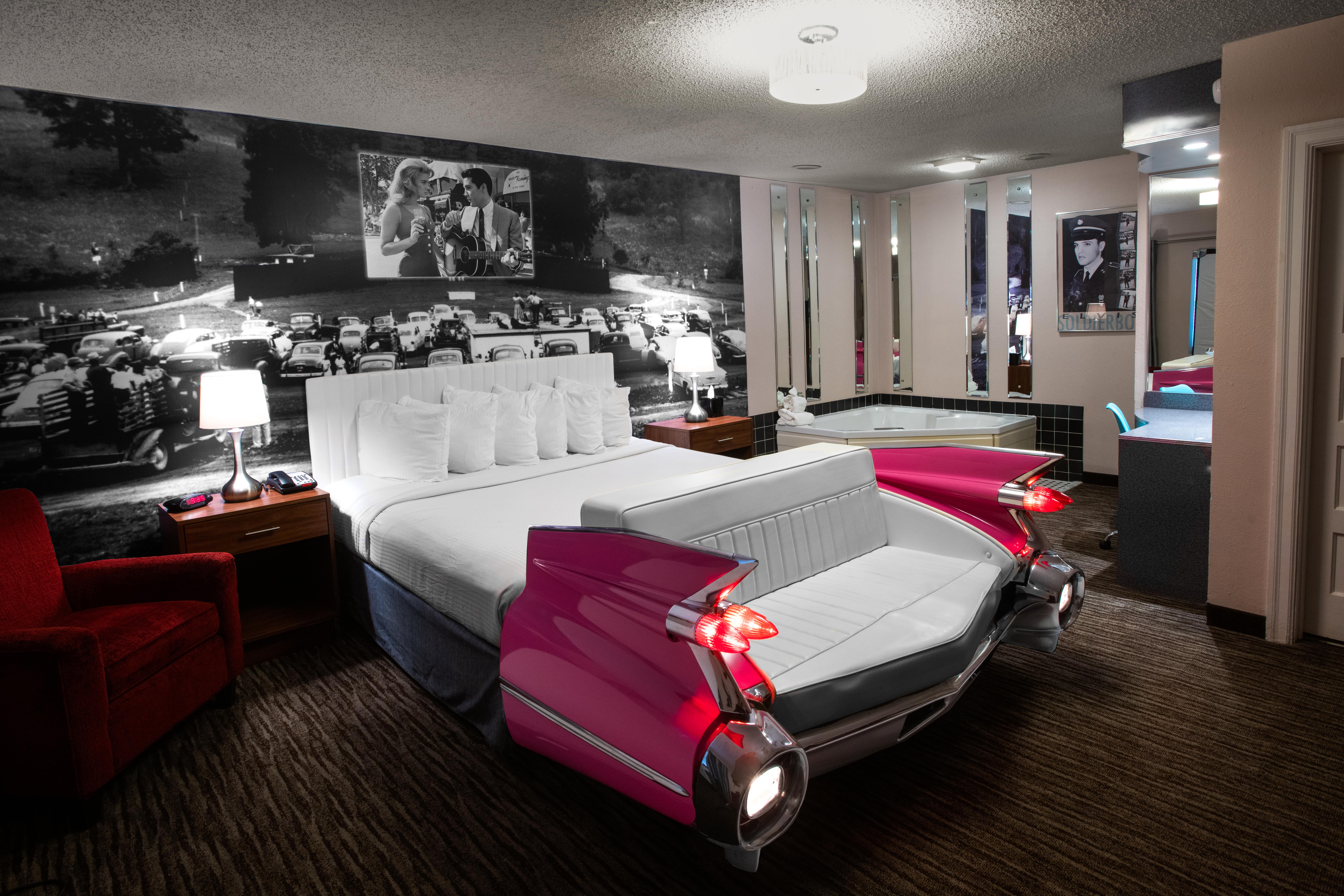 Elvis Presley Suite - Photograph by David J. Schwartz
Route 66 has seen its fair share of celebrities travel along its storied asphalt over the years and the motel has seen many of them grace its doors. On May 17, 1956, an up-and-coming rock and roll star from Memphis performed at the Shrine Mosque in town. "Elvis stayed here when he played that night," said Elliott. "The story is that he was booked into the Kentwood Arms, historically the best hotel in town. But he got in a tiff with the boys in the band, so he came down here [walked the 1.4 miles] because his mom was staying here. He was a momma's boy." So, Room #409 is a tribute to Elvis - and his mom - since the bed is a pink Cadillac, like the car he bought for her. It is an oddly colorful choice, but visitors, especially those from overseas, have a grand time in the Elvis suite.
No matter which room you choose, that edge-of-town feeling of the first cottages is still there. The motel seems to exist as its own private island in the sea of bustle that now surrounds it. And the excitement of its location right on Route 66 hasn't abated, as classic cars, sleek motorcycles, and patrons wearing Route 66 shirts or retro attire come and go. Guests gather in the pavilion to relax and exchange road stories or pluck out a couple guitar tunes. Somehow, this place is comfortable and cozy but still a feast for the senses all at the same time. And when those senses are filled up for the day, a comfortable room awaits, to rest and recharge for another day on Route 66. The tradition of mom and pop motels is still safe and maintained in the Birthplace of Route 66.