"Miniature Golf Capital of the World" is probably not the first thing that comes to mind when you think of South Carolina's Myrtle Beach but prepare to be amazed at the sheer number and diversity of mini golf options available; it really is impressive. And if the sound of the surf and calls of seagulls are already filling your post-winter dreams, it might be time to plan a visit.
From fables of pirates—the most famous being Edward Teach (a.k.a. Blackbeard)—stories of ghosts who haunt the South Carolina coast, and Sports Illustrated magazine tracing its origin here, Myrtle Beach's history is full of mythical elements and fervent lore, worthy of its beach fun reputation.
Early Native American inhabitants called the area Chicora, meaning "the land." With the arrival of, first Spanish and then English settlers, the area developed into established communities with names such as Long Bay, Withers, and New Town. A contest, sponsored by a local newspaper, granted the town the name we know today, Myrtle Beach, after the wild wax myrtle trees that lined the shore.
At the turn of the 20th Century, the Burroughs & Collins Company, a timber-turpentine firm saw the diamond in the rough and began developing the area's resort potential by constructing a railroad to the beach. At the time, lots were literally being given away—$25 per oceanfront lot, and if you built a house valuing $500 or more, the next lot was free. In 1901, the very first hotel, the Seaside Inn was built, and the sleepy beach town was on its way to becoming a vacation hotspot.
During the 1950s, 60s, and 70s, Myrtle Beach blossomed into a reputed family destination, spurred by the 'golden era' of road travel and family vacations. As tourism grew, so did the entertainment, attractions, and shopping experiences. Golf resorts, whimsical and fanciful themed miniature golf courses—there are more mini golf courses per square mile than anywhere else in the United States—a myriad of dining options, and elaborate entertainment complexes. Myrtle Beach is packed with fun.
Today, this once humble resort town, known for the Grand Strand, an uninterrupted coastline of over 60 miles and boasting beautiful beaches with soft, powdery sand, is one of the premier vacation destinations in America, welcoming millions of visitors every year. Towering above everything is the 187-foot tall iconic oceanfront landmark, the Myrtle Beach SkyWheel, the sixth tallest in the U.S. A 1.2-mile Myrtle Beach Boardwalk and Promenade, opened in 2010, provides endless entertainment options topped with expansive ocean front views.
But as seductive as beachfront relaxation is, it's only one way that Myrtle Beach lures visitors. The original Ripley's Believe It Or Not! Museum, the Hollywood Wax Museum, Broadway at the Beach, and Ripley's Aquarium of Myrtle Beach are among the many attractions that will ensure that you leave Myrtle Beach with more than just sand between your toes. For seekers of Low Country cuisine, Myrtle Beach serves up southern hospitality in spades with some of the freshest seafood in the country.
ROUTE ventured off the Mother Road to bring you our picks for the best dining options in this beautiful recreational paradise. But be ready to extend the waistline of your shorts because this town has some of the most delicious cuisine and friendly service in the South.
Pier 14 Restaurant & Lounge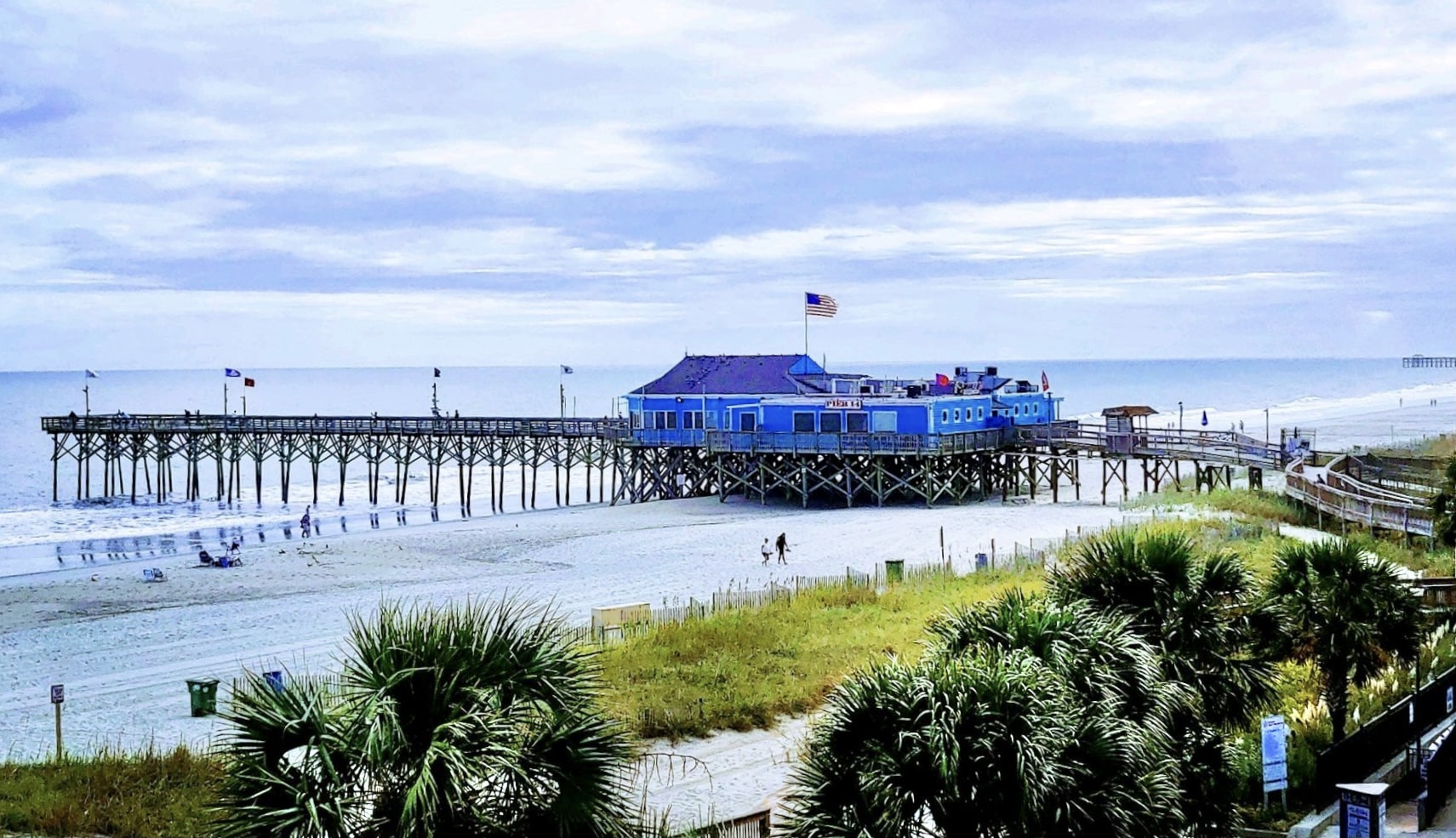 Enjoy dining over the ocean—literally—at this venue that began as a night club but transitioned into a dining establishment when Bryan Devereux, the current owner, took it over in 1986. The unrivaled waterfront views from the 600-foot pier—which was partially destroyed in 1989 by Hurricane Hugo and rebuilt in 1991—and its proximity to the Skywheel, make it a Myrtle Beach favorite.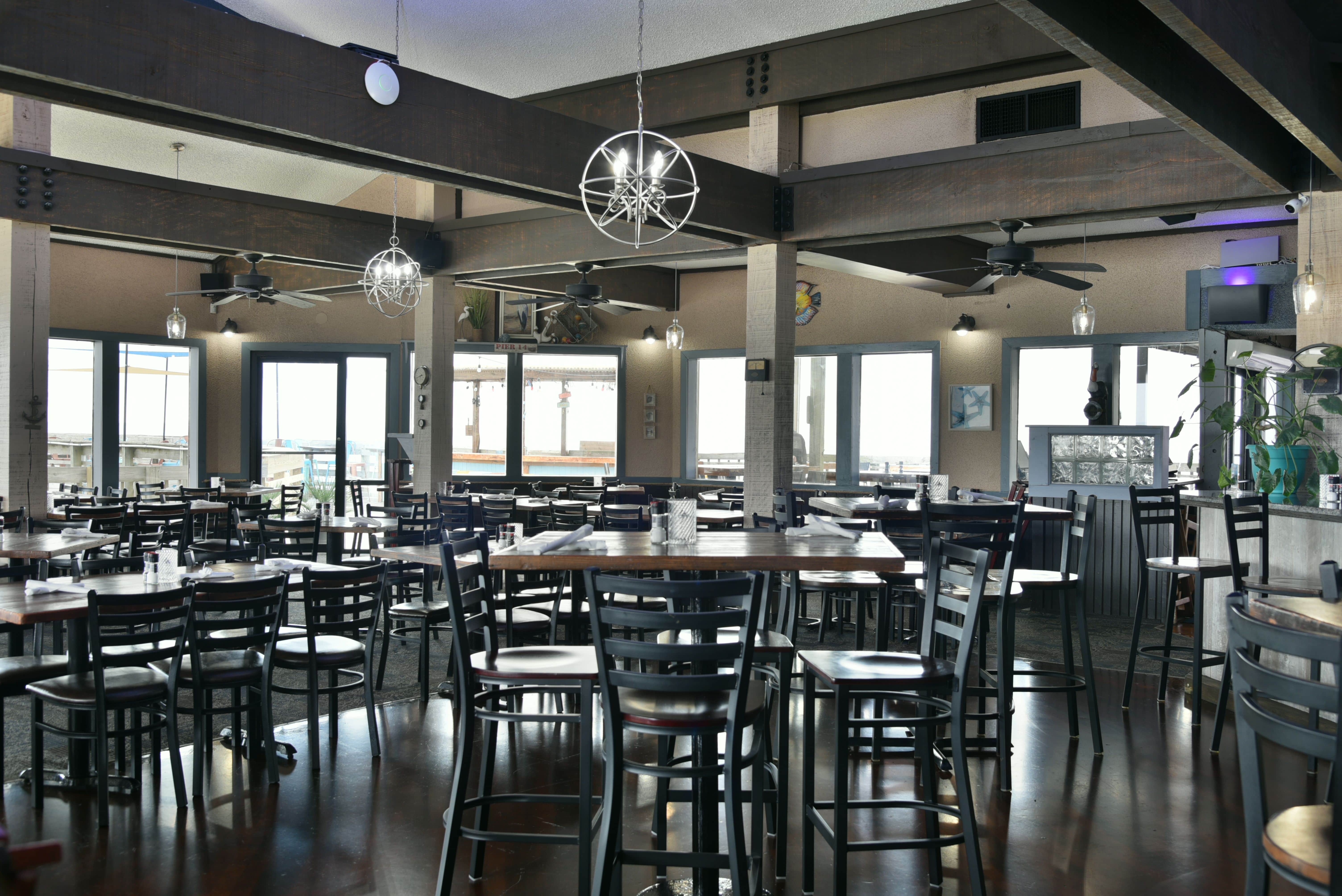 Dark wood beams and big picture windows give it a laid-back atmosphere with views of the Atlantic Ocean from most of the inside tables. If the sea breeze is what you are after, the scenic outdoor dining option is perfect for soaking in the sun and surf. The menu runs the gamut, with a full bar and a vast selection of meal options from Crab Legs, Scallops, and Oysters, to fire grilled Filet Mignon and Shrimp Linguine Alfredo. A must try is the restaurant's signature white fish with buffalo sauce titled: "Shark Bites."
Nighttime on the pier is quite special, so plan to enjoy a stroll on the pier as you take in the amazing skyline views and listen to the ocean waves crash below, all under the magical glow of the Skywheel's state-of-the-art LED light show. We promise you, there is nothing quite like it.
Sea Captain's House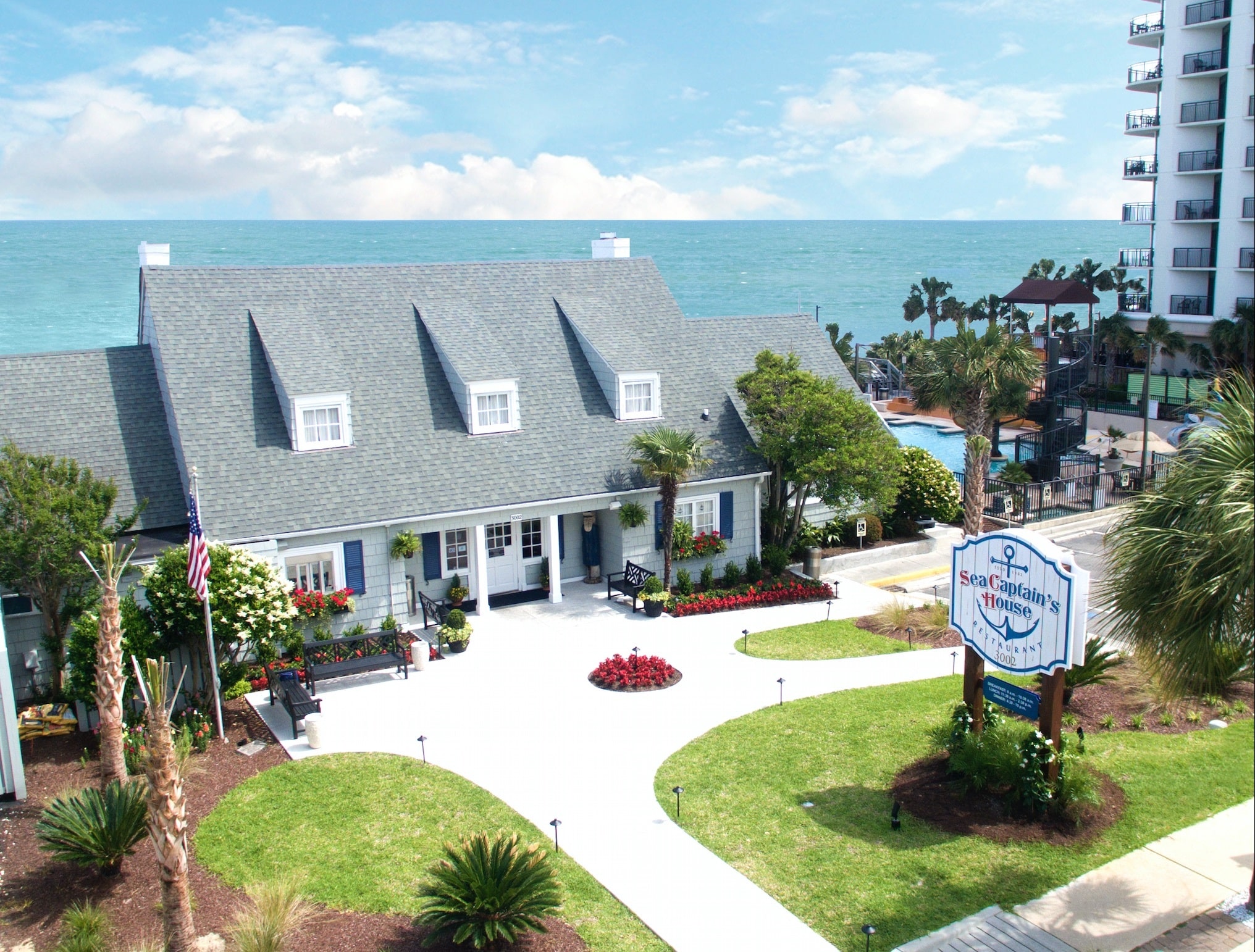 The history of Sea Captain's House is just as rich as the She Crab Soup it's famous for. Built in 1930 by Henry Taylor as his oceanfront family vacation cottage, its ownership changed in the 1940s to Charles W. Angle and then again in 1954 to Mrs. Nellie G. Howard who operated it as a guest house, Howard Manor, offering nine guest rooms and three home cooked meals daily. That same year, Hurricane Hazel swept through Myrtle Beach leaving devastation in her wake. Miraculously, Howard Manor survived with minimal damage. The cottage was sold again in 1962 with a plan to tear it down and build a more 'modern' accommodation in line with the changing demands of vacationers. However, those plans were put on hold and a restaurant was opened as a temporary measure.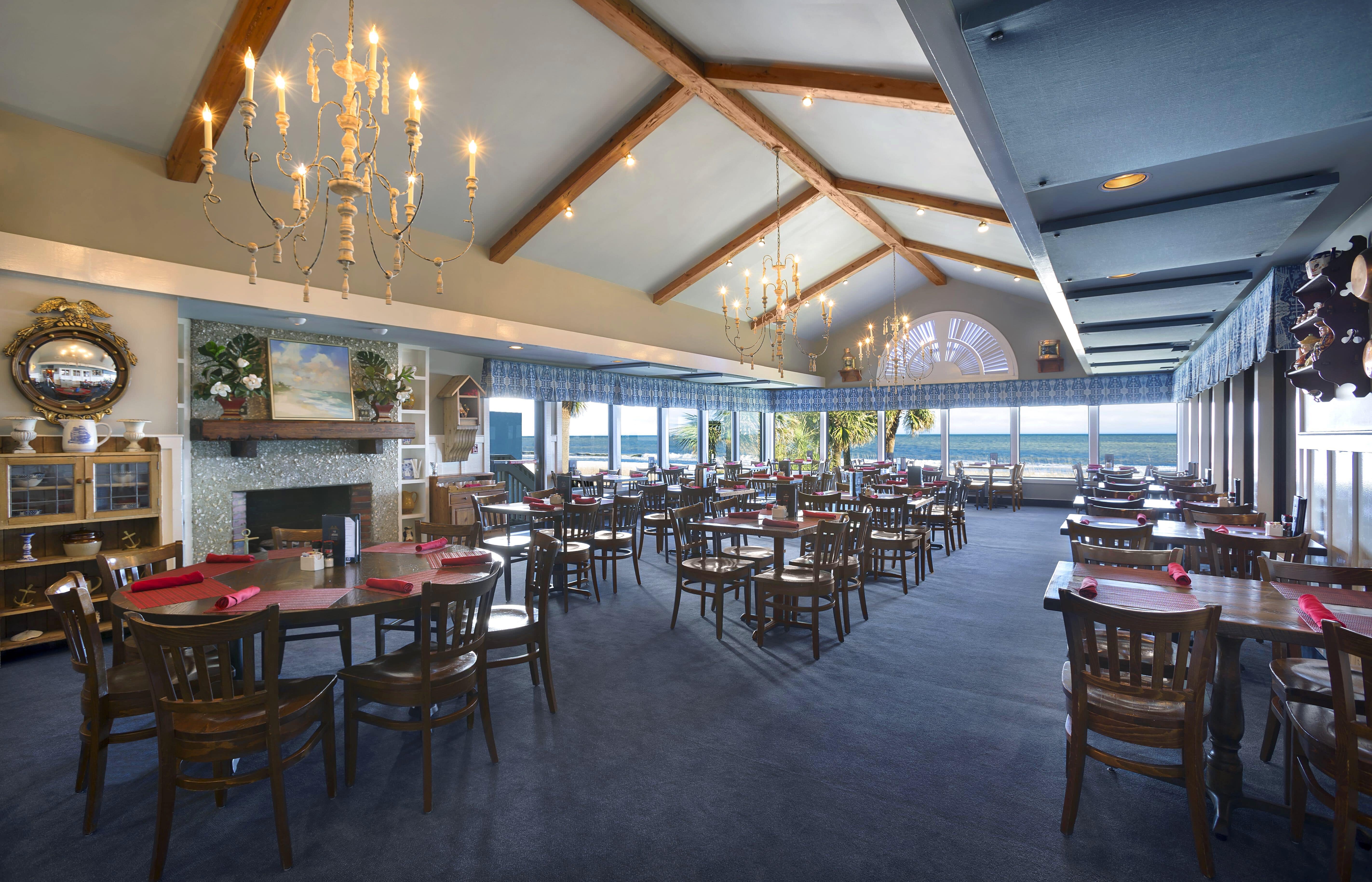 Today, Sea Captain's House has been standing in the same spot for over 50 years, serving up old-world service, a relaxed sophisticated ambiance, and low country cuisine that has remained consistently fantastic for all that time.
The floor to ceiling windows guarantee a picturesque and peaceful ocean backdrop, while the menu options match the oceanic views. Recommended is the award winning She Crab Soup or Crab Dip as appetizers, and for some finer touches, the Carolina Sea Scallops, Broiled Crab Cakes or a choice from the Fresh Catch Collection.
Whether you are here for breakfast, lunch, or dinner, we know you will fall in love with this venue's quaint New England coastal vibe, wrapped up in the southern charm of its South Carolina location.
Hook & Barrel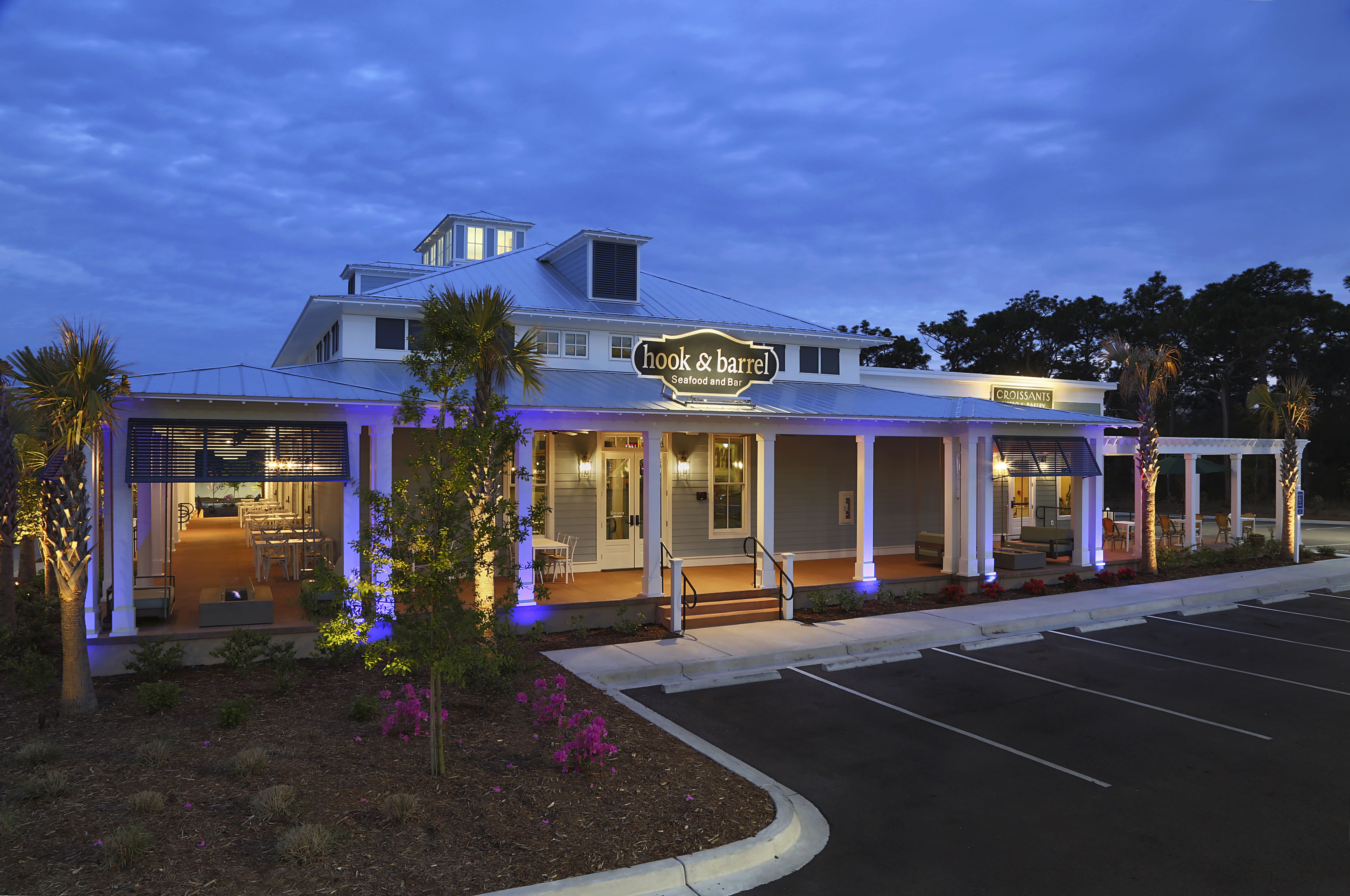 Photo credit Scott Smallin
One step into Hook & Barrel and you're likely to find yourself in a nautical trance. Myrtle Beach's first green restaurant has an ambiance like the sea herself: serene and open, and hanging from the ceiling the wavy tentacles of the jellyfish lights that hypnotize you as they unfurl from their bell-shaped hoods. The lighting is the centerpiece of the bar and epicenter of this sustainable seafood eatery.
Conceptualized by Heidi Vukov–a 2018 South Carolina Chef ambassador—and opened in 2017, Hook & Barrel is especially unique with its commitment to sustainability; the restaurant is completely gas free, and sources sustainably harvested seafood and local produce. Hook & Barrel ticks all the boxes that a hip, seafood restaurant should, with a fantastic emphasis on freshness and invention.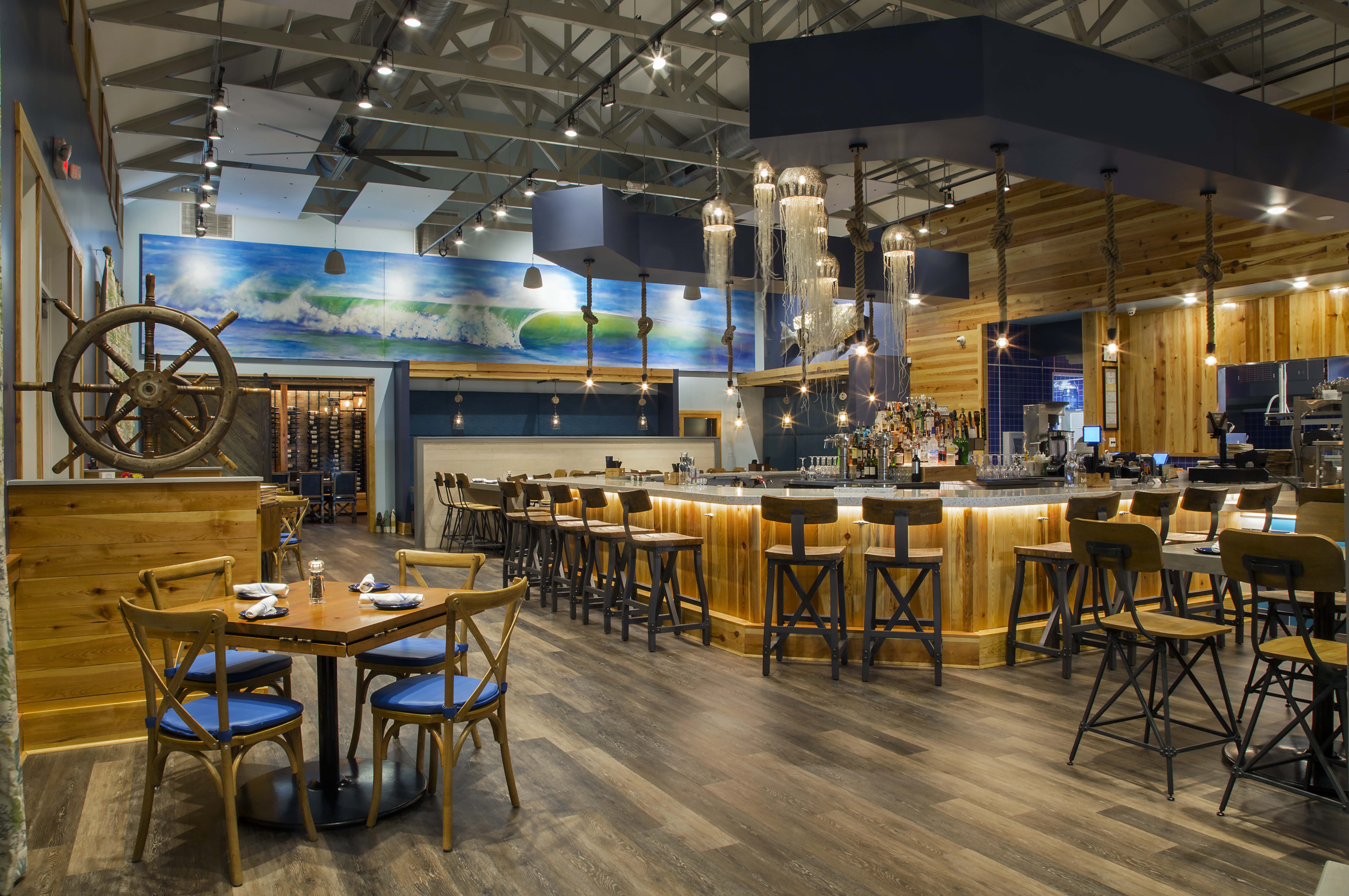 Photo credit Scott Smallin
An abundance of fresh seafood populates the menu: try the Seafood Tower, Smoked Shrimp & Grits or pick your choice from the steam galley that includes Steamed Mussels and Fresh Oysters. The crab cakes are a must try. You will notice that each plate is thoughtfully composed and that the staff is well-trained and passionate about providing a memorable dining experience. Make sure to reserve a table ahead of time, Hook & Barrel is quite popular.
Greg Norman Australian Grille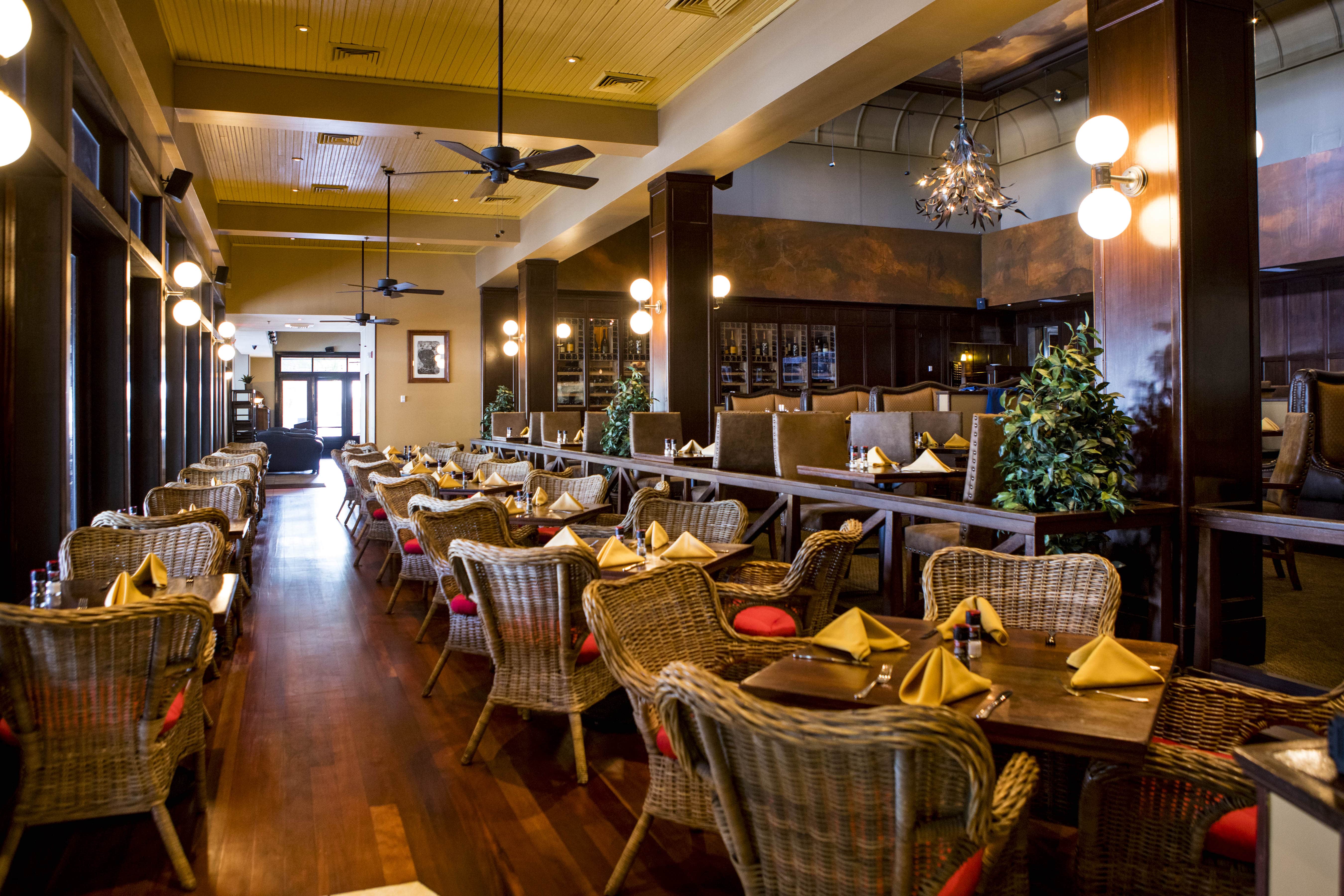 Owned by famed Australian golfer Greg Norman, this elegant and upscale waterfront restaurant showcases both exotic comfort food and unexpected delicacies such as grilled kangaroo. Yes, we did try it, and it's actually pretty darn tasty. Since opening in 1999, the Greg Norman Australian Grille has offered innovative, chef-prepared culinary delights that are assembled over a wood-fired grill; their combinations of fresh meats, vegetables, and spices are sure to result in taste explosions.
Soak in the ambiance of the Land Down Under as you dine under a hand-painted cathedral ceiling flanked by two eucalyptus leaf chandeliers. The Shark Pub offers the golfer's own brand of wines alongside an extensive international selection, and outdoor seating offers romantic views of the sunset while live music wafts across the intercoastal waterway.
Mr. Fish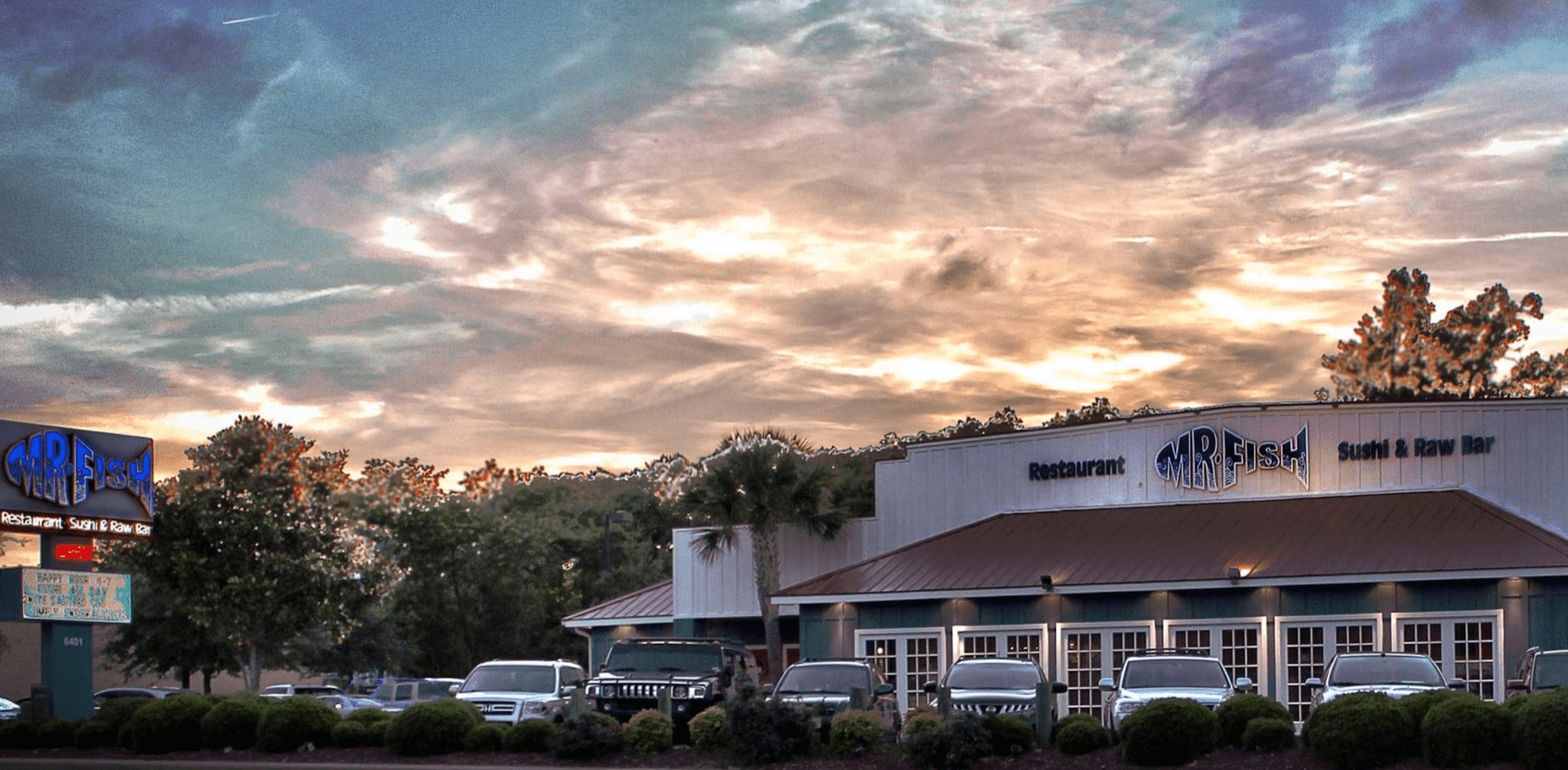 Culinary professional Sheina Hammerman and renowned fisherman Ted Hammerman have witnessed something that not many father-daughter teams have had the pleasure of sharing—the growth and expansion of their jointly owned restaurant. Mr. Fish has come a long way since its origin as a seafood market. Now a current favorite of locals and travelers alike, with a menu that ranges from traditional Low Country boil to signature sushi rolls, Mr. Fish claims to be the "freshest happy hour on the beach".
Large selections of whole and filleted fish are still available at the market next door, and make sure to get a taste of the Black n' Bleu Tuna Sandwich and the fantastic Shmaxy's Smoked Tuna Chili. And if you feel like staying a little while and enjoying some drink with your meal, give them a heads up and they will swing by and pick you up in the "Mr. Fishmobile.'' Yes, you heard it. A Fishmobile.
Mr. Fish is a place of simple, respectful fish cooking of the freshest catch, but with that extra flair of southern hospitality to raise the level skyward.
So there you have it.
Pristine long white sandy beaches, warmish water, sunshine, and a great selection of dining experiences. There aren't many places as unique and as affordable as Myrtle Beach, so if you're looking for where to head to for your next coastal vacation, Myrtle Beach won't steer you wrong. When it is safe to travel widely, take a road trip down to South Carolina and enjoy some real Americana and fabulous food while you're at it.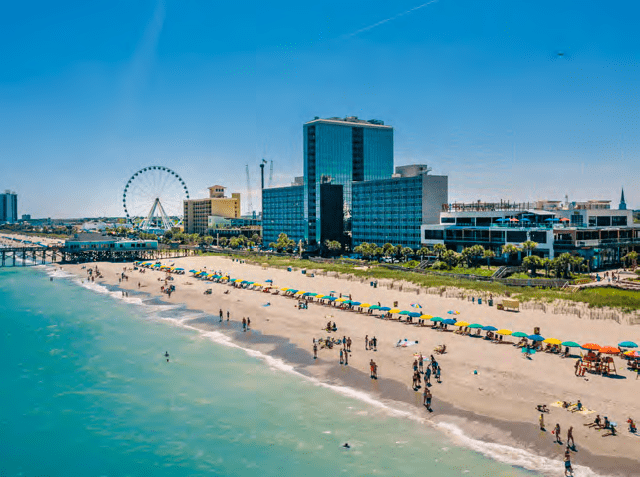 Myrtle Beach: America's Finest Strand.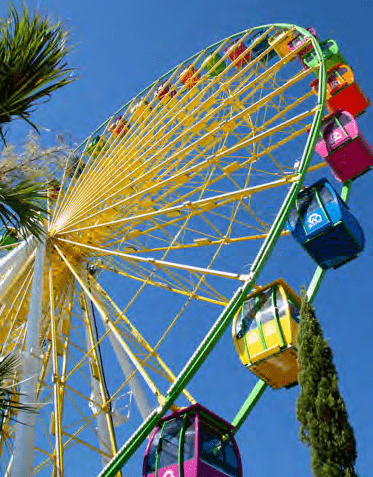 Ferris Wheel.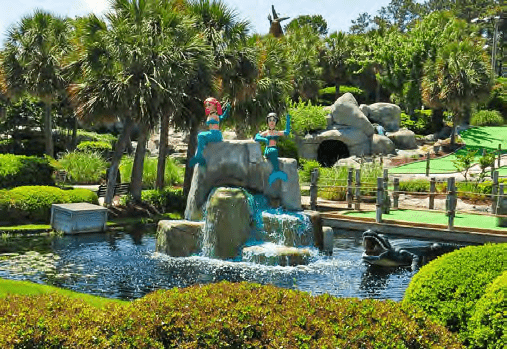 Captain Hook's Mini Golf.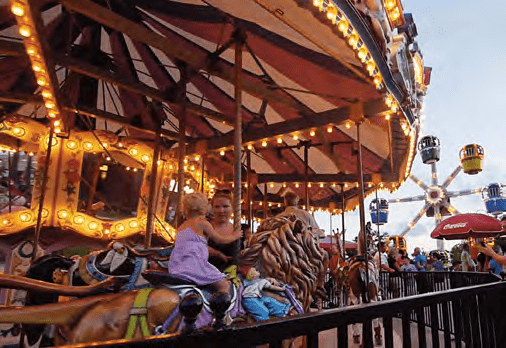 Broadway by the Beach.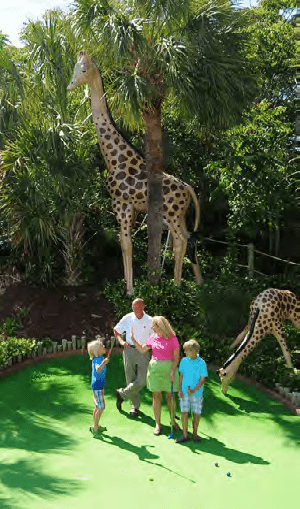 Jungle Safari Mini Golf.
Hollywood Wax Museum.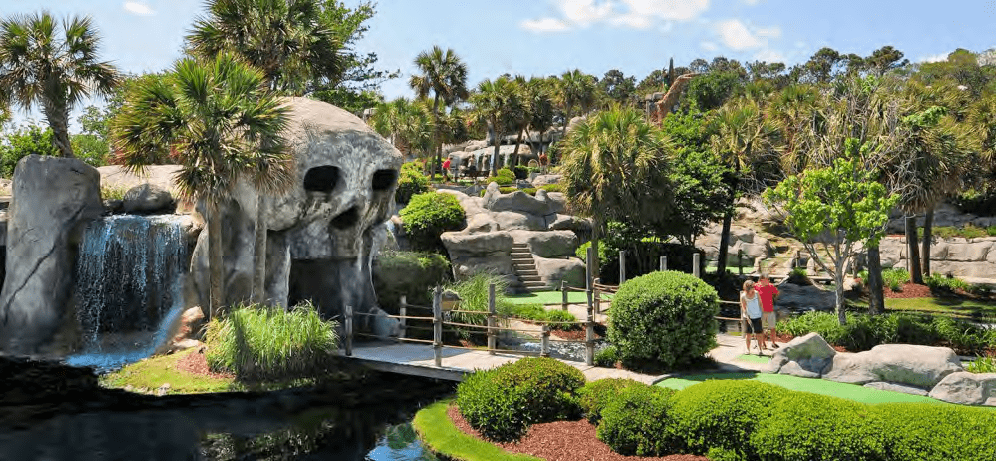 Captain Hook's Mini Golf.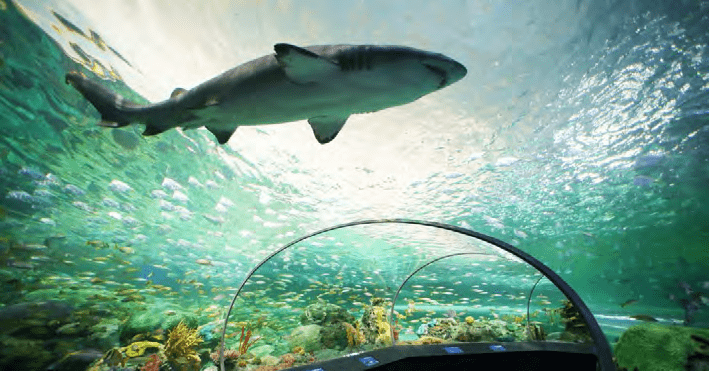 Ripley's Aquarium.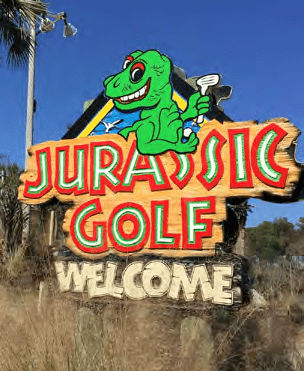 Jurassic Mini Golf.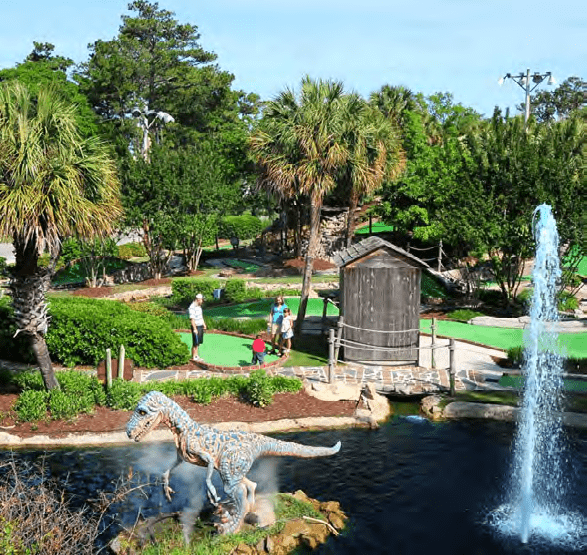 Jurassic Mini Golf.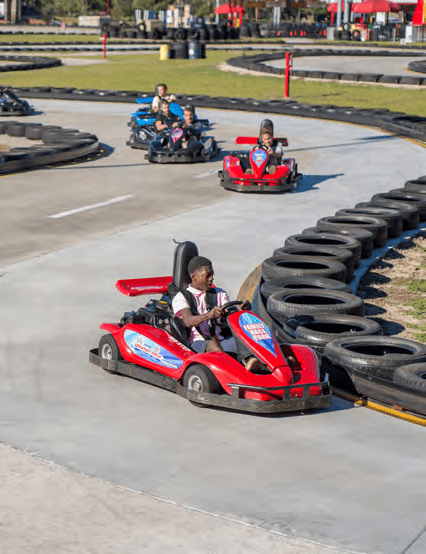 The Track Family Fun Park.