From the moment The Flintstones premiered, the series garnered a massive fan following, which secured the show six seasons by the time the final episode aired on April 1, 1966. Viewers couldn't get enough of Fred Flintstone's constant comical blunders and the family's prehistoric pet, Dino, with its endearingly dog-like personality. Adult viewers could sympathize with Fred for being frustrated with his irritable boss, while younger audiences loved the Rubbles' friendly pet "hopparoo," a kangaroo-dinosaur hybrid. For the show's creators, William Hanna and Joseph Barbera, The Flintstones was an overwhelming success, capturing the hearts of audiences of all ages with its wit and occasional, real-life wisdom.
It's been several decades since The Flintstones ended its wildly successful run, but its impact on popular culture can still be seen today. The show spawned both a spin-off series and a live-action film, while establishing itself as a merchandising giant. Today, children can munch on Flintstones Chewable Vitamins before sitting down to a bowl of Flintstones-inspired Fruity Pebbles cereal. The Flintstones has also inspired children's lunchboxes, Halloween costumes and even a Google Doodle on the show's 50th anniversary.
At the time The Flintstones hit the airwaves, life in America was marked by a greater sense of simplicity and a better understanding of human relationships. The series emerged at a time before smartphones replaced old-fashioned car-ride conversations and finding places to discover off the road was as exciting as securing an internet connection. While social media gives us exactly what we expect to see, vintage road travel was defined by the unexpected, which is what made it so wholesome and undeniably human. Roadside attractions beckoned to travelers with the promise of unforeseen, quirky fun. But perhaps, out of the many roadside attractions that dotted the American landscape during the late 20th Century, the one that stood out the most to travelers was the undeniably authentic, unconventional Bedrock City.
The Stone Age Comes to South Dakota
Behind the creation of Bedrock City was a man known as Francis "Hudi" Speckels and his father, Woody Speckels. Neither of them was a self-proclaimed Flintstones fanatic, but rather, men with ambitious ideas for a unique tourist attraction. The Speckels' entrepreneurial venture came at a time when Disneyland was only a decade old and seeing millions of visitors per year. Having witnessed how successful a theme park could be, the duo decided to break ground on a new attraction, although neither of them anticipated how successful Bedrock City would become. Like Disneyland, it would also be inspired by a popular animated cartoon. However, this one wasn't based on the adventures of a singing mouse, but rather the rambunctious exploits of a prehistoric family with remarkably modern-day problems.
Wilma Flintstone.
Nestled in Custer's undulating Black Hills, Bedrock City, South Dakota, opened in 1966 and spanned 62 acres. The park contained numerous cement statues of Flintstone characters, a diner, a large gift shop and an adjacent campground — complete with a 20-foot- tall statue of Dino towering over visitors at the park's entrance and a Bronto Rib drive-in restaurant. At the end of the park's Main Street stood "Mt. Rockmore," which featured the heads of Fred, Barney, Dino and Mr. Granitebilt and served as a nod to nearby Mt. Rushmore.
Old video footage of families at Bedrock City, South Dakota, depicts excited children curiously poking their heads inside the park's flat-roofed, primeval dwellings, posing next to oversized statues and climbing onto the back of a cement replica of Baby Puss, the Flintstones' pet saber-toothed tiger. Their parents watch on, themselves equally amused by Bedrock City's unique, quirky nostalgic charm.
But Bedrock City was more than a quirky tourist attraction. It became an ethereal paradise for Francis Speckels' young daughter, now named Tana Glasscock. Photos of a young Glasscock at the park capture her posing beside eclectic caricatures, grinning from ear to ear as she relished in the childish beauty around her. As is not often the case with theme parks, Bedrock City was an entirely family-run business, and for Glasscock, being surrounded by family members enriched her childhood even more.
"My memories of Bedrock were wonderful growing up," Glasscock said. "I was able to be alongside both of my grandmothers, who were working in the gift shop, at the age of eight. When we became older, working with my sisters in the diner was wonderful… I always said my father was the original MacGyver in the way [that] he was able to use things on-hand to repair and create things, since we were in such a remote area, and the two-hour round trip to town was difficult. His vision and talent and daily hard work at building Bedrock was exemplary."
Despite the obvious hard work put into building Bedrock City, the Speckels doubted its artistry would be appreciated by many. They thought real financial success would come from the earnings of the park's adjacent campground, which would draw in road- trippers traveling to and from the Badlands or Mt. Rushmore. Nevertheless, fate proved just the opposite, and Bedrock City saw countless visitors following its opening, especially during the warm summer months.
Bedrock City's success waned during the 1980s, despite the arrival of new additions to the park, such as a small replica of a 19th Century steam train that carried passengers into "Dinosaur Canyon" before passing through "Mount St. Wilma," as well as a new barn to house family country music shows.
As park attendance continued to decrease throughout the '80s, the sun slowly began to set on Bedrock City, South Dakota. Meanwhile, events were taking place on America's corporate landscape that would threaten the future of the park.
Wooly mammoth.
In 1995, Time Warner and the Turner Broadcasting System announced a $7.5 billion merger, which placed Hanna-Barbera cartoons, including The Flintstones, under the umbrella of Warner Bros. Studios. Eventually, Warner Bros. approached Bedrock City, South Dakota, to request that its images of Fred Flintstone be updated, so that he more closely resembled the studio's official style guide — a move that apparently angered others in the cartoon community, including Ren and Stimpy creator John Kricfalusi.
In the fall of 2015, Warner Bros. refused to renew Bedrock City's license in South Dakota, stating that the park did not meet the studio's requirements. Warner Bros. also declined the park's request to build a museum on the land or donate the cement characters to South Dakota's Storybook Island. As a result, Bedrock City, South Dakota, was sold that year for $2 million. For Glasscock's son, Brandon Dee, the demise of the park was nothing short of a tragedy.
"It was my grandmother's cousin, Joe Speckels — [who] sold it," Dee said. "He was tired of the business. He had AOL Time Warner telling him to shut it down, too. So, he sold it for a profit, and there it sits rotting away in Custer. It's such a strange story. Custer's hospitality, like the Chamber of Commerce of Custer, South Dakota, bought Bedrock City there because they said it was too rundown and too old, and not the kind of place they wanted for their town, but it was beautiful. Custer bought it to shut it down. It's just sitting there, rotting, waiting to be demolished. You know, I was shocked it hadn't been already."
As it turns out, Dee was right when he said Bedrock City, South Dakota, was waiting to be destroyed. Earlier this year in April, the park was finally demolished, when bulldozers reduced every piece of its roadside history to rubble and the annals of history.
Arizona's Bedrock City
In 1971, shortly after the opening of Bedrock City, South Dakota, Woody Speckels decided to expand the family's Flintstone enterprise. Inspired by the success of the park in South Dakota, Woody came across a lonely, arid stretch of land for sale in the southwest, which seemed like an ideal location for a second tourist attraction. And in June 1972, Speckels and his son, Francis, opened Bedrock City, Arizona.
Barney Rubble.
Located in the small town of Valle, Arizona, Bedrock City sat halfway between the south rim of the Grand Canyon and the beloved Route 66 city of Williams. Like its sister location in South Dakota, the park immortalized the humorous, quirky characters and locations that defined The Flintstones. Although it was half the size of the park in South Dakota, Bedrock City, Arizona, effectively captured the quirkiness and vibrancy of the iconic Flintstones. Visitors had the chance to walk inside the character's prehistoric homes, which were painted in bright rainbow colors and featured archaic furnishings and leopard skin tapestries. A towering green brontosaurus slide served as the park's centerpiece, while other replicated establishments, such as a primeval barbershop and grocery store, contributed to the park's Stone Age setting. As people walked amongst the park's cement structures, audio from episodes of The Flintstones played on loop in the background. Like Bedrock City, South Dakota, the park immersed visitors in the ultimate Flintstones experience, not holding back on its kitschy aspects.
Bedrock City was built by many members of the Speckels family in addition to Francis and his children. According to Dee, four generations of Speckels called Bedrock City home. "My grandfather built the park in less than a year with a dozen hired hands. The names of my mother and my four aunts are carved into the back of the theater door, corresponding to their heights and their ages.
They all helped build Bedrock. There were four generations there at one point: my great grandmother, my grandmother, my parents and me and my cousins and my sister. All of us worked there. My mother helped build the place with her father as a young girl, but after it was built, those girls would get off the school bus, having [traveled] 30 miles to go to school — get off the school bus and then go to work in the gift shop, selling concessions in the park. It was certainly less for my generation … They put us behind the cash register and said, 'Oh, look how cute they are,' but, you know, I must have been 8 or 10 when I first started working there. So yeah, four generations [worked] there at one time."
While Francis' construction of the park was undoubtedly impressive, Dee said it was his aunt, Gina, who paid the most attention to the upkeep of the park. "The best of Bedrock, a decade after my grandfather died, was created by my aunt, Gina, who was talented in so many things, theme park prop creation among them, and who kept the crawl-through snake painted and the Flintstones cars in good order. I've always said that anything good back in Bedrock was created by Gina. You had to know what to look for there at the end, due to the decade of neglect, but her creations were the best additions to the park."
During its early years, Bedrock City, Arizona, fell victim to the oil embargo of 1973, which stymied the flow of tourist traffic on roadways. Meanwhile, the president and the vice-president of Hanna-Barbera Productions, Fred Seibert and Tom Barreca, respectively, were considering ending the contracts for both Bedrock City parks in order to preserve the Flintstones' image. Seibert and Barreca approached the owners of both parks and told them that, in order to keep their contracts, they must make specific structural updates before the 1994 release of The Flintstones live-action film. After Bedrock City was successfully updated, both parks enjoyed a surge in tourism, which lasted throughout the early 2000s.
Yet, towards the end of the park's life, visitors to Bedrock City, Arizona, had begun to notice its age. During daylight hours, the park's crumbling structures, with their bright colors wearing away, invited travelers with a sad, nostalgic wave of welcome — one that signaled its inevitable end.
Bedrock City, Arizona, met its demise earlier this year, when its owner, Linda Speckels, sold the property. The two men who purchased it, Troy Morris and Ron Brown, acquired the land in order to build their new attraction, Raptor Ranch. Like Dee, Glasscock was devastated when she learned that her mother had sold their beloved family theme park. For Dee and Glasscock, Bedrock City carried the crux of their family memories, and to have it sold was very upsetting.
"Brandon's efforts and work put into trying to save Bedrock for the 'unique family treasure,' as he called it, were valiant," Glasscock said. "I had tried to discuss future plans for Bedrock's continuation with my mother years ago, but to no avail. When she told me she didn't want to sell a year and a half ago, I made plans to transfer my job and move to Arizona to help her physically and help run the business. When she signed a contract to sell without notifying me, I was shocked and heartbroken. It is still very raw."
"My Entire Life is for that Park"
With the closure of Bedrock City, Arizona, the nation is witnessing the end of an era — one defined by the simplicity of family- owned theme parks and wholesome, family-oriented entertainment. Both Bedrock City locations served as time capsules, preserving the simplicity and authenticity of vintage road travel. Both parks were like a beacon for road-worn travelers, drawing them in with the irresistible promise of unconventional fun. For Dee, the decimation of Bedrock City meant the eradication of a place that has been the backdrop to his entire life.
"I'm in love with that theme park, and my entire life is for that park. I could talk about the theater, which was my favorite aspect of it … In the daytime, it would play The Flintstones cartoons, and at night, it became sort of this underground theater where it played old '80s zombie movies and Rocky Horror Picture Show, and it put on a sideshow for the random guests that were staying in our campground. It became this magical place lit up by the blacklight, and then with the theater there — this dark, deserted theme park in the middle of nowhere."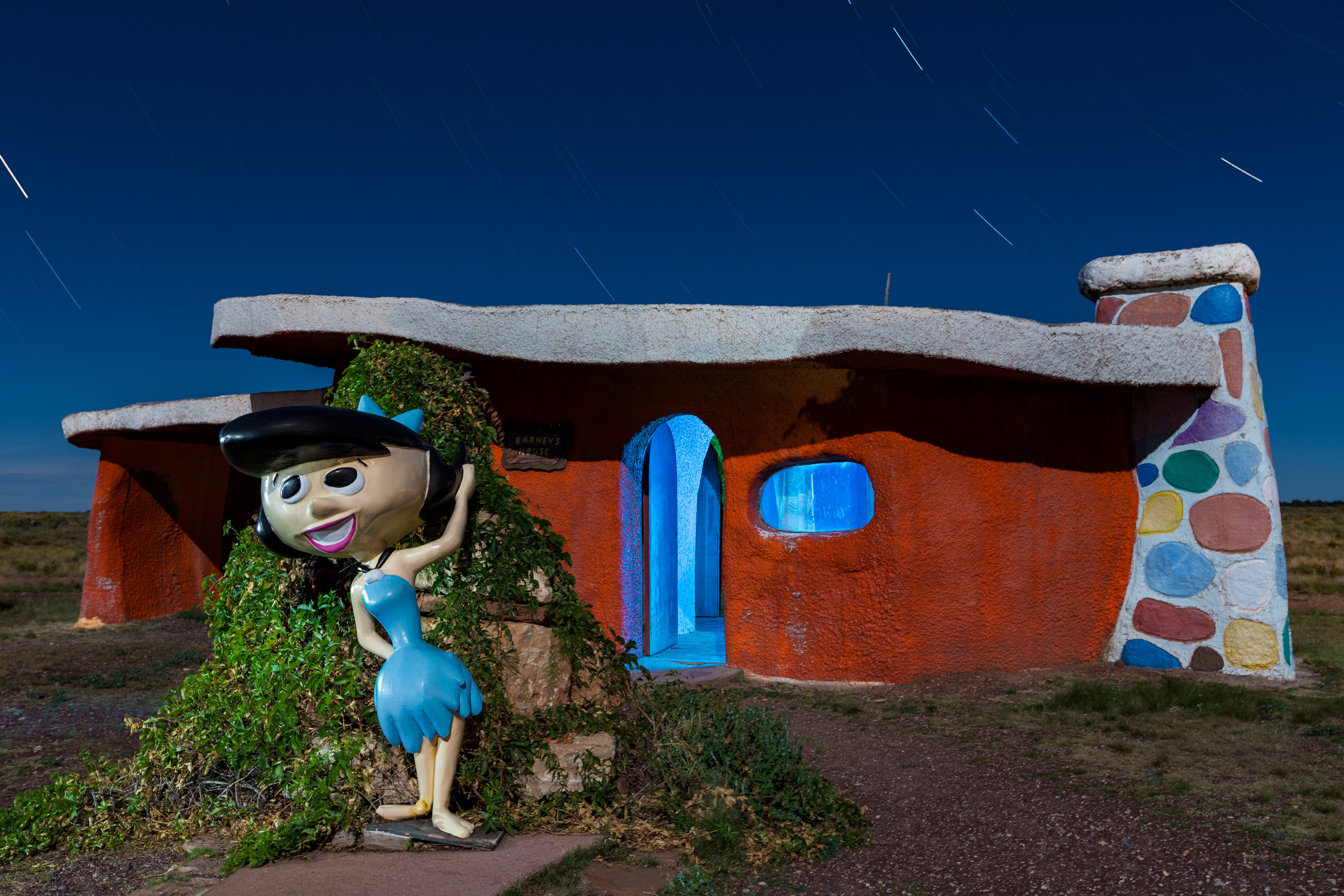 Betty Rubble.
Bedrock City's prime location outside the Grand Canyon made it an obvious choice for those eager to establish a thriving tourism attraction. For Morris and Brown, the decision to open their new bird attraction, Raptor Ranch, on Bedrock City property was a simple one. "It's a good spot for tourism — people in the Grand Canyon looking for something else to do after they've spent some time at the Canyon," Morris said. "We thought this venue would be a good location."
Once construction on Raptor Ranch is completed, visitors can expect to find all the attributes of a bird sanctuary with the added opportunity to see demonstrations that reveal the wild lives of raptors. "When it's built out, we're going to have a number of large aviaries with different types of birds, and then we'll have a breeding barn that shows our birds breeding and nesting and an outdoor flight demonstration where we have the birds chase artificial types of lures, and we'll kind of simulate these types of situations to show people how birds hunt in the wild," Morris said.
Although Morris doesn't have an exact date yet for Raptor Ranch's opening, he said he plans to have the attraction up and running for the summer season, which is the right time for people to come if they wish to see Bedrock City one last time. Morris said that they plan on keeping a few pieces from Bedrock City to celebrate the property's history, but the majority of the theme park will be gone following the end of the summer season.
"What we're going to keep is the brontosaurus slide and a few other smaller pieces and bring them around an area for a children's playground. So, there's a couple of statues — the saber-toothed kitty and the woolly mammoth and a couple of other pieces that will be saved, and several other pieces will be congregated in that area. But, the overall plan is for the Flintstones theme to go away. We don't have plans to tear any of that down or build over the top of it for this season. Pretty much what's there is going to remain in place for this season."
In terms of honoring the property's Flintstones heritage, Morris said that they plan to offer visitors the chance to share their memories of Bedrock City through old photographs, which they'll add to a commemorative mural. "If they went there when they were a kid and they have fond memories of it … We are going to ask people, if they come up, to bring a picture with them — a copy of a photo from back in the day. We're encouraging people to bring photos of them in the same spot, in the same position. We'd like to make a mural of a 'Then and Now' kind of thing to kind of memorialize it. We'll put that on display to show how the property was and how we've developed."
Over the decades, America has continued to change, as technology impacts our interests and responses to what we encounter. Roadside attractions of the Bedrock City sort are fewer every year, and with their disappearance, the United States and American road travel is losing a little of what makes it so unique and special. There is a sadness in the eradication of what once brought so much joy and treasured memories and helped to define us.
To quote The Flintstones' iconic theme song, Bedrock City is truly "a page right out of history." And with this knowledge, we can say "Yabba-dabba-doo!" one last time.