Fred Jones and the Ford Motor Company
In the shadow of the new Oklahoma Capitol's construction reaching skyward, the city's industrial district was developing nearby. In April 1916, the Ford Motor Company's new assembly plant at the 900 block of West Main Street began operations. Its spacious windows and soaring brick pilasters identified the industrial style of architect Albert Kahn, who designed more than 1,000 buildings for Ford. On its opening day, Fred Jones is said to have been the first employee to punch in. In town to visit a cousin, Jones had liked the energy of the young and growing city and the ambition of the Ford Motor Company, all of which convinced him to adopt the city as his own.
Jones rose through the ranks at the assembly plant and by 1923 began purchasing and growing Ford auto dealerships — eventually a total of 39. By 1926, Jones was the biggest Ford auto dealer in the Southwest, and by the time the decade of the Great Depression was nearing its close, he was the fourth largest Ford dealer in the country. "How has Fred Jones done this?" a magazine writer marveled.
During the Great Depression, Ford ceased car production in the West Main Street plant and began operations as a parts branch, which would continue with much less fanfare for 35 years. But Jones' next venture was revolutionary. "In World War II, Ford couldn't build parts, they were building tanks and airplanes, so someone had to remanufacture a part. And so, he did that, and started a huge industry of remanufacturing," said Fred Jones Hall, president of Hall Capital and grandson of Fred Jones. Fred Jones Manufacturing Company became the biggest Ford-authorized parts remanufacturing company in the U.S. In 1967, Ford closed out its parts branch at 900 West Main, and Fred Jones was finally able to attain his goal of buying the Ford building, which became the headquarters for his businesses.
Through his career, Jones gave back to his adopted city. He and his wife Mary Eddy (Neal) Jones became known for their philanthropy, community involvement, and patronage of the arts. But one of their largest gifts, the Fred Jones Jr. Art Center on the University of Oklahoma's Norman campus, was the result of a tragedy — their son Fred Jr. 's death at the age of 25 in a plane crash in 1950. Their only son, he was their hope for the future of the company. The new art center was their tribute.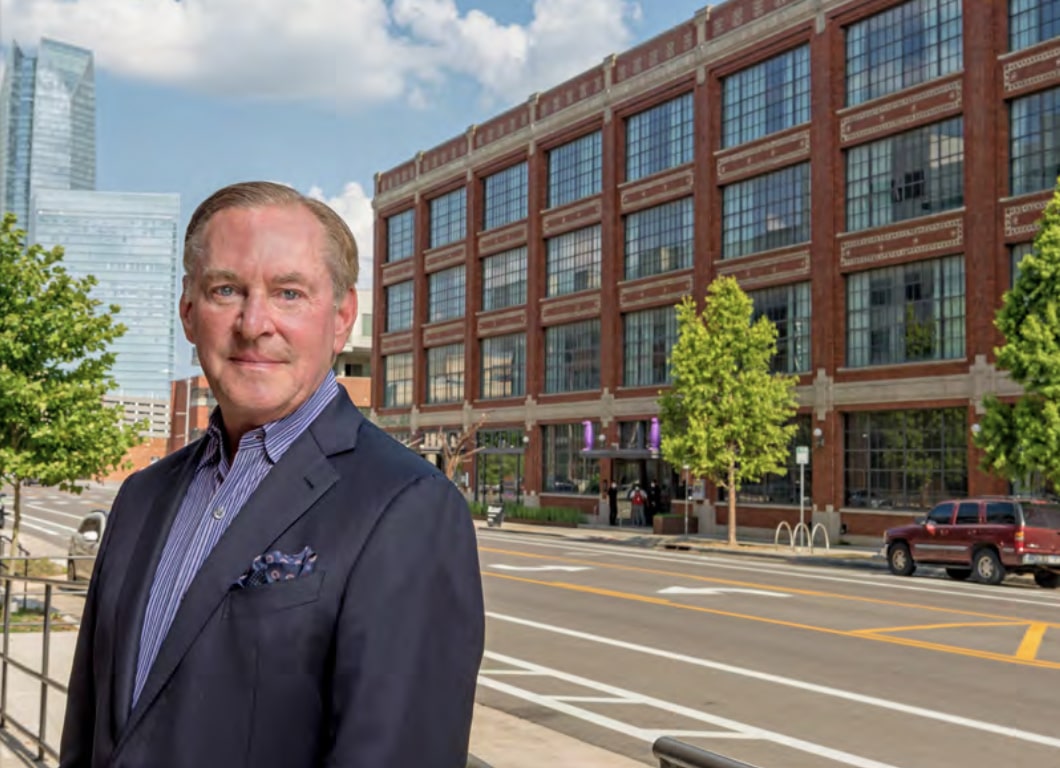 Fred and Mary Eddy Jones' daughter Marylin married Brooks Hall, a Princeton—and Harvard—educated businessman, and an executive in the Fred Jones company. Brooks and Marylin's first son was named Fred Jones Hall for his grandfather, with two more sons, Brooks `Boots' and Kirkland, joining the family. The boys' grandfather, Fred Jones, passed away in 1971 at the age of 79, although their grandmother, Mary Eddy, would live until the year 2000, when she died at the grand old age of 97.
The Jones-Hall Synthesis and the Third Generation
As the three Hall grandsons were still getting their education, Fred Jones' death precipitated a change in the control of his businesses. With no clear leadership heir, Ford Motor Company stepped in and engineered a sale to non-family members. Still overseeing operations were Mary Eddy and Marylin. But Fred, Boots, and Kirkland Hall eventually knew it was time for them to return to Oklahoma City, buy out the new owners, and reclaim the Fred Jones legacy. By 1983, they had become controlling owners of the company and later diversified to add another component to their portfolio. Thus, Hall Capital was born. Through it all, the Hall brothers continued the philanthropy and community involvement that had become a hallmark of the family. And they began to wonder about a new chapter for the Fred Jones Manufacturing building.
21c is Born
Meanwhile, Laura Lee Brown and Steve Wilson, philanthropists and art collectors in their native Louisville, Kentucky, were keenly aware that some of Louisville's historic downtown buildings were deteriorating. They wondered what role they could play in tipping the scale the other way, with historic preservation, adaptive reuse, and contemporary art driving revitalization. During their years of travels to international art fairs, they noticed the way that other cities wove art into city life.
"We owned a building in downtown Louisville and knew that we wanted to do something to help revitalize the downtown corridor," said Wilson, one of the founders of 21c. "The discussions and ideas kept evolving and 21c was born. My dad once told me art is worthless. I've been on a lifelong mission to prove him wrong. Contemporary art can be a spark for community, economic revitalization, and commerce; we have seen it in all of our locations."
What turned out to be only the first 21c Museum Hotel, opened in 2006 in a series of 19th Century warehouse buildings in Louisville's arts and theater district. Emphasizing adaptive reuse, the couple employed Deborah Berke Partners, a New York-based firm known for "true-to-place" projects which re-imagine old buildings.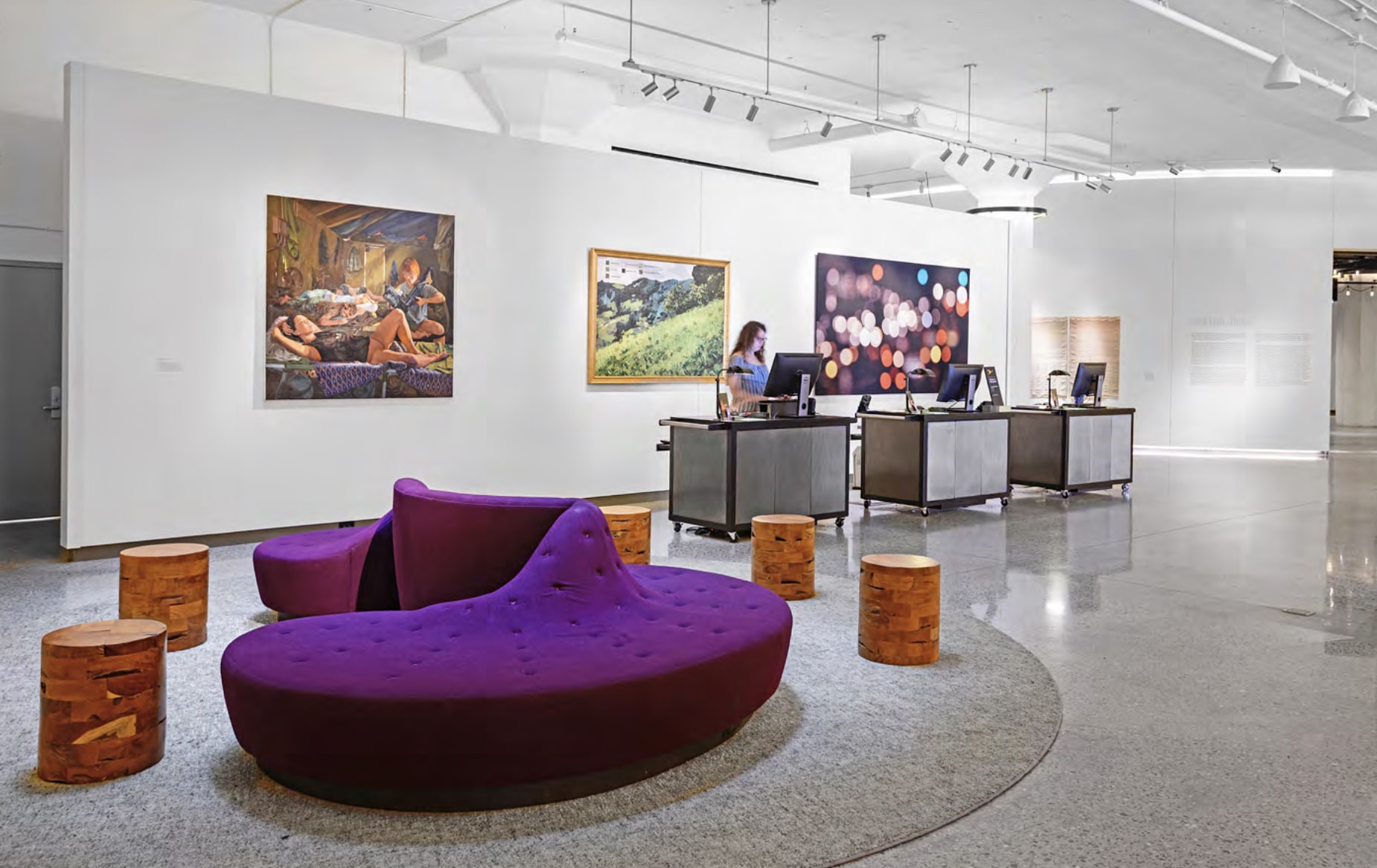 But besides the boutique hotel and farm-to-table restaurant, the couple incorporated an attraction in line with their belief that art has the power to transform communities — a free admission, 24/7, contemporary art museum. "We believed in the concept, but it was completely untested, and lenders were very skeptical," Wilson said. "21c Louisville was successful almost immediately, we received the Readers' Choice Award from Conde Nast Traveler magazine, and it really catapulted the property into a different sphere of recognition. We began to gain the attention of community leaders and art collectors from around the country. People began asking us to come and do the same thing in their hometown and after some consideration we decided to form the company."
One of those community leaders that contacted Wilson and Brown about doing "the same thing in their hometown" was Fred Jones Hall from Oklahoma City. He and his brothers felt that their historic building was the perfect spot for a 21c Museum Hotel.
"As soon as [my grandfather] bought the building, he called it his Camelot, so with that legacy, it's not like we can sell [it]. We knew we wanted to make something special with it," Hall said. "We had heard about 21c, and somebody suggested that I talk to Steve [Wilson]... that's how it all came together."
A New Life for the Ford Plant
The Fred Jones Manufacturing Company, formerly the Ford Motor Company assembly plant, was the right building, and it was listed on the National Register of Historic Places in 2014 as plans began to evolve and partnerships were cemented. Laura Lee and Steve's 21c company partnered with Hall Capital. Deborah Berke's architectural firm was called upon again, this time to work with local firm Hornbeek Blatt Architects. The timing was right here as well, as the Oklahoma City 21c Museum Hotel opened in the summer of 2016 — in the building's centennial year — as the only hotel opening ever in a Ford Motor Company assembly plant!
Remarkably, the building had remained mostly unaltered over its 100-year life, and the scale of the structure lended itself to 21c's generous use of large, airy, and light-filled spaces. The architects re-imagined the old plant with a contemporary interpretation of the building's industrial heritage, keeping in place or recreating many original elements. Throughout the vibrant redesign of the building, one finds original architect Kahn's signature splayed-top concrete columns, hallways wide enough to drive a Model T through, and the terrazzo tile floor in the former automobile showroom. One hundred and thirty-five high-ceilinged boutique hotel rooms were carved out of larger spaces or converted from former offices. Bathrooms were constructed with a luxuriously sleek but industrial look. An outdoor patio where the plant's train shed once stood is outlined with old steel railway canopies.
As for the 21c's unique restaurant, it was named Mary Eddy's Kitchen and Lounge as a tribute to Fred Jones' wife. Recently, Oklahoma City restaurant designers Benji Homsey and brothers Corbin and Ross See were brought in to reimagine the restaurant space to invoke the nostalgia attributed to the Jones' neoclassical home not far away on 17th Street.
"The redesign of the restaurant includes William Morris wallpaper, wood millwork, vintage chandeliers, pieces of her china, and a painting of Mary Jones herself," explained Melanie Briley, 21c Museum OKC Director of Sales & Marketing. "[The family] is very close to this project, which is really wonderful because it's more than just a financial partner. It's someone who wants to continue the history and the impact of this building on the city and wants to move that forward in a very different way."
The art museum consists of 14,000 square feet of exhibit space administrated by Alice Gray Stites, Chief Curator and Museum Director for 21c's multiple venues. The history of the building inspired four site-specific artworks collectively entitled Mechanical Magic, using materials and mechanics of 20th Century industry.
"Fred Hall and his family in Oklahoma City were the perfect partners for 21c," Wilson emphasized. "Not only have they been community leaders for generations, but they also share our passion for the arts. They understand the importance of the arts in the development of a city. The building they own, the former Model T Ford factory, is symbolic of the mission of 21c — it is steeped in tradition and architecturally important. Its redevelopment has also been a key catalyst for the revitalization of that part of downtown Oklahoma City."
Art, For All the Right Reasons
The 21c concept is based on the belief that art can ignite urban revitalization and drive commerce into a historic area which has been abandoned or under-utilized. But it's also undeniably about people's passion for art and the knowledge that art enhances people's lives. And the 21c museum policy of no admission charge makes art widely accessible. "As we grew...we went from having 10,000 square feet of museum exhibition space in Louisville to a multi-venue museum, which was an enormous change both for the art collection and operationally," Wilson explained. "We now have more exhibition space than any contemporary art museum in America and we are open to the public 365 days per year."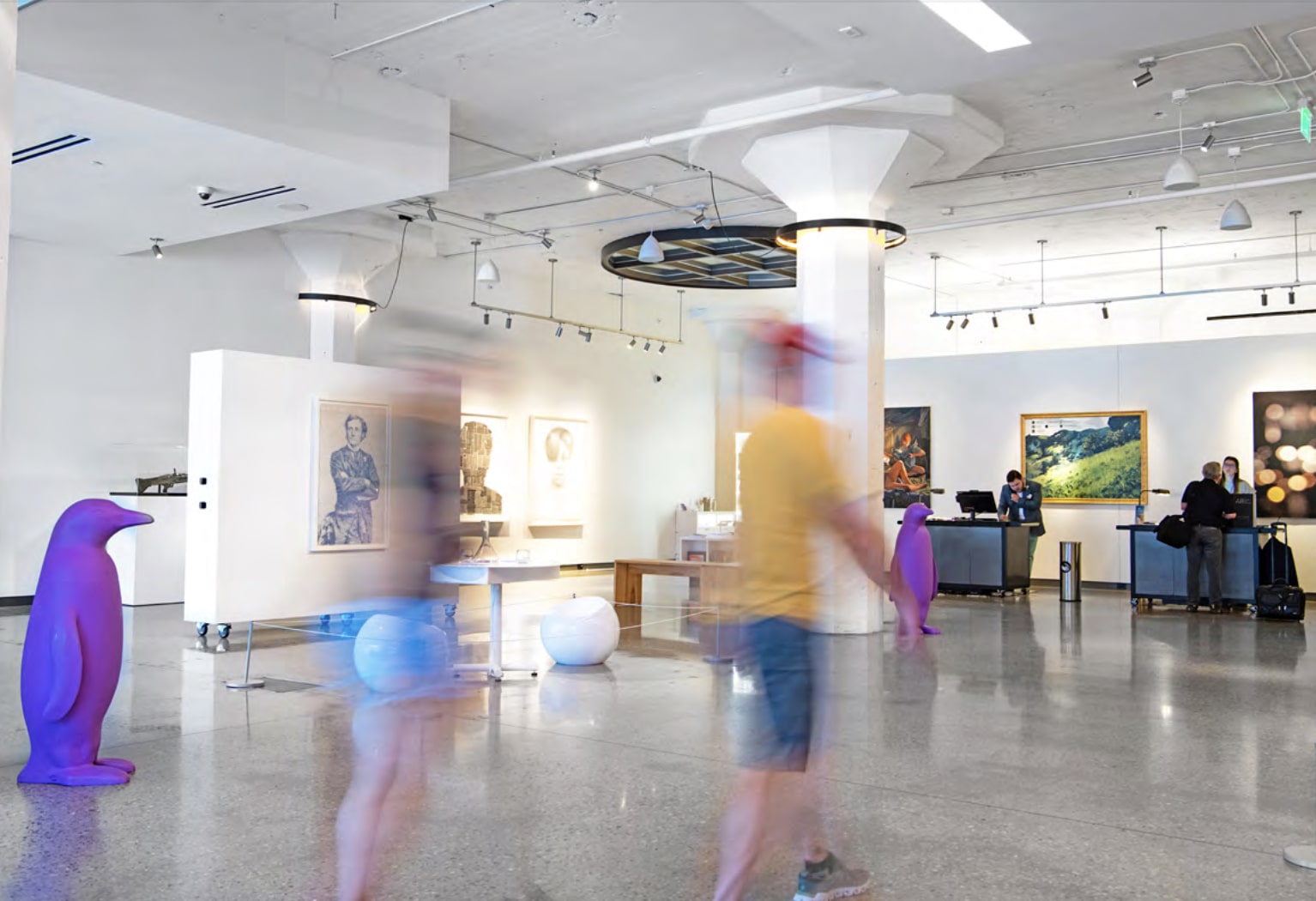 Another raison d'etre of the 21c museum is — it's fun. One special attraction that guests look for in each hotel is a sculptural penguin in a bright color. Co-founders of 21c, Brown and Wilson, discovered Red Penguin at the 2005 Venice Biennale contemporary art exhibit, and the tradition began when they brought a flock of the tall plastic birds home to their Louisville 21c. "For us, the color is purple," explained Briley. "The color purple was once exclusive to royalty, until a man figured out how to mass-produce the dye. Henry Ford [manufactured] the Model T and changed the world. That's how we ended up with purple penguins."
Into the Future
The 21c Museum Hotel in OKC is not resting on its laurels. Two new restaurants are slated to open in 2022. One will be a pool bar, accompanying a new outdoor pool, and the other will be a fixed-price restaurant targeted to the occupants of the nearby apartments.
As Wilson and Brown have witnessed, with other transformations, 21c Museum in Oklahoma City inspired additional revitalization in the neighborhood. Apartments, shops, and restaurants have opened in the surrounding blocks. "We were really the first corporate inhabitants to start out there, in an area of great growth. It's great to see 21c being the anchor and Jones Assembly being one of the best restaurants, along with Mary Eddy's, then to see the apartments flourishing," Hall explained. "We look forward to doing more in that part of town; we have the ability to do it and the property to do it, so we look forward to Chapter Two." Chapter Two will undoubtedly include Hall's daughter, Allison (so named for Fred Jones' middle name), who is the fourth generation in the business.
In 2018, AccorHotels of Paris purchased an 85% stake in the 21c company — but not the real estate — for $51 million, with Wilson and Brown retaining a 15% interest. "Once we began expanding, I dreamed of opening 21c properties in Europe [as well as] cities around the U.S. The possibility of worldwide expansion is exciting. We were delighted to partner with Accor and Ennismore because they have more expertise and resources to make that type of expansion happen," said Wilson. "It's always difficult to a business owner to give up control, and it's been no exception for me, but our greater ambition is to share the work of living artists. The ability to expand helps us to achieve that overriding goal."
Although each 21c Museum Hotel (nine open; two more slated to open) embodies the concept of art as a driver of revitalization, and each features a chef-driven restaurant, luxury hotel, and an "open door" museum, every location has its own special story. And very possibly, Oklahoma City's is the most unique. With a century-old family business and a centennial building anchoring the present enterprises, this legacy may just be getting started.
But just across the street to the north, stands a bronze statue of Fred Jones, commissioned by his grandsons and placed in 2020 to mark the centennial of Jones' first business enterprise. Lest anyone forget who started all this, Jones — affectionately dubbed "the Skipper" by his employees — is still looking after things.
The Ford assembly plant turned Fred Jones Manufacturing Company building lived to thrive in an exciting new chapter, in an adaptive reuse the likes of which Steve Wilson and Laura Lee Brown have been championing since before their initial 2006 21c success.
"21c OKC is a living example of why it's so important to give these buildings new life rather than tear them down," Wilson said. It's not just the American dream — it's a tale of classic Americana.
This article first ran in April/May 2022 issue of ROUTE Magazine