Route author Michael Wallis in his writing studio in Tulsa, Oklahoma, in November 2017. Wallis graciously wrote the intro for my book.
I took this portrait of Bill Shea outside his museum in Springfield, Illinois, in 2007. It was a return trip to deliver some prints from my first visit a few years earlier. Bill passed away in December 2013.
One of the starting points for Route 66 as marked by a sign on Adams Street in the Loop, Chicago. I took this one as part of the CITY 2000 documentary project.
When I lived in Flagstaff, Arizona, in 2011, I wandered out to the now abandoned Twin Arrows Trading Post, east of town.
In 2001, I stopped to photograph the Kimo Theatre in downtown Albuquerque, New Mexico.
Distortion from the curved film in my camera adds to the bendiness of the Bent Door Cafe in Adrian, Texas.
I found this happy used car lot on Route 66 near downtown Joplin, Missouri, in 2001.
I visited the Twin Oaks Gas For Less sign near the east end of Chain of Rocks Bridge in Illinois in 1998.
I took this photo of the Wigwam Motel in Rialto, California, long before it served as an inspiration for the Cozy Cone Motel in the film Cars.
I photographed this Glenrio, New Mexico, resident mowing her lawn in 2001. Sadly, my notebook from this trip got lost along the way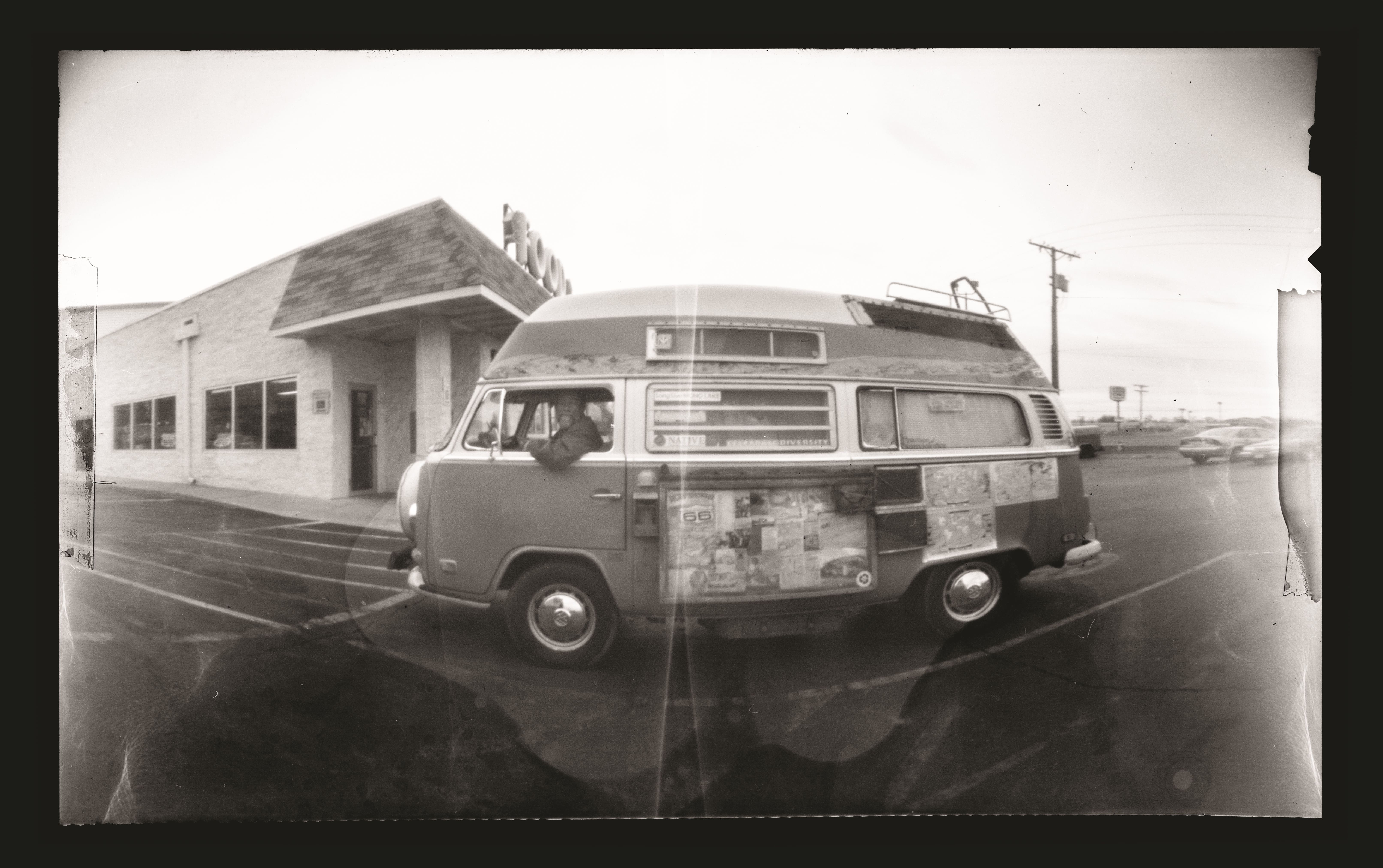 Bob Waldmire in his hand decorated 1972 VW van outside his family's Cozy Dog restaurant in Springfield, Illinois, in 2001. Bob passed away in December 2009.
The Route 66 Hall of Fame when it was located on the way to the bathrooms at Dixie Truck Stop in McLean, Illinois.
A 2001 portrait of Ved & Mridu Shandil, owners of the Route 66 Motel in Barstow, California.