Your grandfather was a professional musician, and your mom played the piano, so you grew up with a lot of music around you. At around what age did you realize that you were interested in learning to play, and potentially having a career in music?
Well, family legend has it [that] I asked to take piano lessons. I feel like I remember that, although I was seven, eight years old. So, my mom dutifully found a piano teacher, Ms. Doris Garrison of Garrison Funeral Home fame. If you wanted to take lessons from Ms. Garrison, you had to trudge up to the third floor, but on the way you'd pass caskets and embalming fluid. For an eight-year-old kid, that was quite a drama. So, I only did that for about a year, year and a half max.
As a kid I was more interested in sports. We had a bunch of neighborhood kids who always played every sport: football, basketball, baseball. I was interested in that.
Then maybe [at] eleven, twelve, we all heard the Beatles, and every white kid in the world wanted to play guitar and do that. So, we did. My big brother Bobby Hornsby, who was really, deeply into the music thing, got into it the most, but we all got into it. I had a little sixth-grade band called the Fourth Dimension and we would play. I was the lead singer, guitar player, and frontman. I was singing Cherry, Cherry by Neil Diamond and that sort of thing. But I wasn't seriously interested. I was still into the games.
So when did you really get into music and playing the piano?
At age seventeen, my older brother Bobby turned me onto Tumbleweed Connection by Elton John specifically, the first time I heard Amoreena just turned me out. Oh man. It's just fantastic. That and Leon Russell's piano playing on the Joe Cocker records, Mad Dogs and Englishmen, et cetera, that made me want to play the piano. We had this house Steinway Baby Grand, so I just moved to that and got so interested that I left the games behind and got obsessed with it.
And that's when I thought about music as a career. It always came fairly naturally, easy to me, learning songs I could hear. I have what's called relative pitch, not perfect pitch. But if I know the key of a song, I can hear the chords in my head and play them. That's not that uncommon. It's semi-uncommon. It's not nearly as rare as, of course, perfect pitch, which is a blessing and a curse at the same time. So yeah, I got deeply involved and ended up in music school. And that's when I knew that this was, for better or for worse, what I was gonna do.
Do you remember how old you were when you wrote your first song?
Yeah, actually, I wrote my first song, or songs at around twelve. My older brother Bobby played bass, and I played guitar. I was such a sad guitar player that any solo that was supposed to be a guitar solo, was a bass solo. I wrote a couple of songs, and I ended up being little Bruce Hornsby, twelve years old, singing and playing his own music.
I mean, they were just goofy little songs. I really didn't get serious about songwriting until after college because I was dealing with the piano. In college, I was a jazz major at [University of Miami School of Music] and I had a very hard teacher who just busted my ass, but he could walk the walk. He couldn't wait to move you off the bench and show you how to do it, and he was so great. He just passed, Vince Maggio was his name, and I still consider him to be, all the way through my life, my teacher. Every time I did something, I would go 'What would Vince think?' and I'd send it to him. He was very proud. I guess I was sort of his prized person because of my career.
Before you and your other brother, John Hornsby, actually moved to LA, in the late 70s, 80s, who or what were your musical influences?
When I tell the story of the gradual influences, they were the influences that were creeping in gradually here and there throughout my career. So, since I was a jazz major, I was interested in popular music. That had a little influence, hence, Steely Dan. The later Joni Mitchell work, So that's who we were interested in. We also liked Mike McDonald, who was playing with The Doobie Brothers. He had been in Steely Dan, so he had a bit of that consciousness, sort of jazzy chords in his music, which was for the most part sort of R&B, and he's one of the great soul singers. I heard a tape of Mike singing at thirteen. He sounded like a twenty-five-year-old soul brother. It was just awesome.Hejira, Don Juan's Reckless Daughter, Paprika Plains, Miles of Aisles, Court and Spark, The Hissing of Summer Lawns. Aja. So that's who we were interested in. We also liked Mike McDonald, who was playing with The Doobie Brothers. He had been in Steely Dan, so he had a bit of that consciousness, sort of jazzy chords in his music, which was for the most part sort of R&B, and he's one of the great soul singers. I heard a tape of Mike singing at thirteen. He sounded like a twenty-five-year-old soul brother. It was just awesome.
You and your brother John both got jobs as songwriters with 20th Century Fox. Is that right?
John was not involved. He was going to college at Stanford. High-end academia. So, he was up there finishing school. I got the deal with 20th Century Fox Publishing, not the record company. The record company was interested in me but didn't quite pull the trigger on signing me back then. Again, for the right reasons. I wasn't really ready. I would have made a record that was sort of stylistically derivative. It took me a while to find my own voice. I was a slow learner. I got my record deal at age thirty. I moved to LA because I got the songwriting job and a couple of other guys from our band in Virginia moved out there too.
So, the songwriting job was the motivation to move out west.
Oh, yeah, because I could support myself. Then I did little B-team session work around town here and there, but mostly they signed me because they thought I was going to get a record deal. They thought I was going to be a singer, songwriter, artist. Then David Foster signed me; the great producer, he signed me for what may have been his first signing for his fledgling production company, Foster Frees Productions. So, we were kind of on a roll there. I went to David Geffen's house, and I played for him because he liked this demo that I made with David [Foster]. They didn't sign me and again, they were right. They brought me in and said, "You know, you're the type of artist that we want here," ... again, new company, Geffen Records in 1980. "But we don't think you're quite there yet." And again, they were absolutely right.
So, when did your brother join you in LA?
Well, because things seemed to be going well for me in this world … I've just moved to LA and now I'm at Geffen's house, my brother decided to move down to LA and start writing songs with me. He did that with me for about the next twelve, thirteen years until he got kind of burnt out.
How did you finally get a recording deal?
We knew that The Doobie Brothers were playing in Hampton Coliseum. And we were playing at the local Steak and Ale lounge. We were sort of developing an audience of people who didn't want us to play Brick House and Shake Your Booty. They came to hear my songs, because we would gradually play them in-between Top-40 songs. We knew where The Doobies were staying, and we went over, and we try to find Mike [McDonald] in the lobby. Our drummer John Molo, who played with me for twenty-one years, and I went up to him and said, "Hey, Mike, we're the baddest motherf**kers in this town, and we're playing over at the Steak and Ale, you should come." He looks up at us, and goes, "Well, I'm going to the movies now. But I will. I'll try to make it." And sure enough, he came. And we'd saved all my originals. We saw him come in with what turned out to be a couple of the roadies from the band.
So, we just ripped it up, you know, we're just playing our stuff. And we're going at it hard. And he was very, he was sort of blown away. He came up to us and said, "This is amazing. Do you have a demo? I'd love to try to help you." We hung out that night, which was amazing. He took us up to his room and played us a cassette of their new record coming out the next day, Minute by Minute, you know, which was the amazing comeback record, this record really made a mark. It was unbelievable. That was December 1978, I believe.
And then in March, April of 1985, that's when I got signed. So maybe [Mike] McDonald discovering us, that was the beginning. He was the first in the tree of connections that we made. But it took me a long time to break through.
How did you eventually get signed with RCA Records?
Two and a half years later, 20th threw me out because they could tell that I really wasn't getting that record deal. I made a demo for Warner Bros. Records for the great Lenny Waronker in 1981, but that was passed on as well. So anyway, I kicked around, played around, finally had bands playing around town, but it wasn't very good. Finally, I just became increasingly dissatisfied with the way bands would play the songs. So, I decided for the first time ever to make a tape where everything just came out of my head. "Mandolin Rain," "The Way It Is," and "The Red Plains" all ended up on the first record.
That was the first demo I made just on my own, thinking that no major label would have any interest in it because it sounded so uncommercial to me. I was soloing on the piano, just doing what came naturally. But it didn't have anything to do with what was happening in music at the time. So, I gave it to a woman, Dawn Atkinson at Windham Hill Records, whom I met on a little film project a couple of years before. George Lucas produced an animated film called Twice Upon a Time, and we recorded a song for that. I sent it to her. She played it for Will Ackerman, and he called me up on Sunday evening, I'll never forget this, and he said, "Hi, I'd like to sign you." Something to that effect. It was very simple. And I thought, well, okay, this is what's supposed to happen. I just got chills thinking about that, because it's one of those chill-bump moments when that happens, it's the first time it had ever happened. I'd been trying for seven years, probably been passed over seventy times by the labels. They all knew me. They all thought there was something there, but …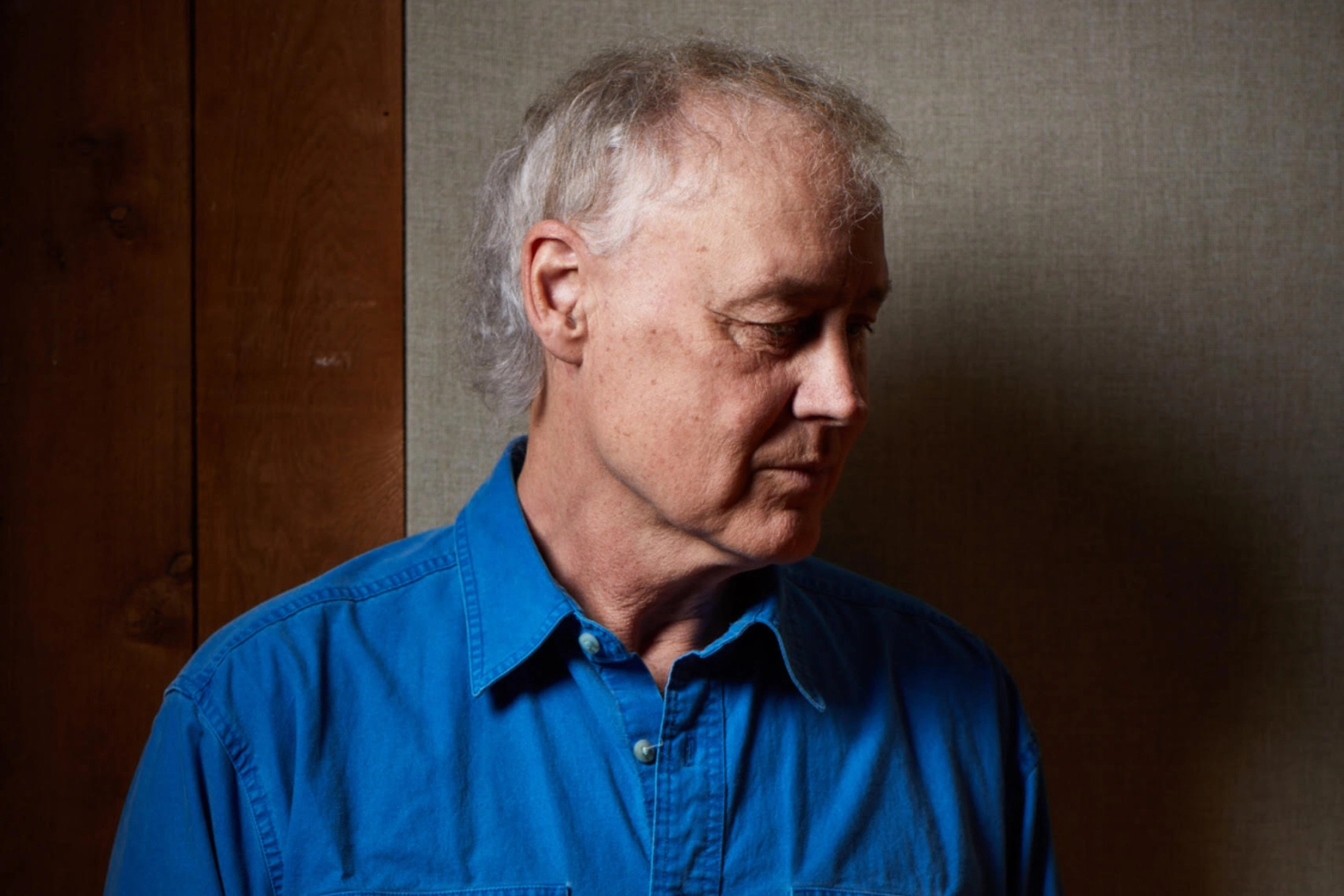 Photograph by Sarah Walor.
Then my lawyer wanted to hear the tape I sent it over to him and he said this is too good for Windham Hill, he wanted to play it for some of his friends. I was reluctant, but decided, okay, go ahead. He played it for one guy, Paul Atkinson, at RCA, the former rhythm guitarist for The Zombies, who signed me. Again, the least commercial recording I'd ever made was the one that got me signed. It's not like he heard hits on it. He just couldn't stop listening to it. So that's the goal. It's easy to say and very hard to do, but your goal is to move someone and to make them feel like they're hearing something that maybe they haven't quite heard before on a stylistic level. So they can't say, "Oh, well, this sounds like this group. And we've already got this group." So, I had finally found my voice.
Back around '81, you have a chance meeting with Huey Lewis?
When I signed with 20th Century Fox Publishing, there was another offer from Chrysalis Publishing. A guy named Tom Sturges, great guy. He's had a long, illustrious run in the music business himself. I didn't sign with them, but I retained the friendship. And they were hearing my demos that I was making. They heard this song, "Let The Girls Rock." Huey had made one record, which we loved. It didn't sell much. But for some reason, we heard it in our little world in the San Fernando Valley. And we were mad for it, but it was not a success, and the record company was trying to find him a hit. He needed a hit for his second record.
So, they played him "Let The Girls Rock" and he liked that. They brought him down to LA and had us meet with him. We said to him, "Hey, man, we are really fans of what you're doing. But everyone tells us that this is our song, for us. This is going to be our calling card. This is our way into the game." So, we didn't let him do it. They then asked if I would write with him, and they flew me up, and I stayed with him for two or three nights at his place in Larkspur, California, Marin County. But we didn't write anything. We just hung out and became great friends right away. Then they had their second record and Mutt Lange had written that song, "Do You Believe In Love," and they were off and running for a good long stretch.
The next time he asked for some [songs] we didn't say no. He recorded "Jacob's Ladder" for his Fore album.
The Way It Is gave you and your band 'Bruce Hornsby and the Range' your 'big break' when it was released in 1985. It went on to reach the #1 spot on the Billboard Hot 100 Chart.
It was a total fluke; it was a total accident. Everyone thought that it was the B side of the record, which is not an uncommon story. But yes, it comes out and it broke in England first and then throughout Europe, and then throughout the world. And then here in the States.
It broke in the U.S. last?
Last, exactly right.
In 1987, you got a Grammy for Best New Artist. Did you find that getting that award impacted your career much?
No, I don't think so. I think the only notice that came post-Grammy was when our second record was a success. Everyone went "okay, the Best New Artist curse didn't apply to the sophomore."
It was after that, that Don Henley called you about collaborating on The End of The Innocence, right?
Yes, that's right. He called me out of the blue. I kind of missed The Eagles heyday because I was listening to John Coltrane, Ornette Coleman, Keith Jarrett, and Herbie Hancock. But I was a fan of his solo work, say, "Dirty Laundry" and "Boys of Summer." "Sunset Grill" is so great. I think "The End of The Innocence" was his third solo record. We got together in my house in Van Nuys, California.
I had a little spinet piano, and we started fooling around with some stuff. He had a few ideas, and he'd sit next to me. And this was a very funny moment. We're sitting there right by the pianos, right by the door, when there was a knock on the door. So, I open it, Don sitting right there. It's the FedEx guy with a little FedEx package, RCA Records. I opened it up, it was my first royalty check, and it was sizable and solid. I said, "I got this check." And Don says, "Welcome to the club." It was a very funny moment.
But we weren't coming up with anything that was really resonating with us. So, I said to him, "You know, I have this song that I've been working on. I like the music, but I'm not really too keen on the lyrics that I've been writing. I don't think it's that great. Would you like for me to make a little demo of this and give it to you?" He said, "Yes, please do that."
So, about a week later, I called him and said, "Hey, come on over." I played him the track, and it just grabbed him right away, grabbed him hard. I gave him this cassette; this was in the cassette era. And he had one of the first cell phones, you know, this big, massive thing. And he called me from his cell phone maybe four minutes into his drive from my house back to his house, and goes, "These lyrics are coming to me right away. I'm writing them down. I'm passing all these farms full of cornfields and getting all these ideas". So really, he wrote it, I think, pretty quickly, probably edited and rewrote a little bit and then we recorded it. It was a simple, simple task to write that song with him. I just gave him that track, and he just went on really quickly from there.
And obviously, you were proud of what you guys came up with.
Oh, yes. Absolutely. Still proud.
Do you perform it?
I do. I don't play it every night, but I probably play it two out of three nights or maybe three out of five.
You have a successful band; you are the frontman. And you have a very successful album. That's a lot of attention, and a lot of pressure. How did you deal with it?
Well, I was pretty terrible at it, frankly. The best part of our approach to this was that we didn't take it too seriously. Maybe that's the best and worst part of it. For instance, our videos are probably some of the worst videos from the MTV era. We were just trying to get our friends on TV. It was just a big joke to us. So, we didn't take it seriously. And so consequently, if you look at some of those old videos, you go, 'Well, who are these people and what are they doing?' But some aspects were fantastic.
The affirmation that I received from the musical community, people who I'd revered growing up, all of a sudden became my friends and supporters and collaborators. For instance, we were doing the Terry Wogan show and I'm getting makeup applied, and all of a sudden I hear this voice coming down the hall, saying, "Where's Bruce Hornsby? Where's Bruce fu*king Hornsby?" I recognize the voice and I said to myself, 'I think that's Elton John!' He burst into the room with a Tina Turner wig. That was, I guess, his outfit for the Wogan show that day, and threw his arms around me and gave me great kudos and accolades, laudatory remarks, and we're still friends. I talked to him two months ago.
The support I got from the musical community just kept growing and growing as my second record came out and people asked me to play on their records or write a song with them. And so that was the best part.
But the whole showbiz aspect… oh, I don't know, it felt a little goofy to me sometimes. For instance, being the then thirty-one-year-old guy with his first album, and I was doing, say, a radio promotion appearance, and there are all these stars at separate tables for people to come and go through the line to get autographs. And we've got New Kids on the Block, and we've got Tiffany, and we've got Debbie Gibson … Debbie Gibson's fantastic. They're all talented. But I'm looking around going, you know, what's wrong with this picture? It's me. So, that felt a little odd, to say the least.
How did you deal with the notoriety of it?
Well, again, I was older, so I didn't take it too seriously. I basically just laughed. We laughed our way through that year. So, it was okay. It was just stressful, because again, as you just mentioned, the demands are all of a sudden, extreme, and massive amounts of demand. My health struggled that year because I was just doing too much. I was the new cash cow at RCA, and they were milking the sh*t out of me. So, that part was hard. Again, you get older, and you learn how to say no.
Was there a lot of pressure coming from RCA for a hit-making second album?
Well yes, and no. And here's why. Just as I mentioned before, everyone thought The Way It Is was a B-side. And my guy, Paul Atkinson, who I loved dearly, we lost [him] in the late 90s, but he called me and said, "What do you think the B-side of the first single should be? I think it should be "The Way It Is." And because the song breaking in England was such a fluke, an unexpected, beautiful accident that happened, they didn't know what a hit for me was supposed to sound like, right? Maybe it's supposed to sound exactly like that.
So, there was no pressure there. We had a song, "The Valley Road" that we thought was strong, we thought it was a perfectly good single. And they thought so too. I think it's always been a situation for me that I've always been inspired by affirmation, by validation. So, because of this, this amazing response to that first record, I was inspired so much by all this, all this attention, all this success that it had, I wrote that second record. I'm still proud of those songs: "Look Out Any Window," "The Valley Road," "The Road Not Taken."
It's the old maxim that you have your whole life to write your first record and about six months to write your second. And that's true, but for me, because of the success of the first, I was so inspired and feeling confident about it. So that helped me.
What's the story behind
"Mandolin Rain"?

What inspired you to write that song?

Well, I just had a musical thing. And maybe I nicked Rod Stewart with his great "Mandolin Wind" song. I just had this idea. It is something that came into my head saying, 'listen to the mandolin rain' To me, it resonated somehow, emotionally. And it's a little odd. Obviously. It's mostly about the sound of a mandolin trill feeling like rain, the sound of rain. So that's the idea I gave to my brother; hey, write some verses to this if you want to. If you don't, I'll write them, that'll be fine. But I'd love your input. And he did a very nice job on it.
You officially went solo in 1992. How did that happen?
Well, I was creatively restless. And you saw it on the third Range record where we had Wayne Shorter and Charlie Haden and Bela Fleck. Shawn Colvin was a guest on the record, Jerry Garcia, so my world was expanding. And I wanted to cast my records as a film director would, to be able to say, 'Who do I hear that would sound amazing on this particular song?', and then try to get them.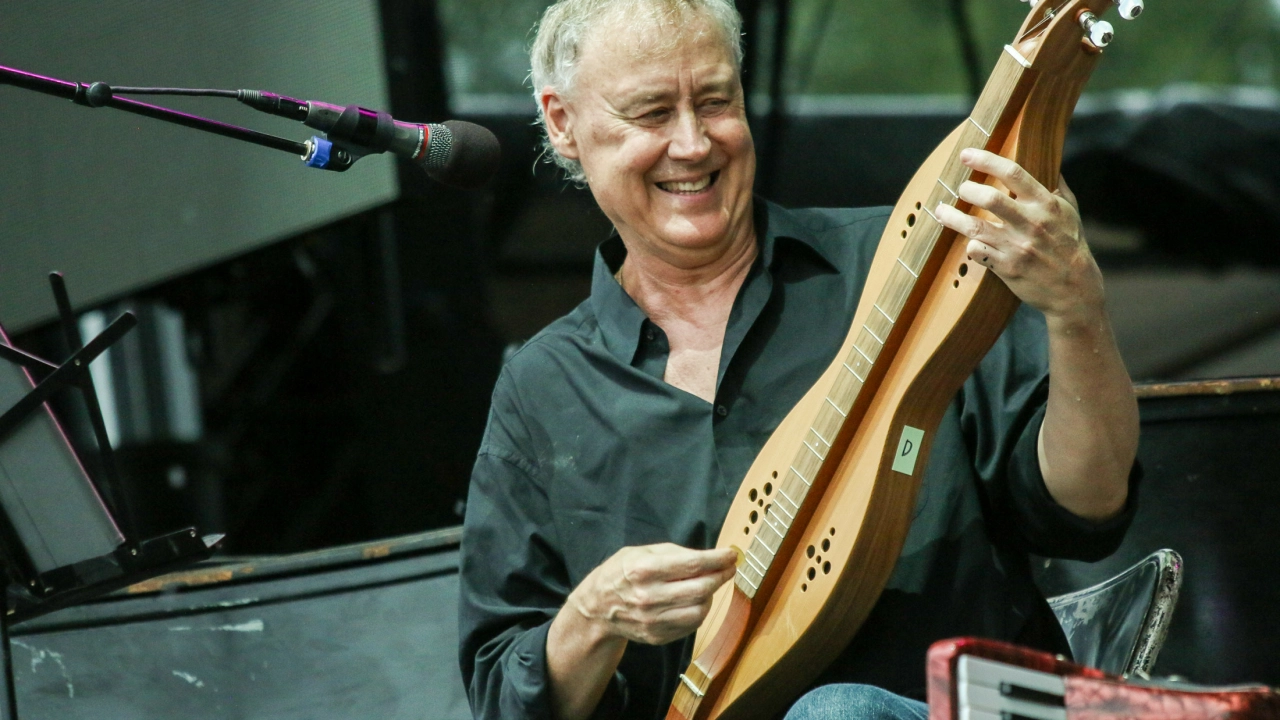 Photograph by Nina Corcoran.
I was starting to move into new stylistic areas and be interested in more adventurous music. I had an interest in using more of the jazz language in my music. And that wasn't where a couple of guys in the band were, not really. They were not really knowledgeable in that world, and not interested! But it's not like I broke up the band up. George Marinelli, I think he could tell that I was moving in these areas that he wasn't that interested in, and he called me up and said, "Hey, okay, I'm retiring from the band." I was recording at the time with Jimmy Haslip and John Molo for the fourth record, Harbor Lights. So, that seemed to signal the end.
The third record (Night On The Town) wasn't as successful as the first two, but it was still solid.
We did one gig in '92 as a band, somewhere in San Antonio, Texas, I think. And the next year, '93, Harbor Lights came out and I went flying around the world with this new group.
You also worked with Bonnie Raitt on
"I Can't Make You Love Me."

Did you write that one?

Oh, no, that's Mike Reid, the [former] football player for the Cincinnati Bengals. He wrote that song with Allen Shamblin. I just came in with Hutch Hutchinson on bass and Tony Braunagel on drums, just the three of us. I played the electric piano track with the bass, drums, and then overdubbed the acoustic piano part that comes in later. That was one of those records that came together fast. Don Was and David Weiss were brothers. They were producing the record. And, boy, it was just natural. She sang along with us. Maybe she punched in a few lines here and there, I don't know, but it came together quickly, because it's just a great song.
How did you end up playing with the Grateful Dead? Had you been a fan of their music?
My older brother, Bobby, he was the deep Grateful Dead fan in our childhood, caught the bug from his college years on, and he turned me onto them. I played in his Grateful Dead cover band, playing hippie fraternity parties at the University of Virginia in the spring of 1974. So then, fast forward from '74 to '90, when I started coming in off the street, winging it with them, with no rehearsal at Madison Square Garden in September 1990. Imagine those people who had followed our band around sixty years later, I just got chills again thinking about that, because it was such a transcendent moment. It's like painting yourself into the mural that you're looking at as a kid. That's been a lot of my career. So fortunate, so lucky.
Were you star-struck at all when you first got to play with the guys?
I probably was but I was comfortable because they were such great people. Garcia was my closest friend in that group. He played on three of my records 1990, 1993, 1995, and then after he was gone, I sampled him for the next record, so he was on four records in a row. The scene was so amazing. I'm sure I was a little amazed by all of it.
Looking back over your career, the music you have made, all the people and talent you have worked and collaborated with, was there any doubt in you at any point that you would be a success?
It's all about the music for me. That's always been paramount. I never got into this to be the big star. Like I said before, I was always kind of a half-star. And [they] certainly didn't sign me for my looks. I've always been looking for new inspiration, and that's taken me on this career journey that's been stylistically very disparate and ranged far afield. From jazz with Christian McBride and Jack DeJohnette to bluegrass with Ricky Skaggs and his Kentucky Thunder band, to making a whole record on a dulcimer, etc. My career path has been atypical. I've always been looking for the chills, looking for inspiration, looking to write something that gave me those chills… it's hard to do. But sometimes I'm able to do that. And that's kind of what you live for.
When people think about Bruce Hornsby, what do you want them to remember about you?
Well, I hope I'm remembered for the sum total of my career rather than just the early part, which is, of course, the most well-known. But I think it's not nearly the most moving and musical, or the deepest part, that's just my feeling. I'm fine if someone just knows the old music, I get that. But I'm not going to be that again, I'm not going to be imprisoned by the notion that I have to be that guy, because the guy from the 1980s was a little limiting, and for people who have kept up, I think they're always surprised.