Steady as a Rock
In 1936, the Mother Road carved its path across Oklahoma. In Stroud, H & P Service Station owner Roy Rives bought the sandstone, dug up and leftover by the construction of Route 66, for five dollars and used it to build the squat, flat-roofed building that would become the Rock Cafe. "He finished it in 1939," Rives' granddaughter Susan Riffe Suliburk said. "They would plow up the land and he would go and pick up the rocks. Grandpa was always scrounging up stuff to use in other ways." The Rock Cafe's one-of-a-kind design, with the Mother Road literally woven into its foundations, is the product of Rives' ingenuity.
Born to settlers driven west to Kentucky by the Civil War, Rives came from creative, resilient people. In the early 1920s, he moved to Stroud, something of a boomtown after oil was struck nearby in 1923, to escape a life of farming and to open a filling station. Rives thought up the Rock Cafe as a way to lure his oldest daughter and son-in-law, Allene and Ed Riffe, who married and moved to Sayre, Oklahoma, in 1939, back to Stroud to run it.
His plan worked and Allene and Ed returned to town in 1939. The cafe found immediate success as a Greyhound Bus stop, and with the depression ebbing, there were plenty of ready and willing patrons, from travelers to soldiers departing for war. However, World War II caused national food rationing and running the diner became more difficult.
"My dad raised the price of hamburgers from seven cents to a dime and he got boycotted by the truck drivers because they thought that was too expensive," Suliburk said. "I think that's one of the things that soured him on [it]."
In 1942, the Riffes left the Rock for wartime jobs—him in the oil industry and her running a nursery school—and Ed Smalley, an army cook freshly returned from overseas, took over the lease. Smalley served up burgers in the kitchen until 1946. In its heyday, the Rock was a little truck stop with two shiny red booths, a jukebox on every table, and eight bar stools where customers could sit up at the counter and watch the cooks flip buckwheat pancakes. For locals, it was a special gathering place.
In 1959, Smalley's aunt, Mamie Mayfield, acquired the lease, running the cafe 24 hours a day from 1959 until her declining health forced her to retire in 1983. Mayfield became the friendly face of the cafe and under her management, the cafe's popularity grew like wildfire with vacationing families and long-haul truckers who could stop in at any time of the day for a quick bite and a cup of coffee. For the local high school students, it became the favorite watering place.
When Mayfield retired, Smalley was filled with dread at the prospect of the Rock being torn down. The cafe was where he and his wife, Aleta, first snuck kisses behind the jukebox and three of his four sisters met the truck drivers that they would marry. In 1983, he bought the building from Rives. Over the next decade, Smalley made renovations and toyed with the idea of giving the Rock to his son, but the cafe's fate ultimately remained uncertain. Then, as so often happens on the Mother Road, serendipity lent a hand.
In 1993, Dawn Welch got 'lost' in Stroud and Smalley found the perfect heir to carry on the Rock Cafe's legacy.
Around the World and Back Again
Welch's dreams of becoming a world traveler began in Yukon, Oklahoma, where she grew up watching The Love Boat and Fantasy Island on TV. Her wanderlust was not diminished by the fact that money was tight in their household. Welch's mother taught her how to stretch a dollar early on and, when she was fourteen, Welch began working at Ken's Pizza, where her manager, Maurie Gingell, took her under her wing. The first thing Welch bought with her earnings was a little motorcycle, which she still rides to work to this day.
In school, Welch's favorite subject was history. She dreamed of becoming an archeologist and exploring the pyramids in Egypt. In 1989, at the tender age of twenty, she did leave her "quintessential small-town Oklahoma" existence for a life of adventure, but not quite the one she had envisioned.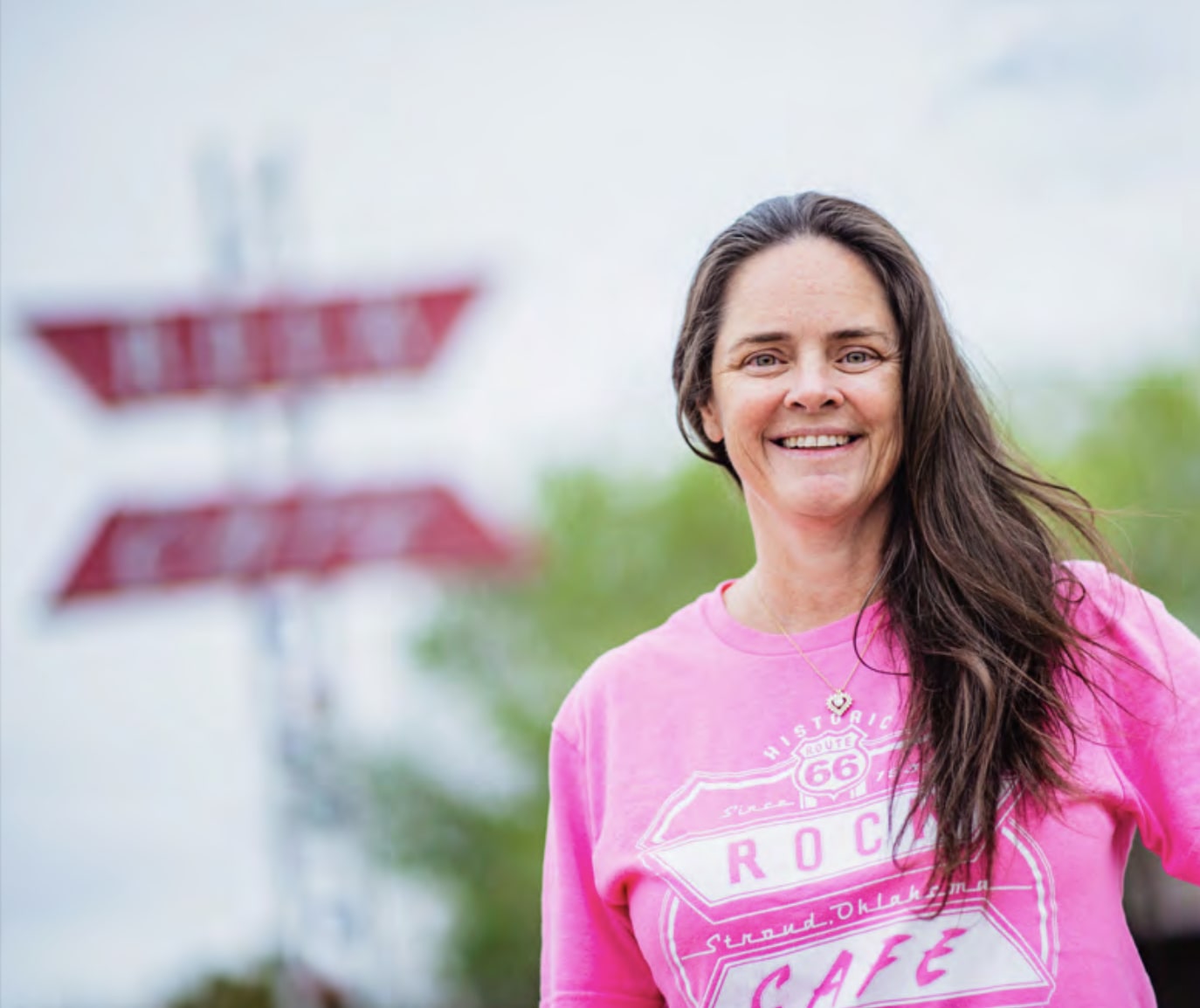 As a purser with Royal Caribbean Cruise Line, Welch worked ten-hour days on the ship and then got off and explored dazzling ports from Aruba to Barbados. She met her first husband, a Swiss-German cook named Christian Herr, on one of the ships. For four years, Welch would work for nine months, visit her mother in Oklahoma, and spend two months globetrotting. "On the cruise ship there were 800 employees and maybe ten of them were from America," Welch said. "I'd meet people from all over the world and travel to their countries and their families would host me."
Welch immersed herself into other cultures in Norway, England, Italy, and France, every place she dreamed of exploring as a child. One of her favorite memories is of casting fishing nets at sunrise on a Turkish lake with a friend's father who spoke no English. By the time she turned twenty-four, Welch had seen more than most people do in a lifetime. She was ready to settle down. At least a little.
When Welch visited her mother, now living in Stroud, in 1993, she was making plans to open a sub shop in Costa Rica. Fate intervened. "I was rollerblading down Main Street and this old man in an old truck, Ed Smalley, pulled over and told me that my mom had told him I wanted to buy a grill," Welch said. "He took me to the Rock Cafe and unlocked the doors and there was all this dusty restaurant equipment."
Welch agreed to buy some of the equipment and told Smalley about her plans. "He asked me if I knew how to speak Spanish or run a business. I told him I'd been a shift supervisor at Ken's Pizza, so of course I knew how to run a business. He kind of chuckled at me. I was 24 years old. He said, 'Why don't you stay here for six months and learn how to run a restaurant, and then go to Costa Rica and learn the language?' That made sense to me."
Herr joined Welch in Stroud and their daughter Alexis was born in 1994. Herr ultimately decided to return to a life of travel, but Welch fell in love with the little town and decided to stick around. "It was a simple life, but then the Rock Cafe also brought in international tourists every single day."
Welch met her second husband, Fred Welch, in Stroud, and they welcomed a son, Paul, in 2000. Welch's mother was always around to help watch the kids or make a hand painted sign for the cafe. Alexis and Paul grew up at the Rock, helping out around the restaurant for pocket money. Alexis became a prolific cook and waitress, and Paul remains Welch's "crisis management team of one," doing everything from snaking drains to hanging Christmas lights.
In 2002, Welch's longtime manager Beverly Thomas joined the cafe. A preschool teacher by trade, Thomas started picking up shifts on the weekends to earn a little extra money and be close to three sons in their early teens, who worked at the Rock through high school. Welch, Thomas, and the five children formed an unbreakable bond that is at the heart of the operation to this day. Thomas and Welch have seen each other through births, deaths, graduations, and a Route 66 trip to California that Thomas calls a "very clean version of Thelma and Louise." "My husband calls her my work wife," Thomas said. "The good times and the bad, we're family."
The Cars Story
Anyone who has seen Cars will remember Sally Carrera, the Porsche who abandoned her glamorous life in the fast lane as an LA lawyer to unite a small community along Route 66. If this sounds familiar, you are not mistaken.
The Rock Cafe's story changed forever in 2000 when a small fleet of Cadillacs filled with Pixar executives rolled into town. Route 66 historian and author Michael Wallis led animator John Lasseter, scouting inspiration for characters in a film that he was developing, through the doors of the Rock Cafe around 9:30 p.m. to meet Welch. She excitedly showed the director her flickering neon sign, which she promised would be "newly refurbished" the next time he visited, and all the small things that made her so proud of the cafe.
Between 2000 and 2003, Lasseter returned to the Rock with Pixar and Disney executives several times. Welch would not find out whether she or the Rock would be represented in the film until the night it premiered. She had no idea how closely Lasseter was taking notes. Everything Sally does and says in the film, from her broken neon sign to her sass, to her iconic blue color (Alexis' favorite at the time), are echoes of Welch.
Even the "tramp stamp" on Sally's bumper was inspired by a story Welch shared. "When I was 24 years old and we had all these motorcycle groups coming through, I wore the same outfit every time," Welch said. "Real biker chick look and I had this fake black widow spider crawling down my stomach like a tattoo. I played this whole part of being the 'black widow waitress.' I was real mean to customers and she became really famous. That's the reason Sally has the tramp stamp, which I was horrified [by]."
After 2003, the visits from Pixar tapered off. By 2006, Thomas was convinced that the ship had sailed. When Pixar called to invite Welch to the May premiere in 2006, everyone at the Rock was shocked. When Welch and her husband at the time attended the star-studded premiere at Lowe's Motor Speedway in Concord, North Carolina, they were in for an even bigger surprise. "She just knew that she got invited, and they were so starstruck and excited to go," Thomas said. "They took two days off work… and I held down the fort here. When they went, that's when John Lasseter pulled her aside and said, 'You are Sally. As you're watching the movie, look for your character.' So, as she's watching the movie, she's just in tears the whole time."
At the time, the cafe staff consisted of just Thomas, Welch, and their children. Within thirty days of the premiere, Disney filmed a commercial at the Rock that aired in France, Spain, Australia, England, Mexico, and all across America. Business tripled that summer. The café, which seated just 25 people then, found itself inundated with visitors from around the globe.
Trial by Fire
Starting in 2006, it seemed like things could only get better. In October 2007, Guy Fieri filmed an episode of Diners, Drive-Ins and Dives with Welch. The Rock hired two new full-time employees. Even through the winter months, the waves of tourists grew and grew. Then, as Memorial Day kicked off what was gearing up to be an even wilder summer season, a fire gutted the cafe. "That just brought everything to a stop," Thomas said. "That ended us right then and there.
Thomas and Welch, who had closed up early for the last day of school activities, rushed back to the cafe at 11 PM with their husbands and children in tow. The families sat outside the cafe and wept. "[Welch] said, 'Listen, I know you're going to have to get a job. Just don't get a good job. In one year, we're going to kick these doors open,'" Thomas said. "I looked at her as we're crying and thought, 'You're kidding me?' I said, 'Okay.' On the way home, I told my husband, 'It's done. We're done.'"
Reopening was never a question in Welch's mind. "Everyone's looking at this fire saying, 'Okay, the Rock Cafe's gone.' I told my kids, 'I'm gonna rebuild it.' They looked at me and said, 'Yup, it's gonna be rebuilt.' They were the only ones that believed that was true. They'd go there with me every day and help me clean out the inside of the [building]."
People from town poured out to help save the beloved landmark. Combing through the rubble, Welch was touched to find that the grill that Rives scrounged up in 1939 was still intact, miraculously saved by the fallen hood vent. Over the course of a month, Welch, her children, and their army of volunteers, slowly pieced the historic sandstone building back together. One year and nine days after the fire ripped through the cafe, the Rock Cafe officially reopened for business. Thomas and Welch watched the travelers return in droves. Since 2009, the number of visitors has only grown.
On the Up and Up
Today, the Rock Cafe boasts an assortment of the old and new. A poster of Lightning McQueen signed "to Sally" hangs on one wall and another is filled with artwork by iconic Route 66 artist Bob Waldmire, who often stayed in the Welchs' little green house when he passed through town, fixing her son's toys and creating doodles for them of himself with his Cars character. The sweet hippie VW van Fillmore is thought to have been based on Waldmire. The simple neon sign from the late 1940s still shines. Plywood cutouts of Lightning and Sally, which Welch's mother made herself, sit in front of the quirky building, which Welch rebuilt with sandstone from the Turner Turnpike, out by original Route 66, where Rives found the foundations of the Rock nearly ninety years ago.
Welch's journey has been winding and serendipitous, filled with incredible highs and lows, but she is grateful that it dropped her in Stroud. Anyone who comes to the Rock Cafe hoping to learn the story behind Cars will not leave without discovering what makes Stroud and the cafe so special.
"My favorite thing about the Rock Cafe is when people really get it," Welch said. "You can physically see them slowing down and enjoying each other, just doing the simple things."
ABOUT THE PHOTOGRAPH
April 23, 2021
Few people know that when photographers schedule midday, outdoor portrait shoots we are secretly praying for "mostly cloudy" conditions. Direct sunlight is harsh, it leaves dark shadows, and a clear blue sky is often uninspiring. Big, soft, fluffy clouds… that's where it's at. When an outside portrait is composed, the sky usually takes up a large amount of real estate and clouds make the image much more interesting by giving texture and subtle contrast around the subject. Most importantly, from a lighting perspective, clouds help diffuse and spread light evenly, softening shadows and offering the subject a more delicate and forgiving light.
I was on my way to the photo shoot at the Rock Cafe in Stroud, praying for mostly cloudy conditions. However, Mother Nature over delivered. For a mid-April Oklahoma morning, it was unusually cold. It had rained the night before and everything was still damp. Thankfully, it wasn't dark or gloomy. There were times that the clouds would occasionally part, allowing soft warm tones to peer through, but those moments were scarce. I knew it was imperative to find an interesting way to shoot inside the café.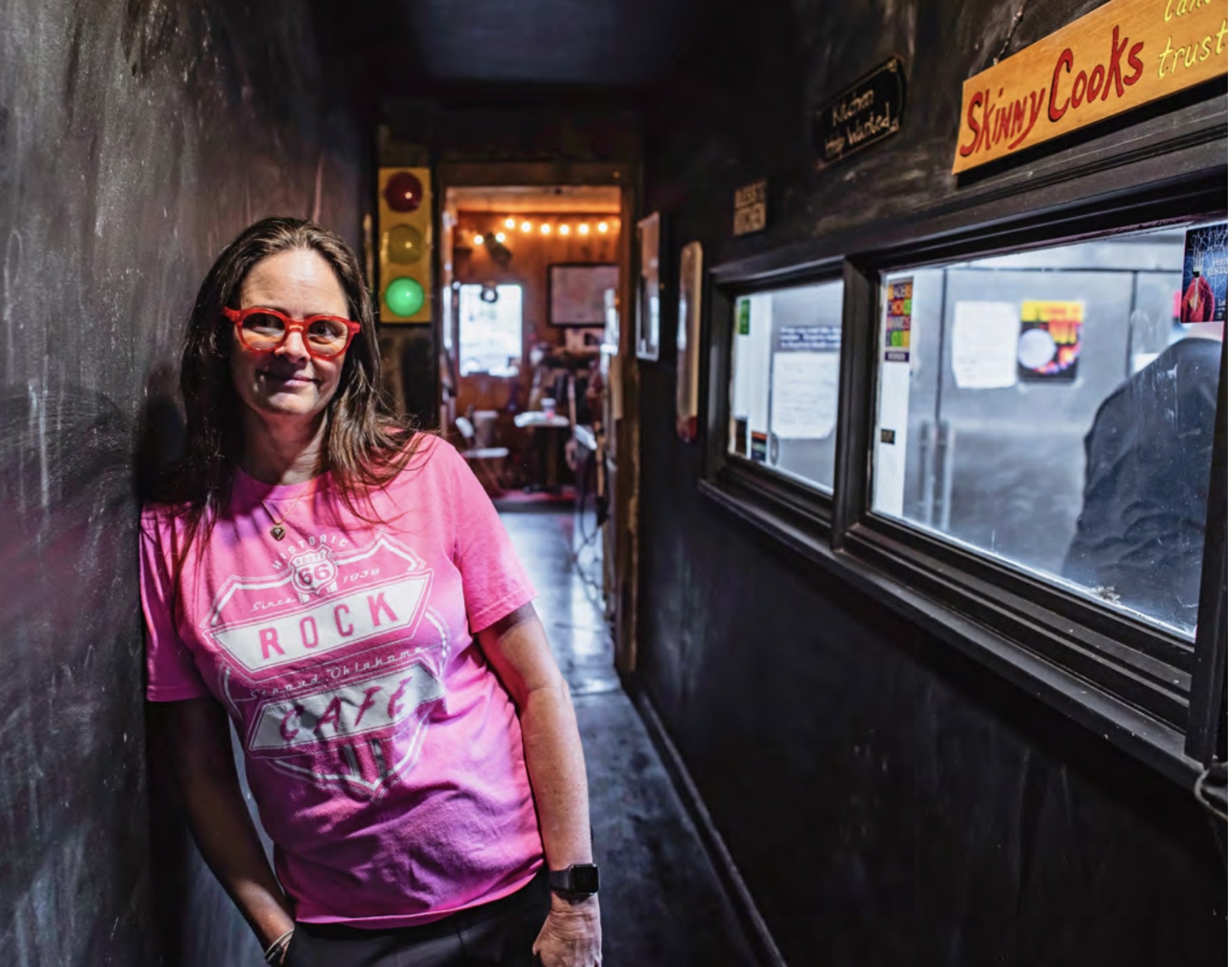 Right outside of the kitchen, I found a long hallway that connects the outside patio to the host station. The walls are painted with black, chalkboard paint that have been written and erased repeatedly, leaving fading words and clouds of chalk dust. The walls have a lot of character. Opposite is a narrow window that peers into the kitchen, showing the staff hard at work. At the threshold of the doorway is a working stoplight.
On the ceiling, a single, bright fixture, struggles to find surfaces to bounce light from, and I thought to myself, this hallway could be my picture. As I framed my shot the light glowed invitingly green. It was a good omen.
As a photographer, I must be able to embrace my surroundings. Like the sun in a cloudless sky, this uncovered fixture was bright, warm, and harsh. I asked Dawn, the proprietor of the Rock Cafe, to stand directly under the fixture, take a step back, and lean against the wall. This gave her a bright, dramatic light, with a full view of the kitchen window and the stoplight.
You can't see this hallway from the street. You are unable to study this area while dining. If you blink on your way to the patio, you just might miss it. It's a small part of the historic Rock Cafe, but I found it to be a great place for a picture