Today, the giant sits on Wabash Ave. in front of Lauterbach Tire & Auto Service, patriotically holding an American flag, and is a beacon to motorists on the search for a healthy slice of Americana. His bright red shirt and blue pants, weathered brown boots, full brown beard and quizzical eyes, are a call back to yesteryear when the Paul Bunyan design was seen in many incarnations across America. But Lauterbach's story is not so simple.
First purchased by Russ Lewis in 1961 to draw in customers to his new business, Midtown Tire, the larger than life muffler man found a home in front of Lewis' new shop on State and Laurel Streets. Lewis' scheme was a good fit for the times as muffler men were popping up across the country, the ultimate advertising gimmick. Unfortunately, the shop only survived a year before closing, and the giant was in a pickle. He needed a new place to call home. In 1962, brothers Edward Jr. and Edward McGaughey, rescued him and placed him in front of their Roundup Motel, cafe, and service station in small town Farmersville, Illinois, where he stood guarding the road for 16 years, until the motel closed in 1978. While Russ Lewis' shop didn't fare too well with the giant, his son, Dave, recognized its potential and bought him back from the brothers and moved him to his current location where he still stands today.
Business is a tricky proposition and the giant's current home went through a series of owners, starting with Dave Lewis, who sold the shop to his brother Bill, who in turn sold it in 1985 to Jay Lauterbach and his family. A flurry of ownership changes later and the Lauterbach Giant is still proudly owned by the Lauterbach clan. Jay passed away in 2018, but his wife Jane and two of his sons, Mark and Brian, continue to operate the tire shop, preserving the giant with a fresh coat of paint every few years.
Things were mostly quiet for the Lauterbach Giant until the night of Sunday, March 12, 2006, when a tornado came roaring through Springfield, giving the exposed muffler man quite an injury. "We had damage to our building and did not realize until later that he had been literally decapitated," explained Mark Lauterbach, co-owner of Lauterbach Tire & Auto Service. "We found out the following day [that] a local guy who lived in the neighborhood found the head in his backyard. It was nestled in the roof of The Barrel Head, which is a restaurant right next door to [us]."
Given the damage that the storm caused, Springfield's St. Patrick's Day Parade had to be postponed for a week, but that didn't make the parade any less special, as Mayor Tim Davlin requested the presence of Lauterbach's "head" to ride on a trailer in the parade. Considering the hard times that many Springfield residents were experiencing from the tornado, seeing the smiling, strange head of the Lauterbach Giant in their annual parade certainly helped to lighten the mood. The giant's crown was reattached later that month, and he has never looked better.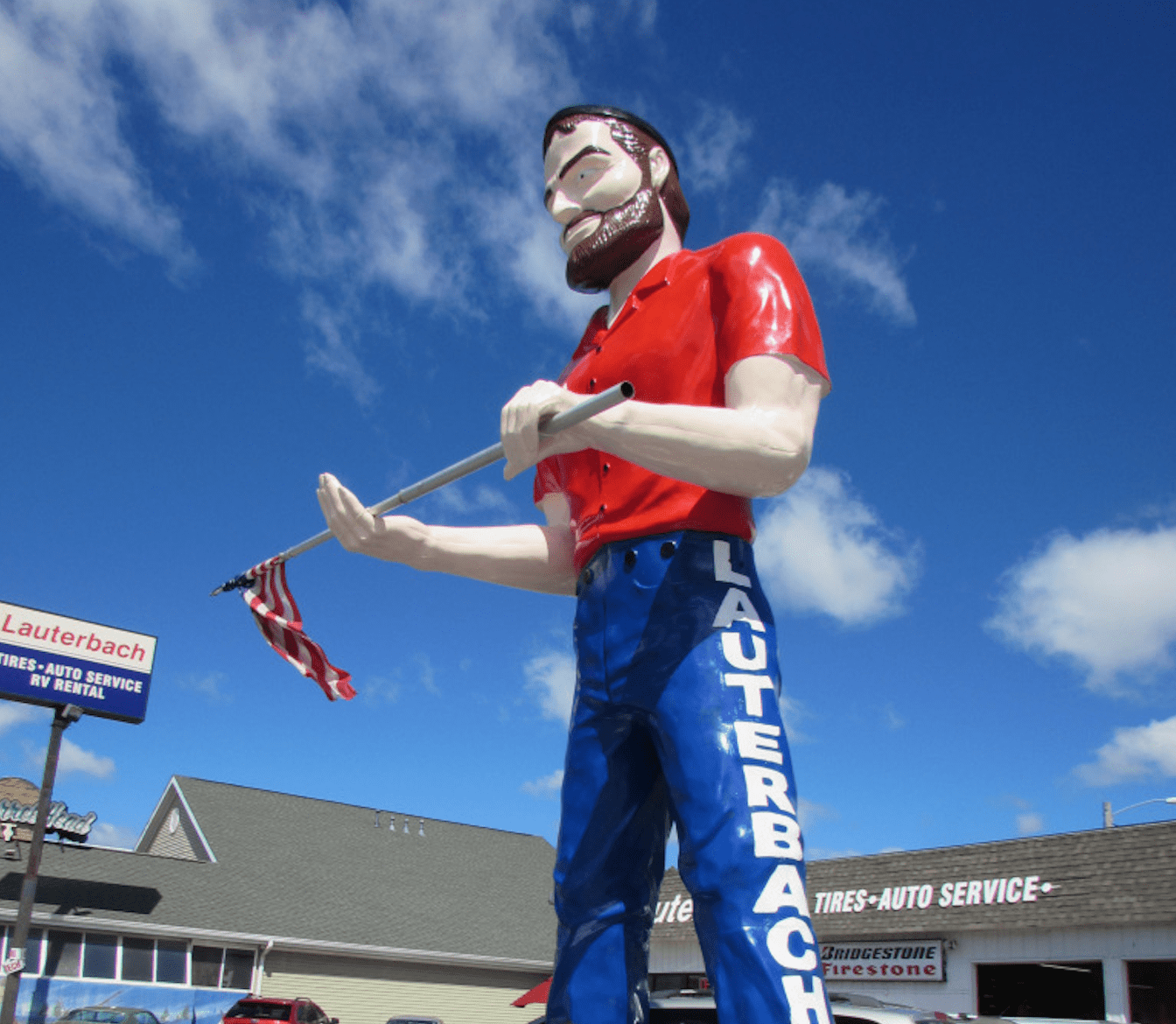 While the Lauterbach Giant has remained a public figure in Springfield for many years, the 21st Century gave him his own unique personality, complete with a deep, lumberjack-esque voice. In 2006, the Lauterbachs partnered with Midwest Family Broadcasting and began their popular Lauterbach radio commercials, creating a persona for the giant to further entice people off the road. "We were not utilizing him prior to that, other than on business cards. Probably in hindsight, it was just untapped potential, not using him."
Coupled with his colorful character and storied past, the Lauterbach Giant will continue to be a prominent fixture in Springfield and one of its most popular attractions. "I think that the Lauterbach Man compliments the other giants we have in town," said Scott Dahl, Director of Visit Springfield. "We have the Rail Splitter at the Illinois State Fairgrounds, which is a young Abe with an axe in hand, we have a pink elephant off of 6th Street that people will often stop and get their photo next to, Ace Sign Company has a sign museum [that] compliments that whole 66 nostalgia..." Springfield, Illinois, is definitely a Mother Road town with a bevy of treasures, but having its own surviving muffler man really does set them ahead.
The next time you decide to hit up Route 66 and sail down through Springfield, Illinois, be sure to visit the Lauterbach Giant and remember his friendly radio advice to "Drive safely now."