And although there's usually no shortage of travel stops, one particular brand of travel destination has caught our attention. Maverik gas stations and convenience stores – "Adventure's First Stop" – (what a great slogan!), stand out as a unique experience that pays homage to the spirit of American road travel, while also taking care of every basic requirement that may be needed.
Maverik was founded as a two-pump gas station in 1928 by Reuel Call in his hometown of Afton, Wyoming. Over the first 30 years of its existence, the company itself didn't have much of a brand to tout aside from its purpose as a small convenience store and gas station, according to Chuck Maggelet, the current President and Chief Adventure Guide (what a great title!). In a further connection to the company, Maggelet's wife is the great-niece of founder Call.
"I'd say the precursor to Maverik did okay for a number of years as a small convenience store, gas station brand. But by the mid-50s or so, Reuel had rebranded it to become Maverik Country Stores, and it was really sort of a country store feel, you know, baked bread in the stores," said Maggelet. "I'm not sure that there was anything terribly interesting about that, except that it fit with the part of the world where we operate [the Intermountain West]."
Then, 20 years ago, the then-owners and executive team made some big changes and switched up their branding. "I think that team did a great job coming up with the interior design that said, 'Adventure's First Stop,' that let it feel like when you came into one of our stores, you were walking into the great outdoors. You could have a fun visit. And I think that we've really tried to continue to take it to the next level," Maggelet explained.
"Adventure's First Stop" originally had a cartoon design, and all of the stores looked about the same with similar artistic features. However, as the company continued to expand, this homogenized approach could no longer reach everyone with the same significant impact. An adjustment was needed.
"So, about three years ago we said, 'Well, why don't we try something different instead of this generic cartoony look? Let's give our customers something that really talks to them about where they are in the world," said Maggelet. Now, each store is uniquely designed to its location. For example, the design of a Maverik store in Albuquerque uses photographs and imagery focused on its own attractions and landscape. The brand is working hard to be much more sensitive to the culture and history of the locations where it operates.
"I think it's really fun to have brought a local feel that makes everybody's adventure feel more meaningful to them. It sort of celebrates the different facets and the different features of the geography where we operate," continued Maggelet.
Specifically, Maverik stores are famous for their BonFire food, which is made fresh in store, every day. The BonFire line features delicious burritos, quesadillas, tacos, salads, wraps, sandwiches and countless other hot and cold meal items to start your day and keep it going. They are also known for money saving values on their fuel, drinks, and snacks through their Adventure Club loyalty program. Maverik may have started out with big dreams and a humble beginning, but today the brand has nearly 400 locations across 12 states and over 7,500 team members. That is impressive but really, isn't that the American story?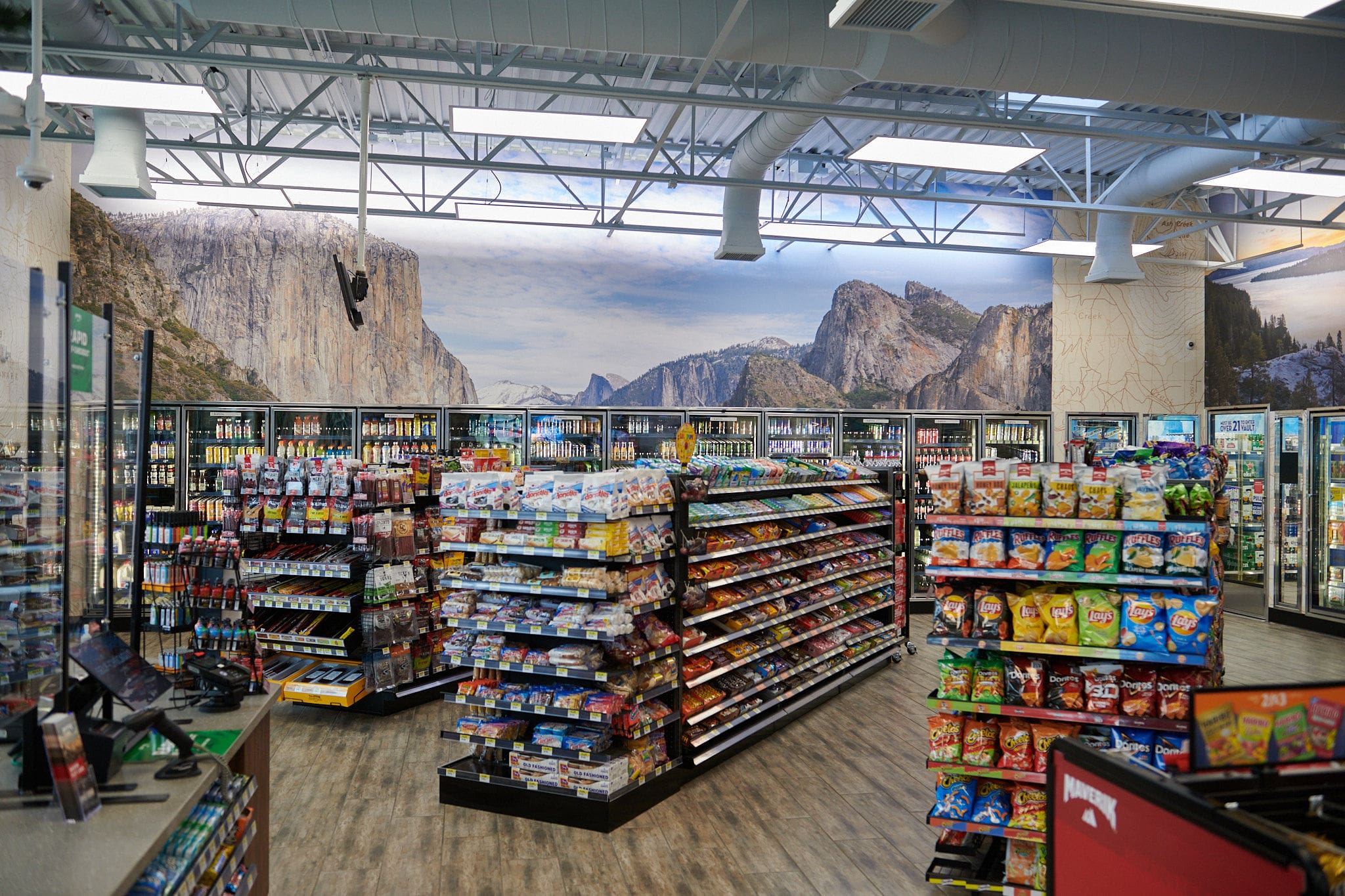 "I think that it's really clear with our success that the communities in which we operate have supported us really well for the last 90 years. And we're not only proud, but we think it's important to give back on what we do, right? So, when we look at these communities where we work and live, we want to make sure that we are a contributor to what happens in those communities," said Maggelet. They focus their community efforts on higher education through the provision of scholarships, their partnership with Feeding America to mitigate food waste, donating to local food banks, and support for open air adventures by helping to rebuild parks, trails, and other outdoor facilities.
Maverik is still family owned and operated through its FJ Management company, which also owns a minority interest in Pilot Flying J. Even with the changes that the company has undergone, the spirit of adventure remains. "What resonates to me is this enthusiasm about the great outdoors, but really on being a great operator, where we can deliver on that coolest convenience experience on the planet," said Maggelet.
When you next hit the road, make sure to pull off the tarmac and check out what the Maverik experience offers for yourself. The adventure just keeps getting more interesting.